Hop-In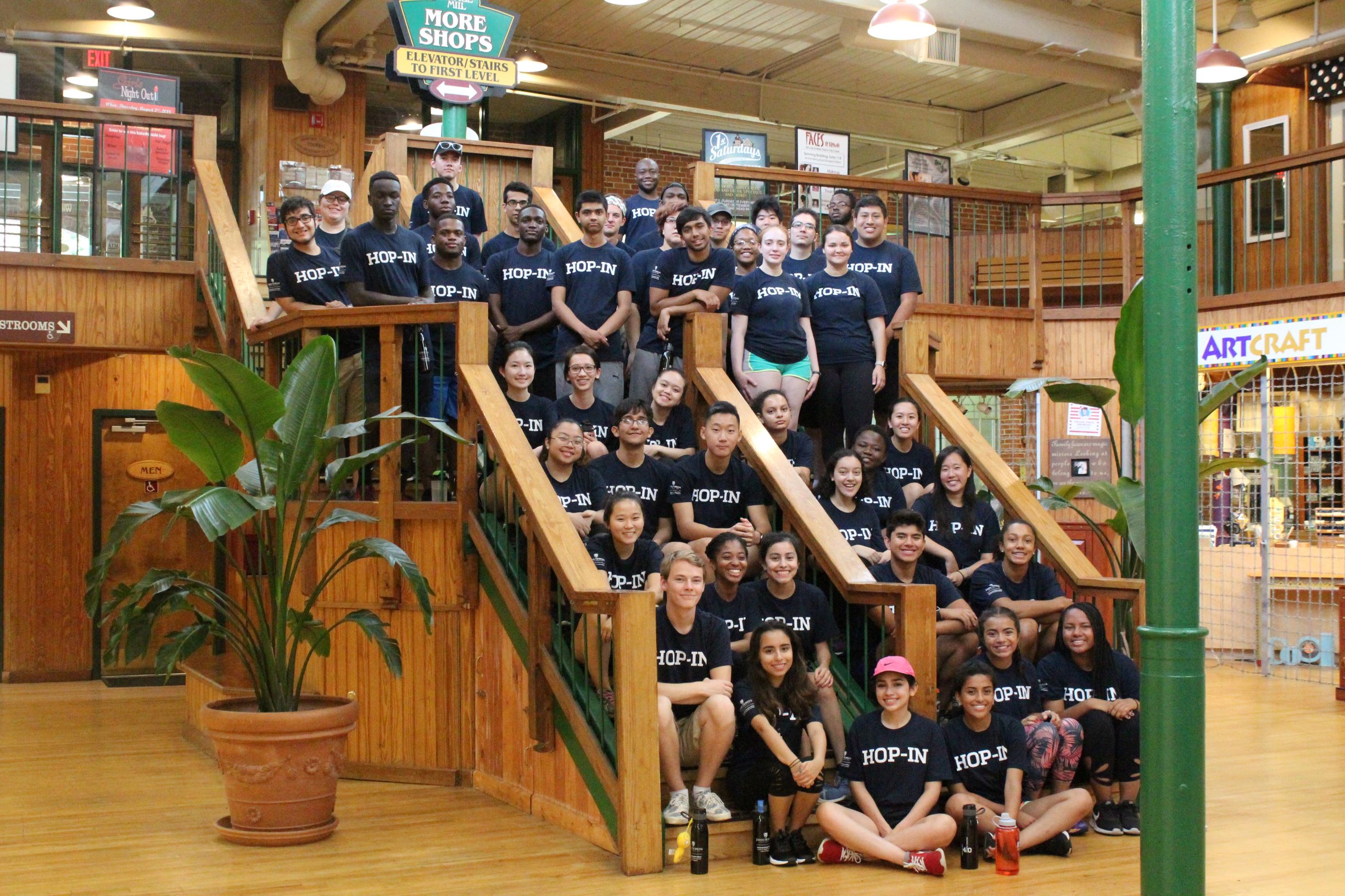 About the Program
The Hop-In Program supports the success of first-generation students and limited income students by providing a year-round high-touch, intentional, and holistic advising model consisting of a summer program, leadership development, mentoring, and academic support.
Much of the success of the over 250 students served through the Hop-In program can be attributed to the high level of support and engagement they receive throughout their matriculation at Hopkins. Through Hop-In, students have access to a supportive community grounded in family, trust, and a host of support services.
The Hop-In Buddy Program is an opportunity to foster a network of support for and among Hop-In students. The program's goal is to aid in the academic, emotional, and sociocultural adjustment of Hop-In students by actively involving upper-class students, alums, faculty, and staff with the Hop-In program. The Buddy Program matches first and second-year Hop-In students with upper-level students and alumni of the Hop-In Program.
The Peer Mentor Program is designed to foster a network of support for incoming first-generation and limited-income students at Johns Hopkins University (JHU). Mentors serve as peer-support personnel of the program and provide social, academic, and procedural guidance and support to first-year Hop-In students (mentees). Peer Mentors share program goals and responsibilities that help foster an environment that contributes to new Hop-In students' social and academic success.
PILOT is a loose acronym for peer-led team learning. In the PILOT program, students are organized into study teams of six to 10 members who meet weekly to work on problems together. A trained student leader acts as captain and facilitates the meetings. For select courses, Hop-In can offer sections exclusive to Hop-In students. These sessions are typically offered for Calculus II, Chemistry I & II, Organic Chemistry, and Physics I &II. PILOT is generally offered to all students for Calculus I, II, and III; Linear Algebra, Chemistry I &II, Physics I & II, Gateway Computing, Discrete Math, Statistical Analysis I & II, Epidemiology, and Microeconomics.
The Study Consulting Program helps undergraduate students strengthen their academic skills, adjust to the increased demands of college, or fulfill their potential. Since its launch in 1985, the program has consistently helped dedicated and hard-working students improve their academic standing. Study consulting pairs undergraduate students with accomplished junior, senior, or graduate students who serve as consultants. The student-consultant pair meets for one hour every week and worked on universal academic skills.
All incoming Hop-In students are paired with a Study Consultant during their first year at Hopkins. Students can decide whether they continue with Study Consulting after the first year. Many Hop-In students continue with the program or apply to become Study Consultants to support other students.
The Hop-In Book Loan & Educational Materials Program provides students with the opportunity to access necessary course-related materials for the semester. Students can request physical books, pdfs, book rentals, and access codes for a given semester. Physical books provided through the Hop-In Book Loan Library must be returned at the end of a given semester.
The Hop-In Summer Tuition Grant allows students to minimize the cost of taking necessary summer courses by filling out a Summer Tuition Grant application. The summer tuition grant can only be used on academically necessary courses to be applied to the student's graduation requirements. The grant can be used to take classes at Hopkins or another university over the summer. Their academic advisor must approve courses taken at another university before applying for the grant.
The Learning Den provides tutoring for all registered students in the Krieger School of Arts and Sciences and the Whiting School of Engineering. Tutoring is conducted in a small group format, with a maximum of six students in each group. Tutors review course-specific material and encourage students to ask questions and exchange information.
Personalized Tutoring is available to Hop-In students. Students can request personalized tutoring for specific courses through their Hop-In advisor. Students are matched with a tutor through the Office of Academic Advising, and they can work with the tutor throughout a given semester.
Mission
The Hop-In Program seeks to cultivate an affirming, supportive, and cohort-based community for first-generation and pell-eligible students by promoting a holistic and personalized approach to success at Johns Hopkins University and beyond.
Vision
The Hop-In Program will enhance the student experience of first-generation and pell-eligible students at Johns Hopkins University.
Program Values
We seek to create a community of scholars, program administrators, faculty, and staff who serve as a support network that values individual empowerment with collective challenge and support.
We hold students and professional team members to the highest standards of academic and professional excellence. We believe all students can maximize their academic success at Hopkins with the right resources and support services. As team members, we will maintain an improvement-oriented ethos to ensure we remain thought leaders and experts in the field.
We value holistic wellness and define it as a focus on and intentional development of the physical, emotional, social, spiritual, intellectual, and financial aspects of one's life.
We believe to whom much is given, much is required. Through outreach, collaboration, and reflection, our students tie their service and learning together to address disparities prevalent in underserved areas. As a result, we hope to foster strong connections with our neighbors in the greater city of Baltimore.
We believe all students at Johns Hopkins can be successful with an optimal balance of challenge and support. In Hop-In, we make student-driven decisions related to our coaching, programming, and services.
Even though Hop-In was my first time being away from home on my own, I had one of the most gratifying summers of my life. Hop-In allowed me to get accustomed to college and the academics at Johns Hopkins. More than simply being on campus, I got to delve into Baltimore and its neighborhoods, and was able to understand JHU as an extension of the city and part of a complex community. – Rana Saeed, Public Health and Biology
Learn more about the Hop-In Student Experience and find answers to frequently asked questions.