Women's History Month

It's March and that means the Office of Women and Gender Resources is celebrating Women's History Month! We will be highlighting an amazing line-up of programs and events and we are excited, as always, to be collaborating with student organizations and departments from all over campus.
Scheduled 2021 Events
Click the image below to view this year's schedule.
PDF Document: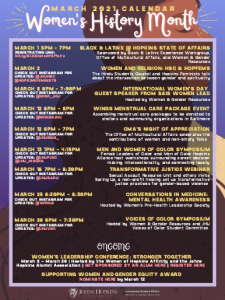 Follow Women and Gender Resources on Instagram and Facebook for more information. Events are open to all!