Distance is No Obstacle to Love: Carol Lu's FLI Family Story
Posted: October 26, 2021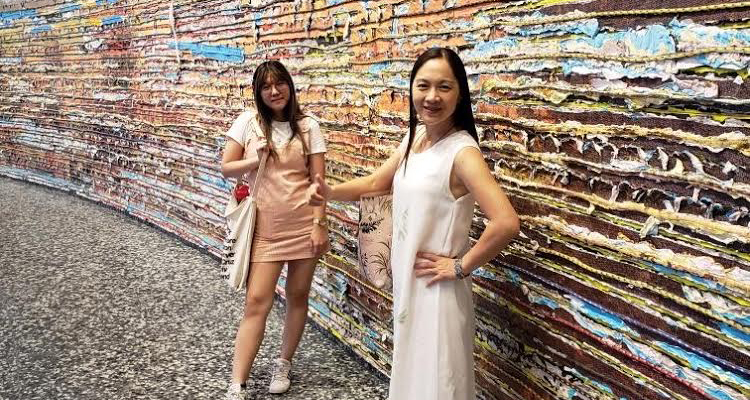 Written by Ashley Joyce
Note: On Monday, November 8, Johns Hopkins will celebrate National First-Generation College Student Day with programming and giveaways on the Keyser Quad. Learn more about the celebration by visiting the FLI Network website.
The experience of moving away from home to attend college can be intimidating for many first-year students. And when home is a twelve-hour flight from Baltimore, it's not exactly easy to schedule a quick weekend visit with family.
But when Carol Lu arrived at Johns Hopkins, she felt prepared for the challenge. "I was used to being independent, so it wasn't much of a struggle," she says, reflecting on her first year as a Blue Jay.
Carol was born in New York but spent most of her childhood in Hawaii with her mother, stepfather, and her half-brother. Her mother Katie immigrated to the United States from China and isn't fluent in English, so unlike many of her peers, Carol didn't grow up with a parent who could easily provide help with schoolwork or academic planning.
"Coming from that background, you learn how to do everything on your own. I remember hearing about other children getting homework help, or having their parents review their homework before they submitted it. I remember thinking, is that a thing?" she says.
As a high school student, Carol knew that if she wanted to pursue her passion for research and become the first in her family to attend college, she would need to take charge of her academic career. She had long been fascinated by the brain, which led to an internship at a neuroscience clinic in Honolulu. As she investigated undergraduate programs in neuroscience, Johns Hopkins quickly became her first choice among leading research institutions. She applied Early Decision and was thrilled when she was accepted.
Katie remembers the moment when she found out that Carol would be attending Johns Hopkins. "I cheered and rushed to her," she recalls. "The first thing I did was give her a big hug. I excitedly told my parents and sister in Shanghai the wonderful news."
Even though Carol felt prepared for her first year at Johns Hopkins, she still encountered challenges during the transition. As a first-generation college student, she didn't arrive with advance knowledge of how to navigate higher education. "I had to learn about things like office hours, and how to study in a more effective way," she says.
Fortunately, Carol was introduced to Johns Hopkins' many academic support resources through the First-Generation, Limited-Income (FLI) Network. The FLI Network connects members of the Johns Hopkins community who are first-generation college students and/or come from families with limited income, providing mentorship, networking, events, and leadership opportunities.
That kind of focused support was critical for Carol as a FLI student, she says. She was so accustomed to studying independently that asking for help didn't always come naturally, and she was grateful for the additional guidance in navigating the university that the FLI Network offered. "When you come to Johns Hopkins, you realize there are so many resources available to help you, and you should take advantage of them," she says.
Though Carol missed her family during the school year, she never expected to catch up on family bonding by spending a semester at home. When she returned to Hawaii in March 2020 at the start of the pandemic, she was grateful for the quality time spent with her mom and the comfort of eating home-cooked meals and cuddling with their dog. But she also found herself navigating the difficulty of attending classes from a very different time zone.
"My 10 a.m. classes were suddenly at 4 a.m.," Carol says, noting that she probably wasn't fully awake for many of those predawn lectures. "I think it was probably similar to what some international students experienced."
Despite the pandemic's many challenges, Katie was also thrilled to spend more time with her daughter. When she learned Carol would be coming home for the semester, "I quickly cleaned up the house and bought her favorite foods," Katie says. "On the weekdays, [Carol was] very busy in class, she had a lot of homework, and she attended many meetings. Sometimes she was busy even while eating her meals. But I was happy in my heart because she was home."
Even though Carol misses the extra time with her mom, she was excited to return to Homewood campus this year. Now a senior, she is studying cognitive science, psychology, and public health, with concentrations in neuroscience, cognitive psychology, and mental health. She's currently in the process of applying to PhD programs, with the intent of pursuing a career in academia.
Katie will be flying from Honolulu to Baltimore this spring to see Carol walk across the stage on Homewood Field during Commencement. Even though the pandemic created the opportunity for an extended reunion, she says she's learned a lot over the years about how to support her daughter from a distance. "Parents are the most important support system for their children," she says. "We should encourage their potential, love and care more than blame, let them realize what they really want [and] have their own goals, and support them wholeheartedly."