Blue Jay Family Ambassadors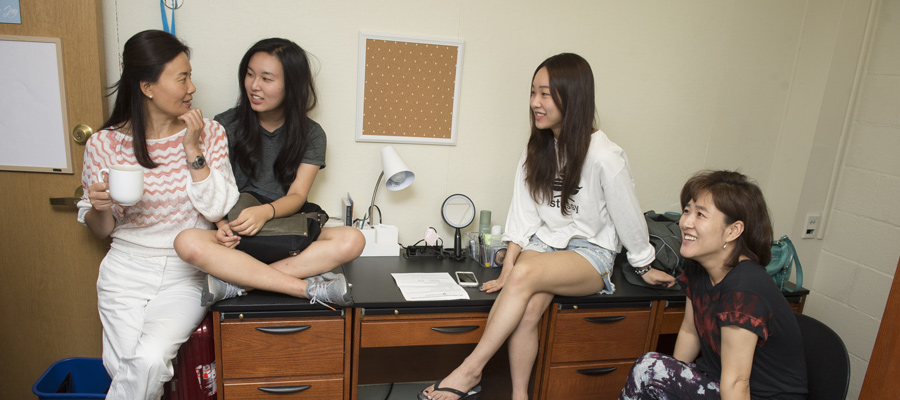 The Blue Jay Family Ambassador Program provides Blue Jay Families the opportunity to participate and volunteer in various capacities by assisting the Parent and Family Relations office. There are three committees: First-Generation, Programming, and Welcome Call Committee.
You have the option to participate in one, two, or three committees. Once you complete the committee form, a representative from the Parent and Family Relations office will follow-up periodically when there are initiatives, programs or services that need support or input from families. Enrollment into the Ambassador Program does not expire.
About the Program
Objectives
Objectives of the Blue Jay Family Ambassador Program include:
Enhancing communication between Johns Hopkins parents and family members on topics of interest and concern to students
Creating awareness of resources and assisting with the transition of parent and family members of incoming and current students
Providing networking opportunities for parents and family members of current and incoming students
Providing support and assistance to Johns Hopkins University programs and services that meet the needs of parents, family members, and students
Serving as a vehicle by which parents and family members can express their questions, suggestions, and ideas about programs and services at Johns Hopkins University
Representing the needs and concerns of Johns Hopkins parents and family members to the University
Requirements
Blue Jay Family Ambassadors must:
Be the parent or family member of a current student
Be able to volunteer their time or help support at least one BJF event
Be excited about JHU
Love to network and engage with other parent and family members
Want to learn more about the JHU community
Commitment
Members of the Blue Jay Family Ambassadors shall:
Volunteer on at least one committee
Work with the designated chairs for each committee
Constructively engage in group discussions and decision-making
Volunteer for Blue Jay events
Comply and agree to the Blue Jays Family Ambassadors Statement of Ethics and Standards (see next tab)
Committee communications will primarily be conducted via email, with committee meetings held via teleconference. Ambassadors will not be required to come to the Homewood campus unless they have volunteered for an event.
Ethics & Standards
Policy Against Sexual Harassment
Ambassadors need to comply with the institution's PDF Document: sexual harassment policy.
Conflicts of Interest
Members recognize their obligations to the Blue Jay Ambassadors and seek to avoid private interests, financial benefits, obligations, and transactions that are in conflict of interest or give the appearance of impropriety. Ambassadors shall distinguish clearly between statements and actions that represent their own personal views and those that represent Johns Hopkins or Blue Jay Ambassadors group.
Integrity of Information
Ambassadors should at all times be accurate, exercise appropriate restraint, and show respect for the opinion of others. They should make every effort to indicate that they are not speaking for Johns Hopkins University.
Campus & Community
Ambassadors shall promote a sense of community among all areas of the campus by working cooperatively with students, faculty, staff, and others outside the institution to promote the mission and purpose of Johns Hopkins and the Blue Jay Ambassadors. Members shall foster a climate of collegiality and mutual respect.
Committees
Committee members will:
Actively engage in enhancing our first-generation students' experience.
Assist with outreach initiatives.
Participate in focus groups in order to provide feedback on your student's experience at JHU.
This committee is primarily active during spring, summer, and fall.
Committee members will volunteer for one or more of the following:
Orientation
Family Weekend
Admissions events
Senior Toast
Other outreach initiatives
Parent and Family Relations
Residential and dining experience
Orientation programming
Family Weekend programming
Career services
Dining services
Web management
This committee is primarily active during spring, summer and fall.
Committee members will:
Make welcome phone calls on behalf of JHU to our first-year and transfer students.
Follow up with parents and family members when time permits.
Work with Director of Parent and Family Relations on script, content, and any other training materials needed before making calls.
This committee is primarily active during fall.
All Blue Jay Families who live in Baltimore, surrounding areas or in other states are welcome to volunteer for any committee.
Become an Ambassador
Interested in becoming a Blue Jay Family Ambassador? Please fill out the following form in its entirety and select the committee(s) for which you are interested in volunteering: