Multicultural Affairs
Spring Update on OMA Operations
Diversity and Inclusion offices, including the Office of Multicultural Affairs will be working remotely this Spring, but we are engaging our Hopkins community through events, programs and meetings. Please come back to our website to see our offerings. Our staff will be working remotely and routinely answering calls, voicemails, and emails. We will continue to send out information via e-mails and listservs to our community about any updates and programming events. Please follow us on facebook and instagram for engagement opportunities. For more information about COVID-19, please follow our institutional alerts HERE. Please feel free to contact us via e-mail at oma@jhu.edu and you can reach out to the Director of Multicultural Affairs at colon@jhu.edu and via phone at 410-516-8730.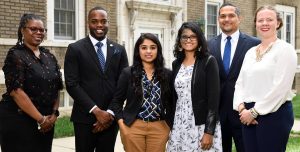 Who We Are
After discovering the Office of Multicultural Affairs, you'll realize that we are your "home away from home." OMA is committed to enhancing the educational experience of students from underrepresented populations. Additionally, we strive to create an environment that reflects the multicultural nature of all Johns Hopkins students.
Our events and programs are designed to support and challenge students, providing opportunities for engagement in multicultural initiatives, celebrations, and educational programs; community service; mentoring, and academic support. OMA's Multicultural Center is a hub where students participate in events, engage in dialogue, study, or just relax. Our hope is that you visit and get involved in the many offerings that OMA provides.
Check out our video about Cultureshow and come out to our event this Spring