Multicultural Affairs
Applications Open
The following programs are currently accepting applications. Apply today!
Multicultural Leadership Institute
Applications open until Monday, Feb. 10 by 9:00 a.m.
http://bit.ly/2020MLI
Join the Office of Multicultural Affairs for the 2nd annual Multicultural Leadership Institute being held February 21-23,2020. This is an off-campus 2.5 day leadership retreat experience like no other! Through the intersectional lens of race, ethnicity, and leadership, this 2020 MLI cohort will engage in dialogue, deepen understanding of coalition building, and work toward a collectivist approach toward empowering new leaders on campus. This application is open to all JHU freshmen (first years) and sophomores looking to enhance their skills and potential leadership.
SEED Peer Educators
Applications open until Monday, Feb. 17 by 5:00 p.m.
http://bit.ly/JHUSEEDapplication
Calling all JHU undergraduate students, with or without experience, who are interested in building their facilitation skills centered on identity dialogue. JHU SEED: Student Educating and Empowering for Diversity has more than 10 open positions for lead educators (paid) and peer (unpaid) educators who will work side-by-side with Diversity & Inclusion to shift campus culture and build a more affirming and inclusive JHU community. This application is open to all JHU undergraduate students.
ISAH Ambassador Program
Application open until Monday, Feb. 24 by 5:00 p.m.
http://bit.ly/ISAHambassadorapplication
Be a part of Hopkins history and join the inaugural ISAH: International Student @ Hopkins Ambassador Program today! Between 20-25 international student leaders will be selected from across all campuses to assist with key pillars of the international student experience: orientation, administration, socials, and international education. This application is open to all JHU undergraduate international students, graduate international students, international postdocs, and globally-conscious domestic students.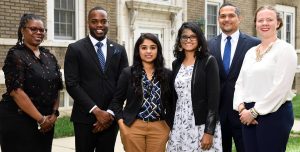 Who We Are
After discovering the Office of Multicultural Affairs, you'll realize that we are your "home away from home." OMA is committed to enhancing the educational experience of students from underrepresented populations. Additionally, we strive to create an environment that reflects the multicultural nature of all Johns Hopkins students.
Our events and programs are designed to support and challenge students, providing opportunities for engagement in multicultural initiatives, celebrations, and educational programs; community service; mentoring, and academic support. OMA's Multicultural Center is a hub where students participate in events, engage in dialogue, study, or just relax. Our hope is that you visit and get involved in the many offerings that OMA provides.