Initiatives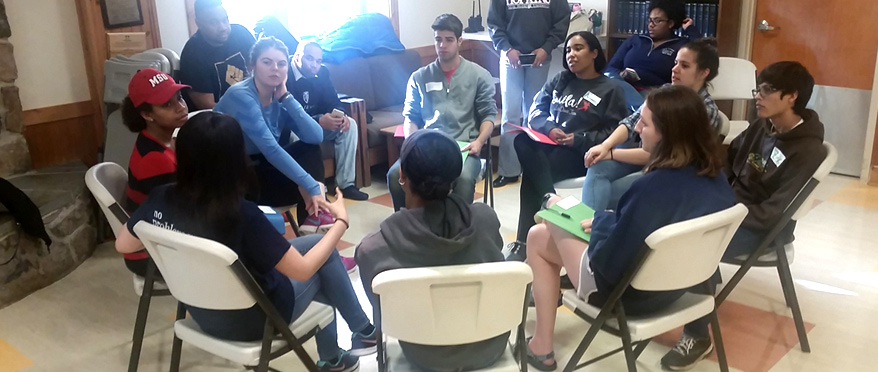 At the Office of Multicultural Affairs, we're very proud of our leadership opportunities, resources, and long-standing traditions that have endured and succeeded for many years. OMA is the place to find a leadership position within our standalone initiatives and programs. Initiatives that revolve around cultural competency, student success, and overall identity development are cornerstones to the many programs at OMA. Please peruse the programs below to learn more and get involved.
Men of Color Hopkins Alliance
The mission of Men of Color Hopkins Alliance (M.O.C.H.A.) is to assist and support undergraduate men of color in successfully completing their degree program at the Johns Hopkins University. The mission also reflects graduate men of color and other degree programs at the Johns Hopkins University. The key principles are academic excellence, mentorship, professionalism, community service, and brotherhood. Every program, workshop, and activity surrounds the principles and always upholds the mission of the organization. Membership in M.O.C.H.A. is designated to support undergraduate, graduate, alumni member, faculty, staff, and administration. M.O.C.H.A. develops a cohesive and large network of JHU alumni, faculty and staff to support the tenants of the organization and provide direct advice to undergraduate students.
Female Leaders of Color
Female Leaders of Color (FLOC) at Johns Hopkins University is a group for empowering brown and black undergraduate women. FLOC provides space to discuss issues that impact our campus and larger community. JHU FLOC mentors young women in Baltimore City, while breaking down barriers that may stand in the way of professional and personal success.
MAPP (Mentoring Assistance Peer Program)
For over 20 years, MAPP (Mentoring Assistance Peer Program) has been a premier first-year mentoring program that has served thousands of underrepresented first-year students through 1-on-1 advisement, academic advisement, career development, cultural exploration, and community engagement. Each first-year mentee is paired an upperclassman who is dedicated to providing continual support and will provide programmatic opportunities. MAPP mentors are selected and trained to support students dealing with many first-year experiences that shape your most formative year in college. This is an opportunity designed to build your skill-set as exceptional student leaders.
Multicultural Leadership Council
The Multicultural Leadership Council (MLC) is a consortium of culturally based undergraduate student organizations at Johns Hopkins University. The executive team serves a resource to all of the organizations within MLC, and provides a myriad of opportunities for engagement. Additionally, the MLC creates programming for the entire Hopkins community in an effort to create a more culturally inclusive community.
Goals
Increase visibility of multicultural student organizations across the Homewood campus.
Promote cross collaborative events and programs between cultural organizations, allowing groups to explore and learn from different identities and cultural backgrounds.
Foster a creative and inclusive space for all culturally based student groups.
The MLC meets once a month, on the first Wednesday of every month from 6–8 p.m. The Executive Board meets every other Wednesday from 6–8 p.m.