ISAH Ambassador Directory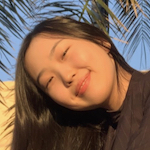 Allison Im
Preferred Pronouns: She/Her
I am a(n)…: Undergraduate student
Graduating Year: 2025
JHU Email Address: jim10@jh.edu
Academic Focus: Behavioral Biology
JHU School: KSAS
Hometown, Country: Seoul, South Korea
Favorite Food: Korean Spicy Rice Cake (tteokbokki)
Bio (Hobbies, personal interests, professional interests, organizations, etc.):
I love to watch youtube and all sorts of movies (horror, romcom, comedy, action and more!!) I enjoy asian food, especially spicy ones and I am a huge meat lover. I can't live without dessert and I know a lot of good dessertst shops in Baltimore, so feel free to ask anytime. As a hobby, I'm interested in different areas of arts like theater, musicals and visual art (painting, drawing, digital art etc).