Blue Jay Family Ambassador Q&A: Priya Vijay
Posted: February 25, 2022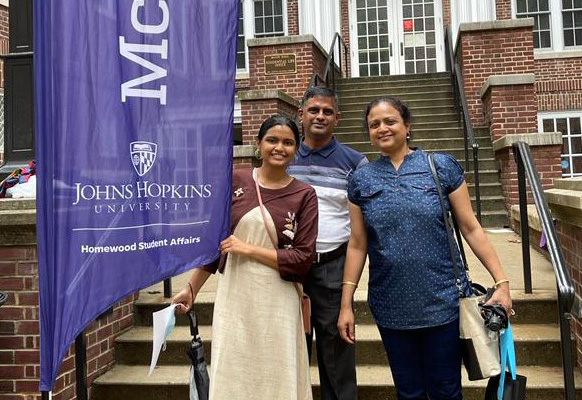 Tell us about your family and your students.
My student is currently a freshman studying Computer Science. She's very approachable, maintains a great attitude with her school mates, and she's very willing to come out of her shell to approach professors whenever she has difficulties with her studies. She is also very artistic and makes beautiful flower punch crafts and artistic pieces.
Our family is so proud to be a Blue Jay family. We have no doubt that Johns Hopkins is a prestigious research institution and I'm so happy that my student gets to be here. We try to provide her as much understanding and moral support as we can, especially now that she's far away. We call each other almost everyday, sometimes even a couple of times a day, and she tells me about the little things like cooking and classes. It really makes a difference.
Why did you decide to join the Blue Jay Family Ambassador Program?
The Blue Jay Family Ambassador Program is a great platform for me to share my experience, especially as an international Blue Jay parent. It provides me with a great opportunity to help other parents. I know how difficult it is for parents to send their kids away from home, so I want to boost and encourage them and create a sense of community. It helps me feel supported as well!
How has your student adjusted to life at Hopkins? What classes or experiences have they enjoyed the most?
She's had a very smooth transition! She did very well in her first term with some challenges, but that's just part of being a college student. She enjoyed every part of her classes, even the quizzes and exams! She also took a mix of a lot of subjects, like STEM, humanities, and neuroscience classes. I think the combination of classes keeps her comfortable and motivated.
She especially enjoys building relationships with her professors. She's always willing to approach professors, join their office hours, and go to the TAs for assistance. She also takes advantage of the Life Design Lab for internships and career advice, and is super proactive about looking for classes to take.
I think the spring will be a little challenging with all the snow in Baltimore, but she'll be okay!
How do you support your student while they are so far away from home?
We usually exchange calls through Zoom or Google Meet. She calls me whenever she's free and I often stay up late at night, sometimes until 2 or 3 a.m. in the morning to talk to her. As a parent, we are bound to adjust for our kids! We call almost everyday, sometimes twice a day. She's very passionate about cooking, so sometimes she makes dishes and shows me how she cooks. She also shares with me her experiences at school.
What advice do you have for other international families whose students may just be starting their Hopkins journey?
Encourage the student to develop relationships with their professors

Do not sit back: every student is different, you may not always understand them, but it's important to be proactive.

Parents should know what resources are available and encourage students to take advantage of them.

Ask them about various things so they can get back to you.

It will really help them if your share your own experiences.

For international students, the "Arrive and Thrive" session in the fall semester was really good.

Join the Blue Jay Family Ambassador program!
What's your favorite thing about being a Blue Jay Family?
I think Johns Hopkins gives students a very wholesome development. I'm very proud to be a part of this family!