How the Life Design Lab (and families) can help students transition from college to career
Posted: March 30, 2022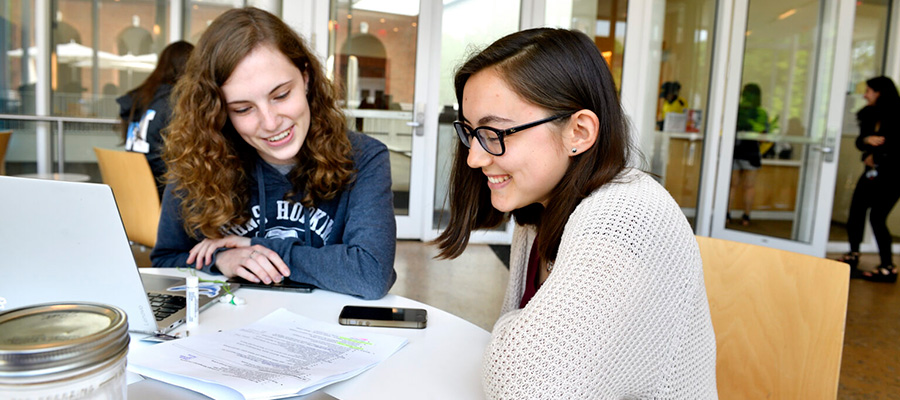 There's one question every college student has been asked: What are your plans after graduation? Though some students begin working toward a fixed goal in grade school, many others discover their passion during their time at university or even after. And as everyone in the workforce knows, career paths can take unexpected turns at any time.
To help Johns Hopkins students navigate the transition from campus to career, the Life Design Lab offers a range of resources, programming, and mentorship opportunities to all undergraduate and masters students of the Krieger School of Arts and Sciences and the Whiting School of Engineering. The Lab's Life Design Educators work within the university's academic departments and connect students with the tools they need to explore their career options, from internships and research opportunities to resume building, interview prep, alumni connections, and much more.
"We try to offer services that are very curated and focused on the student," says Maren Gonzales, Communications Associate for the Life Design Lab. "Not every student is the same, and we try to make their experience of career searching as tailored to their interests and views as we can and to help them make their decisions based on what they would ideally like to have."
Margaret Kim, mother of Bridgette, a third-year mechanical engineering student minoring in computer science and robotics, says that her daughter has benefitted from the Lab's support throughout her time at Hopkins.
"Bridgette did work with several Life Design Educators and found the resources to be helpful and on target," says Kim. "She utilized their resume and career workshops and also met one-on-one to discuss specific questions she had about her major and career options."
The Lab also features a new team called SOAR—Seizing Opportunities, Access, and Relationships—that focuses on serving students from underrepresented communities such as first-generation and/or low-income students, LGBTQ students, international students, students of color, and students with disabilities. This ensures that students of all backgrounds and experiences can connect with a Life Design Educator who relates to their challenges and goals.
"For our students with disabilities, the Life Design Lab's mission is intertwined with understanding the challenges, strengths, and privileges of our identity," says Tessa McKenzie, the Assistant Director of Life Design: Student Disability Services and International Student Engagement. "Self-advocacy, systems-advocacy, disclosure, and inclusive networks are at the forefront of our conversations with students, employers, and community partners. As the world of work continues to change in the wake of COVID-19, so do the needs of our students with disabilities in the workplace. The Lab is here to support our students and networks as we adjust to and prepare for the inevitable pivots of life."
The Lab also encourages parents and families to stay connected and support their student's career exploration. "Whatever a student is communicating to us, I'm sure it's the families who are feeling the brunt of the stress that might be occurring," Gonzales says. "I think it's best for parents and families to be familiar with the resources we offer so they can then relay it to their student and be an extra hand in guiding them to try different things."
To aid with this, the Lab is currently building a new website, set to have its full launch this May, that provides resources, information, and helpful guides designed to help students at every stage of their life design journey and includes a special page specifically for parents and families. The Lab also plans to open the Imagine Center later this year, which will bring together the Lab, Study Abroad, Experiential Learning (previously known as Student Employment Services), Hopkins Connect, Hire Hopkins, PHutures, and Undergraduate Research in one physical space.
As Kim's daughter prepares for a summer internship at the Naval Surface Warfare Center at the Norfolk Naval Station in Virginia, she offers these words of advice to fellow parents and families with students who are currently charting out their post-undergrad options: "Encourage your student to post their resume on Handshake and update it every semester, be active on LinkedIn, participate in Life Design Educator workshops, and reach out to professors in their areas of interest to gain ideas for potential internship and or research opportunities. Most importantly, be a sounding board and provide encouragement whenever feasible. Have patience and trust that your student will make the right choices."