Office of the Dean of Student Life
Expand
Office of the Dean of Student Life
We can't stress this enough: Homewood is your home. While COVID-19 continues to impact typical student experiences on campus, our teams are poised to support you as you navigate your return to campus and Baltimore.
We're in on the Social Compact
All of the staff and student leaders within Student Life are committed to following the guidelines that keep us and our community safe and well. We're in on the JHU Social Compact. Click on the image below to join us— JHneedsU!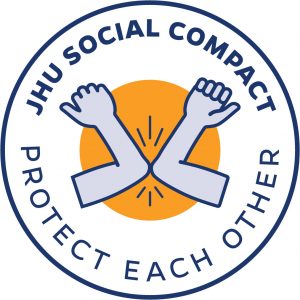 You might have chosen Johns Hopkins University for the academics, but it's everything surrounding that—the leadership experiences you'll build in student organizations, the life skills you gain from living and socializing with others from across the world, and the creative outlets that you'll pursue—that will really shape your experience here.
The Office of the Dean of Student Life aims to cultivate an inclusive and healthy community that fosters growth, exploration, and engagement. We oversee student leadership and engagement, campus programming, diversity initiatives, creative arts, and student support. In fact, if it's not happening in a classroom, there's a good chance we might be involved: