Blue Jays RISE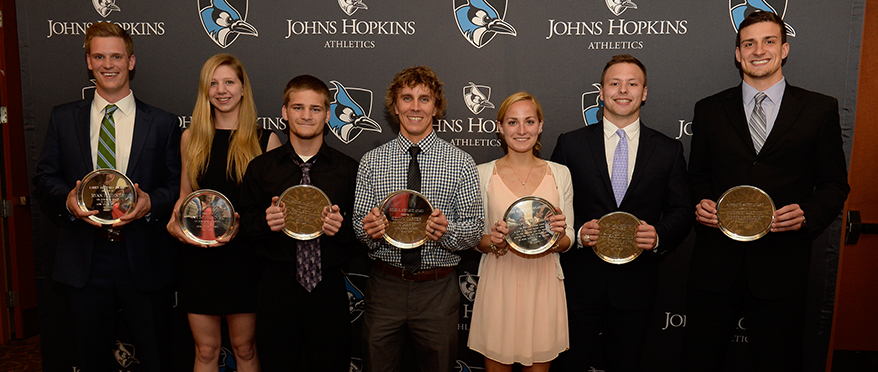 We understand that student-athletes must constantly juggle both their academic goals, as well as their commitment to excellence while representing Johns Hopkins University in their respective sport. The Blue Jays RISE (Realizing Individual Scholarly Excellence) program was established to fully support your academic needs as a student-athlete during your time as a Blue Jay.
The program is a collaborative effort between the Center for Student Success and the Department of Athletics that focuses on a successful transition to Hopkins during your first year as well as enhancing the academic support opportunities available for all student-athletes through graduation.
Announcements, Key Dates and Programming Notices
First Year Student Class Registration: Tuesday, July 3
First Year Student Move-In: Friday, August 24–Saturday, August 25 (unless fall sport)
Program Overview
Prior to Enrollment
During the summer before your initial enrollment at Johns Hopkins, your athletic coach will connect you with the Assistant Director of Student-Athlete Success who will guide you through your transition to the university. You will have the opportunity to discuss your potential fall class schedule, resources you can utilize over the summer to prepare for prospective coursework, and have any remaining questions that you have answered about what to expect during your first year on campus.
First Year
As a first-year student-athlete, you will be invited to participate in the Blue Jays RISE program. The program itself is designed to support students at various levels of involvement depending on need, but may include all or some of the following for your individual experience:
Regularly scheduled individual advising appointments
Enrollment in 1 credit "Intro to Hopkins: Arrive & Thrive"
Student-Athlete Mentor (SAM) (available to all first-year student-athletes)
Course-specific content tutoring (both from campus partners and the program itself)
Team study hall
Second Year through Senior Year
At various times throughout your academic career you might feel the need for additional support. The Blue Jays RISE program will continue to support students through their second year and beyond through continued individual academic consultations and connection to campus resources:
Content tutoring in both small group and individual format is available for any class on campus (provided a tutor can be secured)
Students whose GPA remains lower than desired (at any point in their academic career) will be asked to continue their participation in regular academic check-ins until they achieve their academic goals.
Any student who is deemed to be "at-risk of failing a course" by their professor in a specific course will be contacted for an academic check-in (which may result in additional academic support resources)
Additional Information
This 10-week course focuses on familiarizing freshmen student-athletes with campus resources and academic skills required to successfully balance their dual commitment as a student-athlete at Hopkins. While not exclusive to student-athletes, some sections will be taught by the Assistant Director of Student-Athlete Success.
Course Description: Explore the University. Engage with people. Empower yourself. Chart your expedition at Hopkins. In this freshman-only course, students will explore Hopkins' academic resources and opportunities to integrate their academic, career, and personal goals for college and beyond. Students will be exposed to topics including learning strategies, academic planning, and campus culture. Students will develop a personalized plan for success and make some new friends.
SAM mentors are upperclassmen student-athletes (from a different team and paired by major when possible) who will educate and guide first-year student-athletes on the culture of Hopkins athletics and the campus community. This program was created and is managed by members of the Student-Athlete Advisory Committee (SAAC).
The Office of Academic Advising & Support offers a variety of small group-focused tutoring services for all students at Hopkins. Additionally, students whose programs are sponsored by the Center for Student Success, which includes student-athletes, are supported through supplemental tutorial sessions (both individual and small group).
Potential Student-Athletes: The NCAA Eligibility Center is a great resource for any aspiring Division I or Division III student-athlete. Please create an account or log in to access further information.
Current Student-Athletes: The NCAA requires all current Division I student-athletes to meet appropriate progress towards degree benchmarks to maintain their athletic eligibility. More information on these requirements can be found on the NCAA website.
Please contact Jon Kindred, Assistant Director of Student-Athlete Success, with any additional questions that you have about the Blue Jays RISE program or ways to ensure your success as a student-athlete at Johns Hopkins.