Mentoring Assistance Peer Program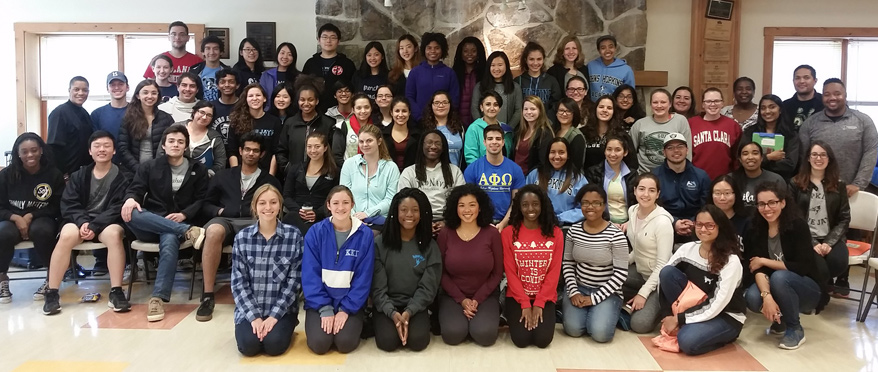 For over 20 years, the Mentoring Assistance Peer Program (MAPP) has been a premier peer mentoring program designed to help underrepresented racial minority first-year students in their transition to Johns Hopkins University. Each year, upper-class mentors act as a resource, confidant and friend for 120 first-year students. MAPP is jointly managed by the Center for Student Success and Office of Multicultural Affairs.
MAPP was an incredible experience…I am looking forward to returning the help I received to upcoming freshman students! – Participant
What is MAPP?
As a first-year student, MAPP will pair you with an upper-class student to assist you in successfully transitioning to Johns Hopkins University. Mentors will encourage you to keep up with your studies and familiarize yourself with campus resources. They will also promote your academic success by connecting you with helpful resources. Mentors teach freshmen how to navigate the campus and host various social activities throughout the year. Most importantly your mentor will be a friend, a vital resource, and an invaluable source of support throughout your freshman year.
MAPP mentors constantly help me with all types of questions, ranging from the nearest barber shop to tutoring help on campus; mentors are there to help you on an academic note, as well as a personal note. – Participant
Who is in MAPP?
The first-year students from underrepresented backgrounds are invited to join MAPP and represent a broad cross-section of the JHU student population. Through the program, you will be able to meet other first-year students from a variety of backgrounds and more senior students who are invested in your success.
MAPP mentors are also a diverse group of upper-class student leaders, representing a variety of majors. These campus leaders are involved in many major campus activities and hold major offices in campus organizations. Your mentors represent the best of the best!
Did You Know?
MAPP has been successfully assisting freshmen for over 20 years! Every year a large team of 40-45 MAPP mentors works with approximately 140 freshmen.
Mentors form committees dedicated to specific types of programming including: social, diversity, academic, community service and selections.
MAPP participants also form family clusters, groups of three or four mentors and their mentees. This is just another way to gain support and ensure that freshmen have a great year getting to know a variety of people.