A Cappella Groups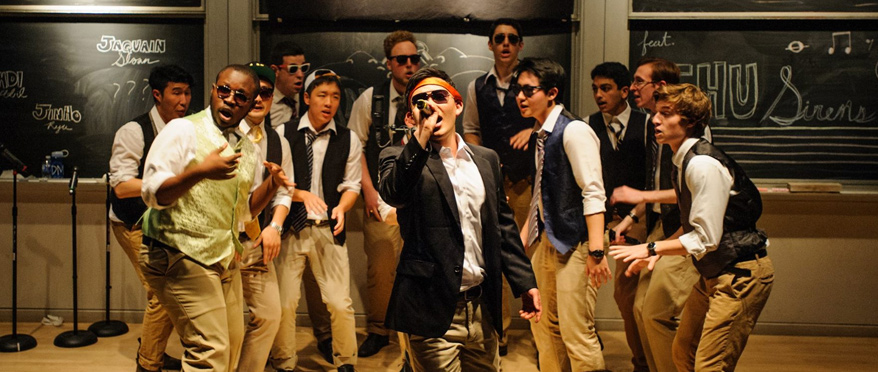 Adoremus
Adoremus is JHU's premier Christian a cappella group, dedicated to spreading God's love through music! The highlight of our year is attending a Boston convention where we perform with 16 other Christian a cappella groups from East Coast universities such as Harvard, Princeton and MIT.
AllNighters
Founded in 1992, the Johns Hopkins AllNighters perform covers of a wide variety of music from Adele and Dua Lipa to Jacob Collier and Sufjan Stevens. As the premier all-male a cappella group on campus, the AllNighters hold semesterly concerts featuring flavorful and unique arrangements in between on- and off-campus performances, which include cultural events, fundraisers, receptions, and national-level competitions.
Humming Jay
Humming Jay is Johns Hopkins' only Korean-interest a cappella group. They sing a variety of songs in both English and Korean.
Ketzev
Founded in 1997, Ketzev is JHU's a cappella group specializing in Hebrew, Israeli, and American music.
Kranti
Kranti is a co-ed Hindi a cappella group that fuses traditional and modern styles of Indian music with contemporary Western vocal styles.
Melanotes
The Melanotes is a co-ed acapella group highlighting Black excellence and committed to celebrating the diverse music and sounds of the African Diaspora and African-American Traditions.
Mental Notes
Mental Notes is a co-ed a cappella group that blends comedy with their singing.
Music Dynasty
Music Dynasty is Hopkins' premier Chinese a capella group. They sing a mixture of Chinese and English songs from a variety of genres and backgrounds and wish to share their culture with the rest of the student body.
Notes of Ranvier
Notes of Ranvier is a community service a cappella group. They are dedicated to performing in the local community and donating proceeds to worthy causes.
Octopodes
The Octopodes are a co-ed a cappella group who perform a wide variety of songs, including contemporary rock and pop music. Founded in 1988, they are JHU's oldest a cappella group and have been featured on the BOCA (Best of Collegiate A Cappella) CD twice.
Sirens
The Sirens, founded in 1995, is the all-female a cappella group at Johns Hopkins. They sing a wide range of music, from country to pop to classic rock.
Take Two
Take Two is JHU's alternative and indie music focused a cappella group. Our group strives to bring attention to songs that are less popular, but just as powerful as anything in the Top 40 hits.
Vocal Chords
The Vocal Chords are a co-ed a cappella group that performs a diverse repertoire, including current songs as well as pop, rock, hip-hop, and country from the 50's–90's.