Dance Groups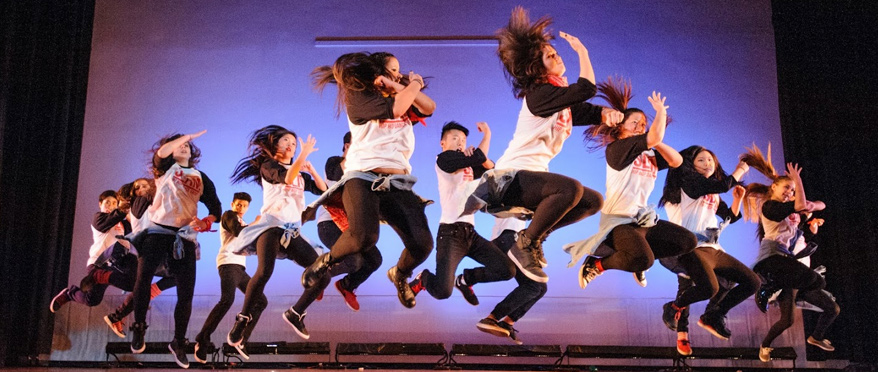 Dance Classes
Semester-long, non-credit classes in ballet and modern dance are held in the Mattin Center Caplan Dance Studio. Classes are free of charge and priority is given to Homewood undergraduates. Graduate students may attend, as long as there is available space. Sign up info is sent out in "Today's Announcements" about two weeks before the semester starts. Students can sign up for one style or both. Class size is limited. For more information, visit the Dance Classes page or email HomewoodArts@jhu.edu.
Aerial Circus Club
The Aerial Circus Club introduces students to the art of aerial circus, a unique performance art that combines dance, strength, and flexibility.
Baila
Baila is a Latin dance group. They promote Latin culture through various dance styles.
Ballet
The JHU Ballet Company trains members in the classical ballet form. They offer weekly classes that focus on technique. They also choreograph and perform traditional and contemporary ballet pieces.
Ballroom Dance club
The Ballroom Dance Club meets weekly to practice ballroom dances of different styles.
Blue Jay Bhangra
Blue Jay Bhangra aims to promote bhangra culture at Johns Hopkins and in the greater community through competitive and non-competitive performance. Based on a mix of traditional Punjabi folk music with Western styles, bhangra features heavy drum beats, colorful costumes, and complex formations.
Breakers Crew at JHU
Breakers Crew practice a variety of break-dance styles and perform in multiple shows each semester. Emphasis is placed not only on the physical movements involved in the dance, but also on the history and culture behind the dance.
Eclectics
Eclectics is a co-ed fusion group that focuses on the creative process of choreography. Various styles of dance are incorporated into the performances, some of which include hip hop, modern, jazz, breakdancing, raving, and tap.
ERUPTION Step Team
ERUPTION is Johns Hopkins' step team. Through our performances, we bring the proud history and culture of step to the Hopkins campus.
Jaywalk
Jaywalk is a jazz and lyrical dance group that focuses on technical skill and performance quality. The group blends intricate and innovative choreography with expressionism and style.
JOSH
JOSH is an all-women cultural dance troupe. Emphasis is placed on Indian classical dance in forms such as Kathak, Bharata Natyam, and Kuchipudi. They choreograph dances for competition and performance. Every dance incorporates at least two disparate dance forms, with one form always being of Indian origin.
Korean Pop Motion
Korean Pop Motion learns and creates choreographies and performs at various events to share the art of K-pop with the school and neighboring communities.
Ladybirds
The Ladybirds Dance Team focuses on a variety of dance styles, including jazz, lyrical/contemporary, pom, hip-hop, and tap. They perform during half time at football, basketball, and lacrosse games as well as at performing arts events and competitions.
Lan Yun Blue Orchids
Lan Yun Blue Orchids is a performing arts group for students to come together to learn and practice traditional Chinese dance.
Listen Up Tap
Listen Up Tap provides students with a place to express themselves through rhythm and music through tap dance instruction and performance opportunities.
Modern Dance
The Modern Dance Company is a modern dance-oriented performing arts group. The company offers two modern dance classes a week, one being taught by Ms. Marilyn Byers, the Artistic Director of the group. The Dance Company is fully SAC-funded and there is no charge for participation.
Shakti
Shakti is a classical Indian dance group that focuses on incorporating Bharata Natyam and Kuchipudi into classical and semi-classical music. Apart from pure classical, Shakti fuses traditional movements with more modern tunes.
SLAM Hip Hop Dance Group
SLAM is the hip hop dance group at Hopkins. The team also hosts an annual showcase and benefit to raise money for Baltimore Dance Crews Project.
Temps d'Afrique
Temps d'Afrique is the dynamic dance troupe of the African Students Association. They employ both traditional and modern African movements and sample a variety of African music genres.
VIVAZ
VIVAZ provides an organization through which the fusion of cultures in the U.S. and the Caribbean can be explored through the performing arts. VIVAZ uses primarily hip-hop and reggae, and combines elements of poetry, art, dance, and song to showcase national diversity.
Yong Han Lion Dance
Lion Dance provides Chinese cultural enrichment to JHU and the surrounding Baltimore community. In addition to performing for cultural events on- and off-campus, they teach lion dance to children.
Zinda
Zinda is JHU's co-ed Bollywood hip-hop fusion dance team. They fuse together various styles of dance, from Indian Bollywood, bhangra, and folk, to hip-hop, salsa, and swing.