Theater Groups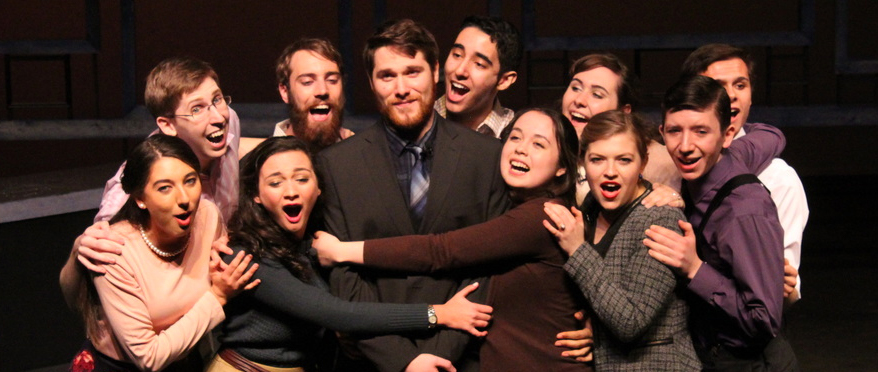 Barnstormers
The Barnstormers are a student-run theater group who perform published plays and present six shows a year. They hire professional directors for two of their shows: a fall mainstage and a spring musical in Swirnow Theater. Other shows include an Orientation Show, the Freshmen One Acts, an Intersession Show, and an informal cabaret. Students are able to act, direct, produce, stage manage, and hold all technical positions.
Buttered Niblets
The Buttered Niblets are a comedy improv group. There are around 10 members in the group each year. The Niblets have shows in Arellano Theater.
Dunbar Baldwin Hughes Theater
Dunbar Baldwin Hughes presents African American based plays and reviews. There are two productions each semester, one in Arellano Theatre and one in the Swirnow Theater.
Entertainers Club
The Entertainers Club is dedicated to the learning, teaching, and performing of various "under appreciated" performing arts. These include, but are not limited to, juggling, poi, staff, devil sticks, diabolo, body balancing, breakdancing, and magic. They also integrate fire into performances in the forms of fire-poi, fire-staff, fire juggling, fire-eating, and fire devil-sticking.
Rocky Horror Picture Show
Rocky Horror presents a shadow cast performance in Arellano Theater at least three times a year, usually around Orientation, Halloween and Valentine's Day.
Stand Up Comedy
The JHU Stand-Up Comedy Club (S.U.C.C.) is a place for any student interested in the art of Stand-Up Comedy. Members participate in weekly workshops where they write, listen, and give feedback on jokes. Students will have the opportunity to perform onstage in front of hundreds of their fellow students, or hang just back and enjoy the show.
Throat Culture
Throat Culture is Hopkins' only sketch comedy group, in the style of Saturday Night Live. Performances include both filmed skits and live acting. They meet weekly to develop material and rehearse, and there are several performances each semester.
Witness Theater
Witness Theater is an entirely student-driven theater group: each semester, we hold a showcase of one-act plays written and directed by students. The group also offers more writing, directing, and acting opportunities during 24-hour shows, giving students of all levels of experience the chance to learn and put their knowledge to use in upcoming showcases. Students have the opportunity to write, direct, act, produce, and conduct technical work.