Administrative Info for Student Arts Groups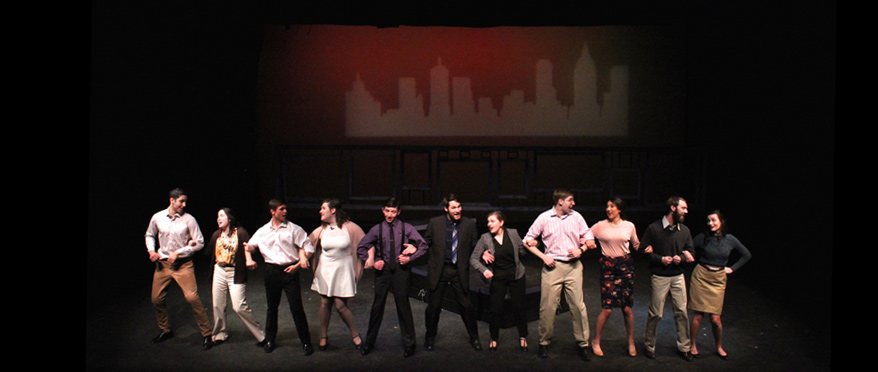 Hopkins Groups: Events & Finances
All group activities (rehearsals, performances, meetings, etc) must be entered in Hopkins Groups, which is also where all financial transactions and activities are maintained. Questions about all student organization policies and procedures, including financial procedures, can be found on the SLI website and specifically on the Student Organization Funding page. Entering events on Hopkins Groups will connect you with the proper departments for Events and Scheduling, AV/KitCats support, and more. Special reservations in Shriver Hall, Arellano Theater, and other arts specifics are coordinated by the Director for the Office of Arts and Innovation.
Email Lists
Please put the director, nwillso1@jhu.edu, on your group's general info email list. This allows the director to keep up to date on all your group's activities via your mass emails.
Event Listings on the HUB
All group performances can be listed on the Arts and Culture events calendar of the HUB. Events can be submitted directly on the HUB.
Funding
Funding sources include:
Student Activities Commission (SAC) –

Annual and monthly requests for groups. During the academic year, registered officers of a group can access the SAC proposal form online at the Hopkins Groups site for your group.

Office of Arts and Innovation "General Funds" –

This funding is primarily to support appropriate items or trips that can't be funded by SAC. The money set aside annually for each arts group is approximately $300-$500. To request funds, email the Director of OAI.

Office of Arts and Innovation "Guest Artist Funds" –

OAI also has funding available to fund guest artists for your groups. This could include professionals to lead special workshops, master classes, dialect sessions, etc. To request funds, email the

Director of OAI.
Dance Groups – Special Funds – There is an dance-specific endowment that can provide additional funds to dance groups for travel, competition fees, guest choreographers, workshops and costumes that will remain property of the group. To request funds, email the Director of OAI.
Student Life Programming Grants – Money is available from a committee that funds projects/events which are sponsored by on-campus groups/departments/organizations. These are offered once each semester, and the application deadlines are usually early September and February. For information visit the Student Life Programming Grants website.

GRO –

Graduate Student Organization offers funds if you have grad students as members. The office is in Levering Hall or at x6-7682.

Alumni Association Student Group Grants –

The Alumni Association offers grants of up to $1500 once a year to student groups. Application deadlines are usually in early fall semester. For info and application materials:

Alumni student grants website

Diversity Innovation Grants – The Diversity Innovation Grant (DIG) program provides funding to support fresh, innovative programming ideas that foster diversity and inclusion among the kaleidoscope of communities at the Johns Hopkins Institutions. Specifically, the DIG program supports initiatives with the following objectives: Promote civility and respect at JHI; Create and implement novel ways to support diversity at JHI; Create and implement novel ways to support inclusion at JHI. The annual deadline is usually in the fall. For info and application form: Diversity Innovation Grants
Donations from the general public – The main JHU giving page is here. This is the easiest way to donate to your group. The person donating must select "Other" from the list and then clearly indicate that the gift should go to your student group, under Homewood Arts Programs/Office of Arts and Innovation. If you have questions about this process, contact the Director of OAI.
Donations from alumni of your group – The JHU Alumni Relations staff can assist your group in soliciting JHU alumni who were active in your group. This can only happen in spring after the office has already made their solicitations. This is not recommended on an annual basis. For further information, contact the Director of OAI.
Group Membership and Registration
All arts groups must register online every year in the Hopkins Groups system in order to be recognized.
Groups that are not recognized will not be allowed to schedule space or receive any of the other privileges extended to registered groups. If you are not an SAC group, you must be "sponsored" either by the Office of Arts and Innovation or another campus department. Contact the Director of OAI

for details.

SAC groups may only have JHU students, faculty and staff as members. Students from other universities and members of the local community may not take part in SAC group activities.

OAI sponsored groups may have community members, if approved by the director of OAI. In special cases, with a professional director, a SAC group may be able to have community members if approved by the Director of OAI.
Online A Cappella Music — Posting and Selling
A cappella groups who want to post and sell their music online must follow all legal and licensing requirements. Currently, you are not able to use the JHU tax ID info to apply to use the services of any music distribution site.
Any money that is made by selling the group's songs must be deposited into the group account with staff in the Office of Student Leadership and Involvement.
Planning and Publicity for Shows
Recording CDs
When a student a cappella or choral group records copyrighted songs for production on a CD, the group must ensure that all licensing fees have been paid. General information is available through the

Harry Fox Agency.
Scheduling Spaces for Rehearsals and Performances
Performances and rehearsals in arts designated spaces are coordinated by the director of OAI. This includes but is not limited to Arellano Theater, AMR Dance space, Shriver, and more.

To schedule a new rehearsal or event in any other room fill out an event submission on Hopkins Groups.

Arts groups scheduling for the next semester's weekly rehearsals in the dance studio and the SDS Room is coordinated by the Director of HAP.

Regular weekly rehearsals start the first day of classes each semester and end on the last day of classes.
Social Events Off-Campus
All student groups are required to register off-campus social events which are group related on Hopkins Groups.. Examples for arts groups include, but are not limited to, cast parties, parties with guest groups from other universities, end of semester dinners, or award celebrations.

Please submit your form at least three business days before your event. All forms will be forwarded to the JHU Community Liaison.

Any incident reports of violations of the agreement will be forwarded to Student Life staff who will initiate appropriate meetings with students and staff.

A new submission must be made for each of your group's social events off-campus.
Student Life Policies
All student groups must follow the Student Life policies which are described in the Undergraduate Student Handbook.
Sudler Arts Prizes
There are two annual prizes for JHU students: the Sudler Arts Prize and the President's Commendation for Achievement in the Arts. More information is available on the Sudler Arts Prize website.
Travel off campus
All off-campus travel and group activities come under the same JHU policies and regulations that are in effect for campus activities and behavior. You are ambassadors for JHU and the guests of the university or company where the performance or activity takes place. Travel for student group activities over 300 miles round trip must use public transportation or a hired van or coach with a professional driver. You must pre-arrange all travel plans with the financial staff person in Student Leadership & Involvement.
All information and policies are subject to revision.