Mobile Credential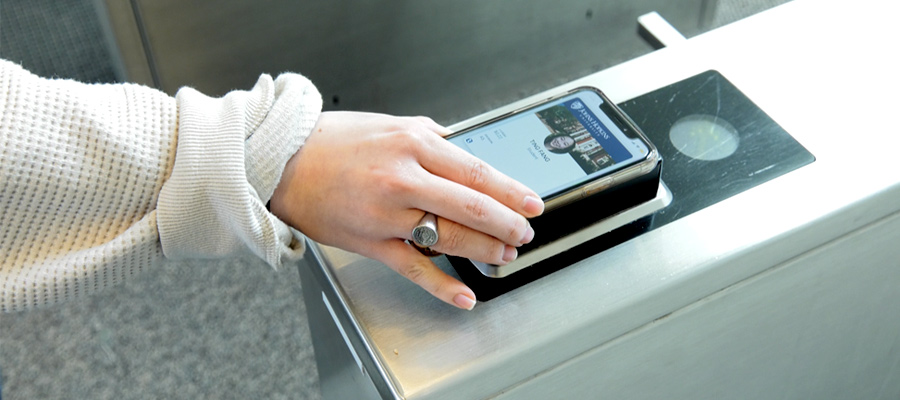 Your J-Card…now on your phone!
With J-Card Mobile Credential, students can use their iPhone, Apple Watch, or Android device to get into their residence hall, print documents at the library, pay for lunch, or shop at the book store.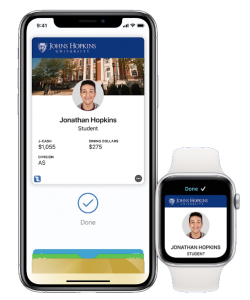 Key Features
Available to on-site students, faculty and staff for the Homewood Campus, Carey Business School, SAIS, AAP, SON, SOM and BSPH.
With support for iPhones, Apple Watches, select Samsung Galaxy Devices and other NFC enabled Android phones, your J-Card is always with you.
Works on the Homewood campus, 555 Penn and Carey Harbor East where plastic J-Cards are accepted—including local businesses near the Homewood Campus.
It's easy to use—simply hold your supported device with your preferred digital wallet near the same reader where you would tap/swipe your physical J-Card.
For Homewood Campus Only:
Newly admitted full-time students will receive a physical J-Card at Move-In or program orientation. Mobile credential will be made available on the first day of classes for the semester.
Getting Started
There is minimal set up required to use Mobile Credential. Most users will be able to begin using their J-Card on their phone in minutes.
Hardware Requirements
Note: If you haven't done so already, make sure to set up your myIT login code (multi-factor authentication).
Setting up Mobile Credentials
Frequently Asked Questions
Accessing Your Account
Managing Your Account
Securing Your Account
You can freeze your credential via any of the options below:
In the eAccounts app, go to the menu on the top right and into Card Management to activate or deactivate a card or your mobile credential.
Visit J-Card Online, go to J-Card Services and deactivate the chosen credential.
Log into SIS and go to My J-Card under the Personal Info menu. Click on Freeze Card. (Physical card only at this time.)
Call the J-Card Office at 410-516-5121 and speak to a representative to report a lost device.
Apple devices can also be reported lost via iCloud.com.
To reactivate a credential for a found device:
Log into SIS and go to My J-Card under the Personal Info menu. Click on Unfreeze Card and select the credential you reported lost to reactivate it.
Call the J-Card Office at 410.516.5121 or visit us to request one of our representatives reactivate the credential.
Credentials can also be reactivated via iCloud.com.

If you purchase a replacement device, remove your mobile credential from the old device via iCloud and then re-provision your credential in the eAccounts app.
Deactivate your card or Mobile Credential immediately (see What should I do if I lose my device?). Identify the fraudulent activity: For purchases using J-Cash, Dining Dollars or meal swipes, contact the business and report the suspected fraud. If door access was involved, notify JHU Security at 410-516-4600. Contact the J-Card Office as soon as possible to obtain a replacement credential. We're available Monday through Friday, 8:30 a.m. to 4:30 p.m.
Using Your Mobile Credential
Your Mobile Credential will work at any door on campus with an iPhone, Apple Watch, Samsung Galaxy and other eligible Android phones, provided you've been granted access to that door. You can also make purchases with J-Cash, dining dollars or your meal plan at any location where you would usually use your J-Card.
Any difficulty using your Mobile Credential to complete a transaction should be reported to jcard@jhu.edu. Please let us know the following details so we can investigate:
Your name
JHED ID
Date and time of the transaction
What you were expecting and what actually happened