Hopkins Student Center: Coming Your Way in Fall 2024!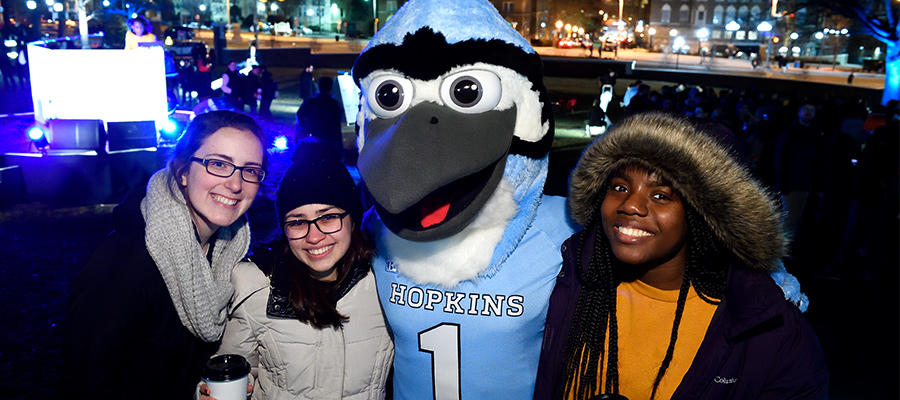 Upcoming Opportunities for Student Input
Students are invited to share their ideas for the new student center at several events this fall, led by the program and feasibility architects, Shepley Bulfinch.
Engagement Session
Sept. 25, 2 to 5:30 p.m Tyler Terrace (between MSE and BLC)
Stop by and share your ideas and priorities for the new students center. There will be food and giveaways.
Table at the Fall Career Fair
Sept. 26, noon to 2 p.m. Recreation Center
Stop by our table at the career fair and enjoy some candy and giveaways while you share your ideas and priorities for the new student center.
On March 5, 2019, President Daniels announced to the Johns Hopkins community that funding for a student center had been secured and planning for the facility would commence.
This will be a new kind of space for us—one that is not academically focused, but entirely social by design. Open to all, reserved for none, and boasting the kind of flexible spaces that invite connection and collaboration…It will be a site to which everyone lays equal claim and from which everyone benefits. And one that will evolve with our community as we continue to evolve and change over time. – Ronald J. Daniels, President PDF Document: View full message from President Daniels >>
Student Center Advisory Committee
The initial phase of the Hopkins Student Center project engagement process is underway… Academic and student affairs leadership have identified faculty and staff members to serve on the Hopkins Student Center Advisory Committee and these representatives are in the process of being finalized. Student applications for the committee will be accepted until April 8, 2019. The full membership of the committee will be announced in April 2019 with the first meeting taking place before the end of the month. A major responsibility of the committee will be to work with the administration to identify compelling engagement opportunities for university stakeholders. These engagement opportunities will be shared widely with the university community.
Committee Charge
The committee will:
Offer perspectives on the best and most innovative means through which the student center can advance our campus community and foster life-long school spirit.
As the planning process moves forward, help ensure that we thoughtfully identify and include programming in the Hopkins Student Center that reflects our students' interests and needs.
Assist our design team in developing inclusive spaces that invite connection and collaboration for the entire Hopkins community.
Explore how our Hopkins Student Center can serve not only as a hub of activity but also as a welcoming, dynamic and engaging entrance to our campus from Charles Village.
Engage with fellow University community members to seek their ideas, input and feedback.
Committee Membership
The Advisory Committee will first convene in Spring 2019 and will meet monthly (60-90 minutes) throughout the Hopkins Student Center planning process. Members are expected to:
Attend monthly meetings (preferably in-person);
Come prepared to meetings (review agenda and supporting materials prior to meetings); and
Actively participate in discussion, take responsibility and complete assignments
The Advisory Committee is chaired by Alanna W. Shanahan, Vice Provost for Student Affairs. Eight seats on the committee are reserved for students—two spots will be reserved for members of Homewood student government (1 SGA, 1 GRO). The committee is open to undergraduate and graduate students from any Hopkins school. Students who serve on the committee play a key role in development and implementation of a broad student engagement strategy.
| First Name | Last Name | Department/Program | Title/Class |
| --- | --- | --- | --- |
| Daniel | Anderson | IT Services | Desktop Services Manager |
| Waleed | Aslam | Archaeology & Film Studies | First-Year |
| Catherine | Axe | Disability Services | Disability Officer |
| Roger | Becks | Community Living | Executive Director of Student Auxiliary Services |
| Steven | David | Faculty | Professor of International Relations |
| Moses | Davis | Dean of Student Life | Associate Dean for Diversity and Inclusion |
| Susan | deMuth | Alumni Relations | Asst. Vice President for Alumni Relations |
| Renee | Eastwood | Krieger School of Arts & Sciences | Director of Academic & Student Affairs |
| Lisa | Egan | Facilities & Real Estate | Senior Project Manager |
| Georgia | Esmond | Public Health with minors in Marketing and Communications, Entrepreneurship and Management | First-Year |
| Wendy | Geist | Dean of Student Life | Special Advisor to Dean of Students |
| Claire | Gorman | Natural Sciences & French | Junior |
| Sanddhya | Jayabalan | Undecided Engineering | First-Year |
| Swetha | Kumar | Chemical & Biomolecular Engineering | Graduate Student |
| Jessica | Kupper | Community Living | Associate Director, Residential Life |
| Brandon | Lax | Computer Engineering & Computer Science | Junior |
| Katherine | Lee | Carey Business School | Graduate Student |
| Oliver | McCammon | Writing Seminars & Political Science | Second-Year |
| Kelly | Milo | Center for Social Concern | Asst. Director of Operations |
| Kerby | Nelson | Community Living | Director of Scheduling & Events |
| Sandra | Alexander | University Communications | Internal Communications Manager |
| Smita | Ruzicka | Dean of Student Life | Dean of Student Life |
| Alanna | Shanahan | Student Affairs | Vice Provost for Student Affairs |
| Laura | Stott | Student Leadership & Involvement | Executive Director of Student Engagement |
| Michael | Ward | Bloomberg School of Public Health | Associate Dean for Enrollment Management and Student Affairs |
History of the Student Center Project
The Hopkins Student Center is the result of years of dedicated advocacy, philanthropy, and planning. For decades, students and university leadership alike have recommended the development of campus facilities that support informal social interaction, relaxation, and community building beyond the rigors of academics. More recently, the Student Government Association, representing undergraduates in the Krieger School of Arts and Sciences and the Whiting School of Engineering, sought input from their constituents in the fall of 2018 on several items relevant to the JHU student experience, and their results showed that over 81% of those who voted supported the construction of a student center. In 2012, a student life, residential, and retail study—which included a survey of nearly 1,200 students, faculty, and staff as well as an analysis of both existing facilities and development on and adjacent to campus—was completed. The study concluded that the current location of the Mattin Center is the best location for a new student center, given its proximity to other key campus facilities and its positioning as a "gateway" into campus from Charles Village. In 2014, a subsequent feasibility study and concept design was undertaken. The effort reinforced the need for student center on campus and confirmed the current Mattin site as the best location. Now slated for completion in fall 2024, construction for the Student Center will begin in spring 2022, ushering in a new era in the Hopkins experience. The Center will provide an inviting, inclusive, and accessible space for all Hopkins students to connect and unwind.
I'm very excited about the impact this facility will have on the student experience. The addition of a university student center to the Homewood campus will serve as a game-changer for our students, who have long noted the need for a space that promotes relaxation, socialization, and interaction with friends outside of studying. – Alanna Shanahan, Vice Provost for Student Affairs
From the Hub: Student Center Coming to Homewood Campus

Long-sought social space for Johns Hopkins students will be built at the intersection of Charles and 33rd streets, is expected to be completed by end of summer 2024. Continue reading on the Hub…
Frequently Asked Questions