Hopkins Student Center
This will be a new kind of space for us—one that is not academically focused, but entirely social by design. Open to all, reserved for none, and boasting the kind of flexible spaces that invite connection and collaboration…It will be a site to which everyone lays equal claim and from which everyone benefits. And one that will evolve with our community as we continue to evolve and change over time. – Ronald J. Daniels, President PDF Document: View full message from President Daniels >>
Highlights of the Hopkins Student Center
The Hopkins Student Center will include a food hall with multiple vendors, a studio theater, sound-treated rooms for music practice or podcast/music recording, multipurpose rooms, rehearsal rooms with sprung floors, the Digital Media Center, a gaming lounge, a Student Engagement Hub where student groups can meet and access resources, and plenty of open seating for relaxing and socializing!
The university conducted a robust engagement process throughout the summer and fall of 2019 and spring of 2020 that included over 1500 participants from across the university in multiple open sessions and smaller, focused groups to ensure diverse feedback and voices were heard. Sessions were held with student group leaders, the FLI Student Advisory Group, the Student Government Association, the Multicultural Leadership Council, Diversity and Inclusion, the Student-Athlete Advisory Council, the Graduate Representative Organization, and others, as well as open sessions at Homewood, Peabody, and the Schools of Nursing and Public Health. This process helped shape the program that directs what activities, functions, and kinds of spaces will be in the student center.
The university also convened the Hopkins Student Center Advisory Committee, which is comprised of faculty, staff, and student representatives from across the university who meet periodically to give feedback on different elements of the project. Eight seats on the committee are reserved for students; two of these eight spots are reserved for members of Homewood student government (1 SGA, 1 GRO). Students continue to play a key role in the development and implementation of a broad student engagement strategy.
We Want to Hear from You
In the coming months, there will be opportunities to learn more about the project, give feedback, and share your thoughts with the Hopkins Student Center design team.
Stay tuned to this page and to social media to learn about future engagement moments!
Design of the Hopkins Student Center
The HSC Advisory Committee developed six tenets to guide the feasibility and design processes. These tenets complement the unique needs of the Hopkins community: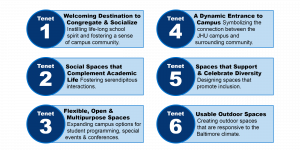 Project Timeline
| | |
| --- | --- |
| Feasibility Study | Spring 2019 |
| Design Begins | Fall 2020 |
| Mattin and Whitehead Relocations Complete | Spring 2021 |
| Construction Begins | Summer 2021 |
| Opening | 2025 |
Architect: Bjarke Ingels Group
About BIG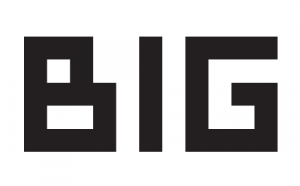 BIG is a Copenhagen, New York, London, and Barcelona-based group of architects, designers, urbanists, landscape professionals, interior and product designers, researchers, and inventors. The office is currently involved in a large number of projects throughout Europe, North America, Asia, and the Middle East. BIG's architecture emerges out of a careful analysis of how contemporary life constantly evolves and changes. Not least due to the influence from multicultural exchange, global economic flows, and communication technologies that all together require new ways of architectural and urban organization. BIG believes that in order to deal with today's challenges, architecture can profitably move into a field that has been largely unexplored. A pragmatic utopian architecture that steers clear of the petrifying pragmatism of boring boxes and the naïve utopian ideas of digital formalism. Like a form of programmatic alchemy, BIG creates architecture by mixing conventional ingredients such as living, leisure, working, parking, and shopping. By hitting the fertile overlap between pragmatic and utopian, architects once again find the freedom to change the surface of our planet to fit contemporary life forms better.
Why did you choose BIG?
Johns Hopkins conducted a worldwide design competition for this project, which will fulfill a century-long desire of JHU students for a student center. The design firms were presented with criteria and requirements that were informed by an extensive process of consultation with our students about what they are looking for in a student center. Four firms presented their designs to the university in the spring of 2020. Over the summer, students, faculty, staff, and recent alumni had the opportunity to provide feedback on the designs based on the factors they had identified as most important. The BIG design generated the most enthusiasm and the most #1 rankings across six criteria from the 1,200 survey respondents.
How does this modern design fit with Hopkins' campus?
The plan is a departure from the traditional Georgian architecture of the Hopkins campus, and that is by design. It has echoes of its surroundings (e.g., in shape and scale, it mimics the Beach to the north), but it is intended to be a unique new focal point for campus activity and to create a dynamic point of connection between the campus and Charles Village.
---
Mattin and Whitehead Program Relocations
The new Hopkins Student Center will be built on the site of the Mattin Center and Whitehead Hall. With the retirement and removal of these buildings, all functions have been prioritized for relocation on or near Homewood Campus.
Music Practice and Rehearsal Rooms have expanded to include newly renovated spaces in Shriver Hall.
Leadership, Engagement, and Experiential Development (LEED) has moved temporarily to Homewood Apartments' "Lab" at 3003 N. Charles Street.
Digital Media Center (DMC) has moved temporarily to Homewood Apartments, next to FedEx at 3003 N. Charles Street.
DMC Gaming Lounge has been relocated to Scott-Bates Commons (formerly Charles Commons), inside the Charles Street entrance lobby, second level.
Dance has expanded to include temporary space in AMR I MPR as well as usage of newly renovated space in the Ralph O'Connor Center for Recreation and Well-Being.
Theater operates at Arellano Theater in Levering Hall and in Shriver Hall, with improvements made to Arellano to support the previous functions of Swirnow Theater.
Center for Visual Arts has found a new home at 10 E. North Ave in the Centre Theatre.
The Office of the Dean of Student Life has moved permanently to AMR II – Ground Level Annex (door behind the Blue Jay statue near the Hopkins Café)
The Applied Math and Statistics Department has moved permanently to the Wyman Park Building.
The Center for Leadership Education has moved permanently to the Wyman Park Building.
From the Hub: Design Concept Selected for Hopkins Student Center

The concept, submitted by the international architectural firm Bjarke Ingels Group, features an open design with a large central campus living room, a variety of social spaces, themed community lounges, art and enrichment spaces, and dining options. Continue reading on the Hub…
From the Hub: Hopkins Student Center moves forward with preparation of future site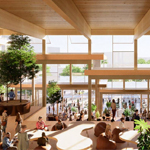 The university community will have opportunities to bid farewell to Mattin Center, Whitehead Hall this spring; Hopkins student programs and services to be temporarily or permanently relocated as project progresses. Continue reading on the Hub…
Frequently Asked Questions
History of the Student Center Project
The Hopkins Student Center is the result of years of dedicated advocacy, philanthropy, and planning. For decades, students and university leadership alike have recommended the development of campus facilities that support informal social interaction, relaxation, and community building beyond the rigors of academics. More recently, the Student Government Association, representing undergraduates in the Krieger School of Arts and Sciences and the Whiting School of Engineering, sought input from their constituents in the fall of 2018 on several items relevant to the JHU student experience, and their results showed that over 81% of those who voted supported the construction of a student center. Over the last decade, numerous other studies and surveys have been performed that reinforced the need and desire for a student center on campus, and these efforts confirmed the current Mattin site as the best location.
Now slated for completion in 2025, site work for the Student Center will begin in spring 2021, ushering in a new era in the Hopkins experience. The Center will provide an inviting, inclusive, and accessible space for all Hopkins students to connect and unwind.
From the Hub: In Hopkins Student Center planning, 'nearly everything is on the table'

A film screening room. A gaming space. A rooftop terrace. A test kitchen. The ideas keep coming for the new Hopkins Student Center, and the project team wants more. Continue reading on the Hub…