Find Fellowships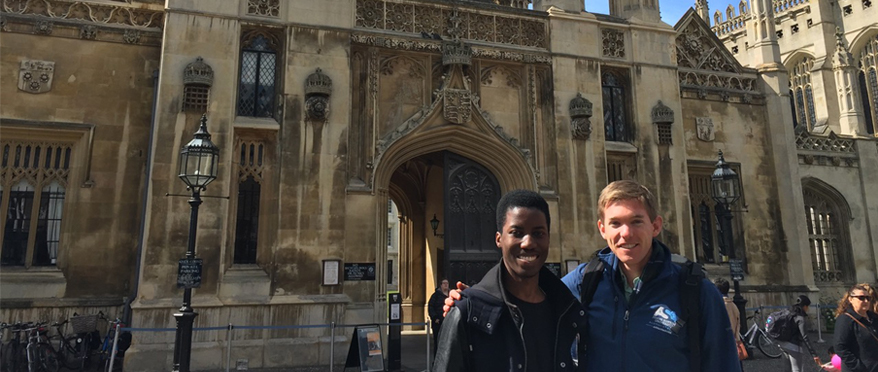 In this section of our website, you'll find dozens of opportunities of various kinds, from undergraduate scholarships, to post-graduation professional experiences, to dissertation write-up grants, among many other award types.
On this page is list of highlighted fellowships, where NFP plays an official role in the application process (nomination, endorsement, submission) and/or where we have a specific advising process or specific resources. Click the links to access detailed profiles for each that outline the terms, eligibility criteria, and desired qualifications for each program and explain how to work with NFP as an applicant.
Please don't miss our much more extensive list of opportunities in the Fellowships, Scholarships & Grants Directory, where you can browse brief profiles of more than one hundred awards, or download this spreadsheet version and sort or filter by key criteria.

Explore Fellowships
| Fellowship | Description |
| --- | --- |
| Astronaut Scholarship | For sophomores and juniors in STEM fields with exceptional motivation, creativity, and performance in academics and research. *JHU nomination through NFP required* |
| Beinecke Scholarship | For juniors planning to pursue a research-based or creative graduate degree in the arts, humanities, or most social sciences and a research-oriented career. *JHU nomination through NFP required* |
| Boren Awards | For undergraduates and graduate students interested in studying less commonly taught languages in world regions critical to U.S. interests. |
| Churchill Scholarship | For postgraduates to pursue a graduate degree in a STEM field at Cambridge University. *JHU nomination through NFP required* |
| DAAD (German Academic Exchange Service) Grants | A variety of funding opportunities for study or research in Germany. |
| Emerson National Hunger Fellows Program | For postgraduates to pursue a year-long professional fellowship focused on anti-poverty and anti-hunger efforts. |
| Fulbright English Teaching Assistant Award | Postgraduate opportunities to teach English and American culture abroad. *JHU endorsement provided by NFP* |
| Fulbright Study/Research Award | Postgraduate opportunities to conduct independent research or creative work or pursue graduate study abroad. *JHU endorsement provided by NFP* |
| Gaither Junior Fellows Program | Postgraduate fellowship placement at Carnegie Endowment for International Peace, a leading think tank in Washington, D.C. *JHU nomination through NFP required* |
| Gates Cambridge Scholarship | For postgraduates with a commitment to improving the lives of others to pursue a graduate degree at the University of Cambridge. |
| Goldwater Scholarship | For sophomores and juniors with a strong research profile intent on a STEM-field research career. *JHU nomination through NFP required* |
| Hertz Fellowship | For STEM-field PhD students with evidence of exceptional creativity, broad understanding, and potential for innovative research. |
| Knight-Hennessy Scholarship | For postgraduates dedicated to finding creative solutions to the world's greatest challenges to pursue a graduate degree at Stanford University. |
| Luce Scholars Program | A postgraduate award to pursue a year of immersive living and working experience in Asia designed to introduce this diverse region to talented, public interest-minded young Americans. |
| Marshall Scholarship | For postgraduates positioned to become leaders in their fields to pursue a graduate degree at any university in the U.K. *JHU nomination through NFP required* |
| Mitchell Scholarship | For postgraduates positioned to become leaders in their fields to pursue a one-year graduate degree in Ireland. *JHU nomination through NFP required.* |
| NIH Undergraduate Scholarship | Support with extensive professional research training for undergraduates firmly committed to careers in biomedical, behavioral, and social science health-related research. |
| NSF Graduate Research Fellowship Program | For students enrolled or enrolling in research-focused STEM graduate programs. |
| P.D. Soros Fellowship for New Americans | For immigrants or children of immigrants to pursue graduate study in the U.S. |
| Rhodes Scholarship | For postgraduates positioned to become leaders in their fields to pursue a graduate degree at the University of Oxford. *JHU nomination through NFP required* |
| Schwarzman Scholars Program | For postgraduates to develop their leadership skills while pursuing a master's degree in Global Affairs at Tsinghua University in Beijing. |
| Truman Scholarship | For juniors committed to public service leadership to pursue graduate study and professional development. *JHU nomination through NFP required* |
| Udall Undergraduate Scholarship | For second- and third-year students with demonstrated leadership, public service, and commitment to issues related to Native American nations or to the environment. *JHU nomination through NFP required* |