Identify Opportunities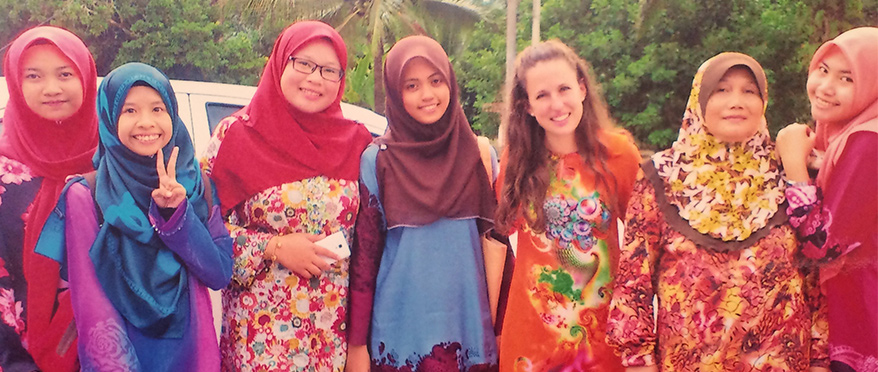 You're ready to start looking at specific fellowship and scholarship opportunities. Now what?
Start your research, using the links in "Resources for Finding Fellowships" below.
As you explore fellowships, consider not only which awards you are eligible for, but which may be a good fit. Advice on "Identifying a Good Fit" is below.
Check out what Hopkins fellowship winners have to say about their experiences in "Fellowship Stories."
Resources for Finding Fellowships
Learn About Specific Fellowships
On the fellowships section of our website you can explore a wide range of opportunities that are national or international in scope, which you can filter by purpose of the award, eligibility factors, and other search criteria. You can also use our Additional Resources page to learn about opportunities specifically for Hopkins students and search for additional awards beyond the many we have listed (there are many more out there!).
Be sure to sign up for our regular email newsletter to receive information about upcoming opportunities, information sessions on campus and beyond, and other fellowships-related announcements.
However you decide to begin, we are here to help! You can reach out to us anytime by email or make an appointment to talk to us on Zoom.
Identifying a Good Fit
Are you eligible? Are you the right 'fit' for a scholarship?
It's important to regard these as two distinct questions. Eligibility lays out the bare-bones requirements for applicants. You are eligible to apply for any fellowship for which you meet the eligibility requirements (i.e., citizenship, class year, field of study, age). Being eligible to apply, however, does not equal a good fit. After checking that you meet the eligibility criteria, you should next consider whether your individual interests, experiences, professional aspirations, etc., make you a good fit for a particular award and vice versa. Fit is a two-way street.
Fellowships are embodiments of the missions and values of the organizations that fund them, which range from agencies of the federal government, to progressive service agencies or conservative think tanks, to corporate or family foundations. Make sure the mission and objectives of a fellowship that interests you align with your own values and goals. Read the fellowship's description carefully and read about the sponsoring organization – do you see a vision that you share?
It is equally important to ask: will a selection committee see the fellowship's mission manifest in your application? You may find the anti-poverty, anti-hunger work of the Congressional Hunger Center to be incredible and inspiring, for example, but you won't be a good candidate for the Center's Emerson National Hunger Fellowship unless you've already devoted time and energy to understanding and combatting poverty and food insecurity. Look at winners' bios on the program's website and see if their experiences, qualifications, and goals resonate with yours.
Think carefully, too, about how the fellowship fits in the path you are charting for yourself. Many grants will send you overseas for a year or more – would that work with your timetable for medical school or a PhD program, for example?
Frequently Asked Questions
Finding Fellowships
Identifying a Good Fit
Generally, GPA may not be the barrier to entry that many assume it to be. In many fellowship selection processes, GPA is less important than how an applicant's overall academic profile and path, service commitments, and extracurricular activities embody the values and standards of the award's funders.
It is true that some scholarships require a minimum grade point average, and when that's the case, it is a firm limit. If a fellowship lists 3.5 or top 25% of your class as the cut off, it's best to assume they will not consider applicants who fall below that requirement, regardless of extenuating circumstances or strengths in other areas.
More often, scholarships do not list a specific minimum grade point average. Some particularly competitive awards will express their desire for candidates with excellent or outstanding academic performance. That usually means that you should have at least a 3.8, depending on the award, as part of being a strong candidate (e.g., UK/Ireland Scholarships). Others emphasize different kinds of qualifications and are not particularly interested in GPA (e.g., Fulbright English Teach Assistantships or Emerson National Hunger Fellowships).
Keep in mind that GPA is always just one data point. Selectors typically read transcripts holistically, looking at what classes you have taken, how challenging your course loads have been over time, how you performed in key classes for your major(s) vs. in electives, and what trends are evident in your grades over time.
It's hard not to wonder about this, yet there's rarely a satisfying answer. Many factors influence the fate of any fellowship application and many awards are so competitive that in the end, the chances of winning are, by definition, small.
The best advice we can give is to carefully consider the selection criteria for the particular fellowship in which you are interested as well as your level of enthusiasm about what the award is offering. If you feel that you fulfill the selection criteria and you are able and willing to work hard on the application within the given timeframe, then you should apply. If, upon careful reflection, you feel that there is not a strong alignment between your goals and values and those of the award, or you know that other commitments will prevent you from giving the application due effort, then it may be better to save your time and energy for another opportunity or the same award at a later time. Many awards have eligibility windows that span several years.
A key point: all applicants who put in the requisite effort do "win" in gaining insights through self-reflection as well as transferable skills—writing compelling proposals, articulating future goals, interviewing, etc.—whether their applications advance or not.
You can apply for as many as you like. But you should weigh the time it takes to complete applications, whether you think you are a competitive candidate, and how much work you want to put into the application process. Some fellowships, though distinct, overlap in terms of field or type of grant, so it would make sense to apply for all that fit with your interests and goals. Yet, because each fellowship is different in style and focus, it makes sense to identify the ones that best suit your credentials and interests, then focus your energies on producing the strongest possible application for those, rather than spreading yourself too thin. Throwing as many applications into the mix as you can to see what happens is rarely the right approach.
I spent almost two years in Germany after graduating…and it was maybe the best thing I ever did. It was challenging at times, but meeting those challenges—learning the language, trying to understand the culture—gave me the chance to learn about myself in ways I'm not sure you can any other way. – Justin Porter, DAAD Grant