Graduate Representative Organization
Expand
Graduate Representative Organization
Dear fellow grads,
The GRO is holding its annual elections for positions on the Executive Board (E-Board) and we want YOU to run. Elections will be held in Mergenthaler 111 on April 24th at 6pm(Today).
Please nominate yourself or other graduate students for the E-Board positions listed below by emailing gro@jhu.edu ahead of time or during the election. You do not need to have prior experience with the GRO to run. All full-time KSAS and WSE graduate students are potential candidates and invited to participate. Nominees should attend the election, give a short speech why and how they're qualified, and be prepared to answer questions from the General Council.
Many current E-Board members are actually graduating and therefore, it is important that you run for positions. Without the participation of graduate students, the GRO won't be able to hold social events, take care of administrative tasks, and support graduate student life on Homewood.
As an E-Board member, it is important that you can attend meetings every Monday from 6 pm to 7:30 pm. E-Board members are paid $10/hour for fulfilling duties outside of meetings towards their position, as stated below.
If you've got any questions, send an email to gro@jhu.edu or contact the grad/s who is/are currently holding the position:  https://studentaffairs.jhu.edu/gro/people/officers/
We are looking forward to your nominations.
Best wishes,
Linda
GRO Chair
---
The GRO works hard to connect graduate students to the extensive Hopkins network. We do this by acting as liaisons between students and administration to advocate for graduate student needs and distribute information.
We also hold awesome advocacy and social events! Check out our Facebook page for more details.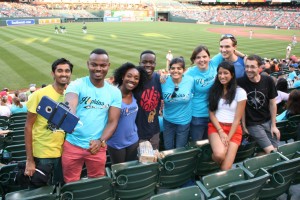 APPROVAL OF MINUTES (3/27/2017)
* Motion to approve; the motion passes
REPORTS
E-Board report (4/3/2017)
– Some budget items on track, some under; payroll is currently overdrawn
– Payment for hours not worked; some E-Board members haven't been working full hours
– Financial concerns chair has volunteered to only take 7 of 25 hours
– Wellness chair hasn't responded
– Former chair asked to only keep payments up to end of fall semester; hasn't responded
– Should we switch to a payment system in which paid positions log hours instead of getting paid for a fixed number of hours?
Discussion:
– Q: Is it possible to split positions among different people? A: This has happened in the past, but that didn't help.
– Q: Do positions get paid hourly or per semester? A: This is unclear and seems to vary from E-Board member to E-Board member.
– Q: Which would you prefer? A: It's easier, budget-planning-wise, to pay people per-semester.
* Motion to table discussion of how positions should be paid until the next meeting; the motion passes
Meeting with Tiffany Sanchez (4/6/2017)
– Discussed fact that budget for next year needs to be written
FUNDING REQUESTS
Talk by P. Sainath
– Q: Is $6 per person the projected cost or the amount of money charged? A: The projected cost.
* Motion to fully fund; the motion passes
LGBTQA Networking Gathering
* Motion to fully fund; the motion passes
"Artyfacts" of Ethnography: Art and Anthropology in Conversation
– Q: Why are you projecting $300 dollars for refreshments for 60 people? A: It's a long event.
* Motion to fully fund; the motion passes
GUIDELINES FOR FUNDING REQUESTS
Discussion:
– This subject was brought up last week at the GPSA luncheon; should we fund groups that are traveling to e.g. competitions? This isn't exactly an event, but groups want to be able to get money this way.
– Q: What happens if the group has both undergrads and grads? A: We could have a restriction on the minimum percentage of graduate students.
– Q: Is there a way to have a GRO/SGA budget for groups with both undergrads and grads? A: We would need a voting process for this budget.
– Q: Could we just pay for just the graduate students? A: That would approach a travel grant.
– Group travel is not open to all students, and hence is not like the sort of events we usually fund.
– Q: Could we use the travel grant to fund extracurricular travel? A: That may conflict with the philosophy behind the grant.
– Q: Should we form a committee to come up with concrete recommendations for this sort of policy? A: Maybe later?
– Q: Should we have a separate non-academic travel grant budget and process?
– Since this sort of non-academic travel isn't open to everyone, we shouldn't fund it.
* Motion to, in principle, allow groups that are traveling to non-academic competitions to apply for funding; 23 in favor, the motion passes; we will form a committee to come up with concrete
FLOATING CHAIR POSITIONS FOR 2017/2018
Current positions:
– Diversity, intercampus, financial concerns, wellness
How are the current chairs working out?
– Diversity — working on lots of good initiatives
– Intercampus — very helpful for getting intercampus events organized; very appreciated by social chairs
What topics would you want the floating chairs to deal with next year?
– Diversity
– Intercampus
– Someone to deal with GRO legacy documents
– Financial concerns
– Wellness
– A second diversity chair
NEW JHU BRANDING POLICY AND GROUP RECOGNITIONS
– The Johns Hopkins University has a new branding policy:
– Student groups can't be named JHU X, has to be X at JHU
– Group recognition policy is getting more strict
– Grad groups have to re-register
END OF THE ACADEMIC YEAR BBQ
– When should we do this? May 10th? After exams?
– We'll discuss this in E-Board
UPDATES FROM E-BOARD MEMBERS
Diversity chair:
– Meeting with Assistant Dean of Diversity and Inclusion
– Re-launch of the Black Graduate Student Association, social events planned with Black Faculty Alliance, incoming grad students in fall
– Professional development event planned
– Re-starting the Diversity Fellows program; will cover 2-10 graduate students
– Having someone promote diversity-related events more thoroughly across different campuses
– Getting quotes/pictures for admissions brochures from people in the GRO
– Mentorship program for first-year underrepresented minority graduate students
Advocacy chairs:
– Is JHU a sanctuary campus?
– Asked whether JHU is planning to be a sanctuary campus; James Page is discussing this issue with James Page
– JHU has put out a statement in which it says it will do the various resources/protections required of sanctuary campus without calling itself a sanctuary campus
– Need to clarify how to practically get access to these resources/protections
GRO SWAG
– This will be done through an online form
QUESTIONS/COMMENTS/ANNOUNCEMENTS
For minutes from prior meetings, click here.