Assault & Harassment Resources
The Graduate Representative Organization is committed to supporting a safe environment for each and every member of our community. If you have been sexually assaulted or a victim of sexual violence, we urge you to reach out to a counselor for emotional support and get medical care. Below are a list of resources concerning sexual assault and harassment.
Reporting at JHU
The following is from the Homewood Grad Web Page (11/14/2019):
"JHU has systems in place for students to safely come forward and report sexual assault on each of its campuses. JHU's Office of Institutional Equity (OIE), student affairs and security work together to provide a safe and supportive environment for assisting students who report sexual assault. Students are encouraged to report sexual assault to security, student affairs and/or OIE. These three offices work in partnership to conduct investigations of sexual violence complaints filed by students, staff and faculty. All three of these offices are committed to handling reports of sexual assault with discretion, minimizing the individuals who need to be involved in responding to a report and to the greatest extent possible providing consideration of the wishes of the complaining party with respect to confidentiality and how they wish to have a complaint handled."
Response Flowcharts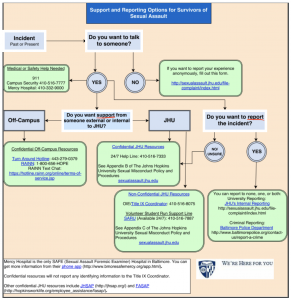 PDF Document: Support and Reporting Options for Survivors of Sexual Assault
This flowchart was adapted from sexualassault.jhu.edu. Click the title link to view the original PDF version, which also contains information for supporting a sexual assault survivor.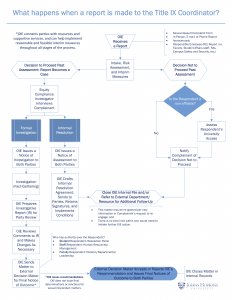 PDF Document: "What happens when a report is made to the Title IX Coordinator?"
This flowchart was adapted from oie.jhu.edu. Click the title link to view the original PDF version.
Education & Training
Safe Zone Training
Safe Zone training lasts 3 hours, and is suitable for students, staff, and faculty. It will help you become a better ally for the lesbian, gay, bisexual, transgender, and queer (LGBTQ) community. At the end of the training, participants are given a colorful Safe Zone logo in order to visibly demonstrate their support for the LGBTQ community.
Visit the LGBTQ Life Webpage to learn more and sign up.
The Office of Institutional Equity Trainings
In support of Johns Hopkins University's commitment to maintaining work and academic environments that are free from all forms of harassment and discrimination, the Office of Institutional Equity offers a range of live and online training programs for students, staff, and faculty on topics including: Title IX & JHU sexual harassment policies, sexual assault prevention training, harassment/discrimination prevention, and bystander intervention training.
Visit JHU's Sexual Assault Response & Prevention Webpage to learn more and sign up.
Other Resources
24/7 Confidential Sexual Assault Response Helpline: 410-516-7333
Peer Support from the JHU Sexual Assault Response Unit (jhusaru@gmail.com, 410-516-7887)