About Dining Programs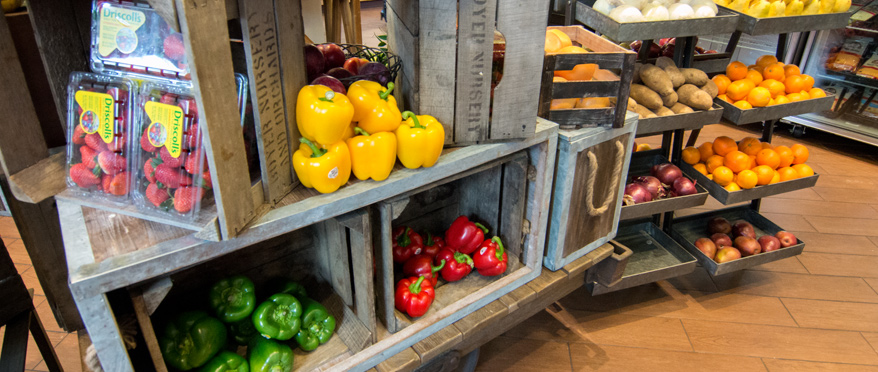 At Dining Programs, we're committed to a singular goal: to be among the best campus dining programs in the country.
Driving our goal is the belief that campus dining is more than just a place to grab a meal; in fact, we consider it a fundamental part of campus life. In addition to nourishing the body, we know that campus dining also contributes to the social and cultural soul of campus life. So many members of the campus community choose the dining room as the perfect remedy to hectic schedules or other stresses. It's the perfect place to sit back, relax and connect with friends.
Operating our program responsibly is an important aspect of our organizational culture. Responsibility comes in many forms and includes not only the responsibility of offering the freshest food possible, but also responsibility to our community and the world we live in. From cage-free eggs to hormone-free milk, locally-grown produce to biodegradable paper products, our program continues to evolve to provide the campus community with the very best, all while carefully considering the health of our customers, the vibrancy of our community and the future of our planet.
Commitment to Food
Our team follow these kitchen principles to assure the highest level of food quality and the most flavorful, nutritious options for our guests:
Culinary standards
Menus are written based on seasonality and availability of regional fresh product. Whenever possible, these are produced locally using sustainable and organic practices.
Vegetables are prepared in batches at the last possible minute and served in the smallest possible batches.
Healthy menu items are a mainstream offering throughout our cafés.
Vegetarian options are plentiful at every meal.
Stocks are made from scratch.
Salsas, pizza, marinara and other sauces are made from scratch.
Olive and canola oils are used for everyday salad dressings. Specialty oils for other purposes (i.e. walnut oil or chili oil). Peanut oil is never used in the preparation of our food.
All salad dressings are made from scratch. Nonfat and low-calorie dressings may be purchased as necessary.
Cookies and muffins are baked fresh daily. Breads are baked fresh daily where possible.
Trans fats are not used in our kitchens.
Turkey and beef are roasted in-house daily for deli meat.
Seafood is purchased fresh when available locally or frozen at the source to ensure quality — never air-freighted.
Mashed potatoes are made from fresh potatoes.
Fresh squeezed lemon juice is used for cooking and sauces.
MSG is never used in the preparation of our food.
Sourcing standards
We believe we can deliver fantastic food and wonderful service while also helping make our food system better. It's a tall order, but we do love a challenge.
All seafood purchases, wild and farmed, follow the Monterey Bay Aquarium's Seafood Watch program sustainability guidelines for commercial buyers.
Milk and yogurt are from cows not treated with artificial Bovine Growth Hormone.
Shell eggs are produced cage-free and are certified by Humane Farm Animal Care, Food Alliance or Animal Welfare Approved.
Turkey and chicken are produced without the routine use of antibiotics as a feed additive.
Hamburgers are made with fresh ground beef from cattle raised on vegetarian feed, never given antibiotics or hormones, and from ranches whose animal welfare practices are third-party verified.
Other meats are raised without antibiotics as a first preference.
Wellness
We believe good health is about the choices you make every day at every meal. That is why we have teamed up with Bon Appetit and stove to deliver healthy menu options with fresh, local ingredients. Learn more about healthy eating patterns as well as the community and environment issues that can affect your well-being.
Have a question or feedback? Please don't hesitate to contact us.