About Hopkins Dining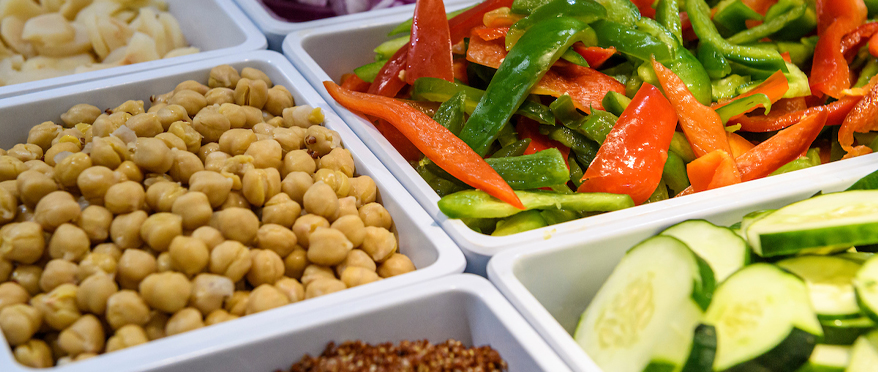 Hopkins Dining's mission is to cultivate innovative experiences to nourish our communities, embrace authenticity, and fulfill our global responsibility. Driven to provide an innovative and creative dining experience while maintaining its commitment to nutrition, wellness, and sustainability, Hopkins Dining has assembled a group of hospitality experts with many years of experience to bring the Hopkins community an exceptional array of options.
Commitment to Food
At its core, Hopkins Dining is committed to the following foundational principles:
Culinary Standards
Hopkins Dining menus, recipes, and concepts are developed on an ongoing basis collaboratively by our team of professionally trained chefs using input from students, faculty, staff, and the community at large.
We carefully select our menu items to ensure we meet the needs of all dietary restrictions, food allergies, and food preferences.
Through our culinary innovation and ever-changing menu items, we strive to promote a global approach and enhanced cultural understanding to the student experience.
Sourcing Standards
Hopkins Dining has partnered with exemplary local farmers, suppliers, and producers to source the best ingredients to nourish our university and broader community.
Through these partnerships, we will not only further our commitment to sustainability, but we also will support locally-owned business by providing them with essential opportunities to further develop the Baltimore community.
We strive to find natural or minimally processed ingredients from suppliers who are committed to ethical and responsible cultivation and production practices.
Menus
Menus have been updated and refreshed while keeping in mind seasonality and availability of regional fresh product.
Sustainability will be a big focus for the new Hopkins Dining program and whenever possible, we will be sourcing as many locally produced products and services that meet our new sustainable and organic practices.
Variety will be a big emphasis in the creation of our new menus, and we are aiming to offer something for everyone.
All the food will be prepared in small batches at the last possible minute to ensure freshness.
Healthier item selections will be added and become a mainstream offering throughout our cafés.
Vegetarian options will be available at every station.
Stocks/Soups will be made from scratch.
Sauces and Salsas will be made from scratch.
Olive and canola oils are used for everyday salad dressings. Occasionally specialty oils such as walnut oil, truffle, chili oil, etc. might be used but fully advertised. Peanut oil will not be used in the preparation of our food.
Trans fats are not used in our kitchens.
Most of our pastries and desserts will be baked fresh daily.
Pizza dough will be delivered fresh daily for us to use from a local vendor.
Whenever possible Meats will be roasted in-house daily for deli meat.
Seafood is purchased fresh when available locally or flash frozen at the source to ensure quality — never air-freighted.
MSG is never used in the preparation of our food.