Meal Plans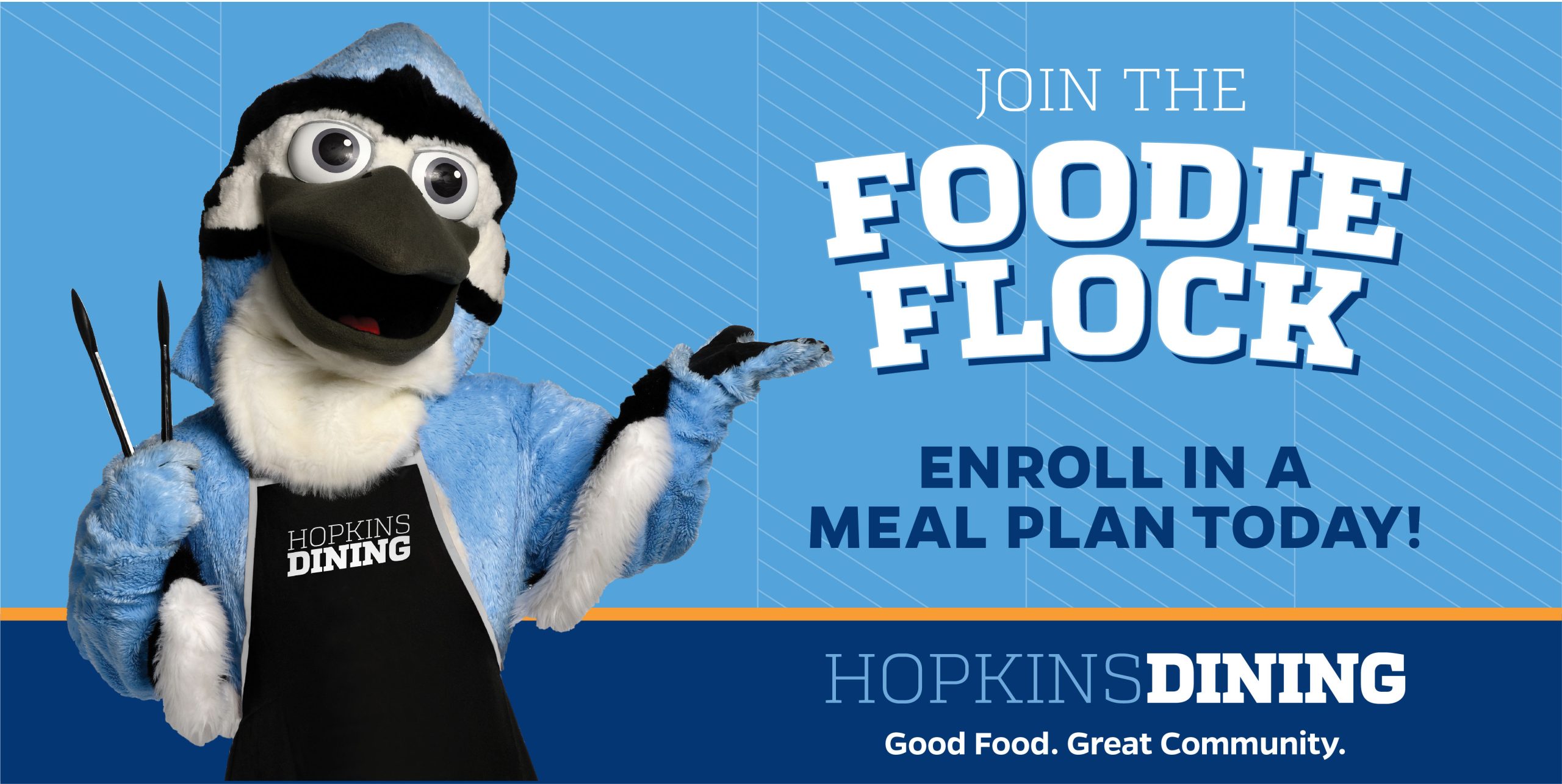 We know that Blue Jays all dine differently. Some Jays eat meals multiple times a day, some Jays eat larger meals a few times a day, some Jays eat large meals multiple times a day, and some Jays are in a hurry and need to fly out of the dining nest to make a class or study with friends! Whatever your Blue Jay dining preference, we have a plan for you.
Johns Hopkins meal plans are comprised of two parts: meal swipes and dining dollars. Explore the tabs below to learn more about each part.
Meal Swipes
Meal swipes are the primary part the meal plans.
Each entry into a cafe is counted as a meal swipe.
Meal swipes are reset each Sunday morning for the next week.
Unused swipes on the 21/19/14/10 meals per week are forfeited each week.
Swipes on the Block 80/Block 50 plans can be used at anytime during the semester and reset at the beginning of each new semester.
Meal swipes can be used in exchanged for a "meals in a minute" to-go meal at Charles Street Market, for a dinner option at Levering Kitchens or up to three to-go boxes at

Hopkins Café

a day.
Dining Dollars
Dining Dollars are a dollar-for-dollar tender that can be used in dining retail locations such as Charles Street Market, Levering Hall, Good Part & Co. located in the Rec Center, Daily Grind, located in Mudd Hall and Piccola Allora, located in Gilman Hall. These funds are designed to complement the meal plans by allowing Blue Jays to purchase snacks, a morning or late-night coffee or groceries to prepare a special meal for friends in their residence hall. Additional Dining Dollars can be added at anytime online.
Meal plan eligibility is aligned with class year and housing styles. Choose your class year to learn more about available meal plans:
Enrolling in a meal plan is full academic year commitment (both semesters).
Frequently Asked Questions
Below is a list of the most commonly asked questions related to dining and meal plans. If your questions is not answered below, please do not hesitate to contact using the information on the left.