Events
Development outside of the classroom is important to a Blue Jay's experience at Johns Hopkins. We bring many opportunities to development through events and activities geared toward learning new skills and cultivating cultural experiences. Our events follow the Blue Jay community development and programming models helping fellow Blue Jays develop a sense of unity and camaraderie among active, passive and co-sponsored programs. These programs and events look at different areas of development and learning outside of the classroom through social, educational, community building and fun engagement activities.
Signature Events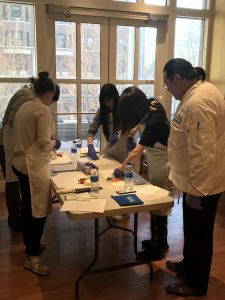 Interested in learning some tips from our chefs on a nutritional easy meal to make in your residence hall? This cooking series consists of 4 classes each semester one each month from September–December and February–May. Each of the four courses teaches a different culinary skill that you can use in your residence hall or apartment. These classes are free and open to Hopkins Students, we also have free giveaways at every class and if a student attends all 4 courses, then they also get a certificate of complication at the end.
Fall 2019 Course Dates
September 11
October 9
November 13
December 4
Spots for our cooking class is limited because of the size of the kitchen, if you are interested in signing up for next upcoming class, please fill out the interest form and the Dining office will contact you with more details if there are openings or if you are placed on the waitlist. If you are on the wait-list, we ask that you come to the event at 6:05–6: 15 p.m. to see if there are no shows and room in the class. Walk-ins are welcome if we have room in the class, which isn't always guaranteed.
Get to know our Executive Chef
Chef Phillippe Chin
Chef Phillippe oversees all culinary expertise for the entire Hopkins Dining Program.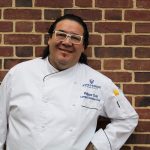 His favorite food to cook is Fish because it is versatile.
One ingredient he could not live without in the kitchen is salt.
His parents taught him how to cook.
Three words used to describe his cooking style are playful, robust and texture.
Sterling Brunch is a long-standing Hopkins Tradition for our students, faculty, staff, alumni, and anyone in the community at the Fresh Food Café and new this semester Nolan's will be offering Sterling Brunch as well. Our menu changes with the season and include gourmet items and dessert. Join us to enjoy a delicious brunch and musical entertainment varying from various performance groups from campus and classical music.
Sterling Brunch Dates
September 15: Blue Jay Spirit Brunch
October 13: Fall Harvest Brunch
November 17: Thanksgiving Themed Brunch
February 16: Love is Endless Brunch
April 26: Homecoming Brunch
For specific menu highlights check out our Facebook page for each brunch's event info (menu highlights will normally be posted a week or so before).
The "Eat Local Challenge" is an annual event that happens each fall in late September where our chefs are taking on the challenge to have a meal made entirely of foods grown within 150 miles of the Fresh Food Café. We also like to highlight our own campus commitment of sourcing 35% "real food" by 2020, real food is defined as being local/community based, ecologically sound, fair and/or humane food our Real Food Challenge.
This year's day was Tuesday, September 24. The challenge occurred at different locations across campus including the Fresh Food Cafe from 11 a.m.–2 p.m., Nolan's on 33rd from 5–7 p.m. and also was extended to the Peabody campus at the Dining Hall from 11 a.m.–2 p.m.
Don't miss out next year for this great annual event featuring our local sourcing with features from our local farmers.
Hopkins Dining Calendar of Events
We love working with our fellow Blue Jays, if you are interested in joining our committee to plan events, reach out to us through email at HopkinsDining@jhu.edu or by texting us at 410-941-2272.