2022 Week 7: Healthcare
Posted: August 2, 2022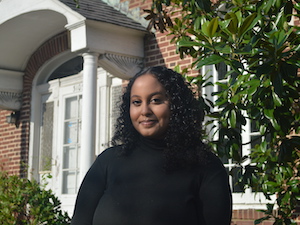 Fatima Baloul | Shepherd's Clinic
As I have reached the home stretch of CIIP, I have reflected quite a bit on all that I have learned throughout the course of the past 2 months. Shepherd's Clinic has illuminated the value and the impact of being in a work environment surrounded by individuals that are compassionate and kind hearted.
Each day I am greeted by the warmth of the interns and staff across Shepherd's Clinic and Joy Wellness, as well as the nurses. And over the course of the past week, I recognized the significance of the friendships that were kindled throughout the summer at Shepherd's Clinic. The front desk tasks are generally routine—from reminder calls in the early morning to facilitating medication pickup in the afternoon. However, over the course of the summer, I have been intentional in my relationships and connections with those at Shepherd's Clinic. I devote my break towards hearing the unique stories of my Arminian coworker during our newfound " family lunches. "
And throughout the past week, I decided to join an art circle at the Joy Wellness Center, connected to Shepherd's Clinic, with the wonderful referral coordinator and interns. We painted jars in a serene environment with a live flutist, and we had such a genuine conversation.
Beyond building practical and conceptual skills at Shepherd's Clinic, I have developed interpersonal skills and beautiful friendships. I have had such a sense of excitement and belonging as I intern at Shepherd's Clinic due to the individuals that I am constantly and fortunate to be surrounded with.

Emma Bocanegra | Esperanza Center
The Esperanza Center has intersected with a few of the other CIIP workplace sites over the course of the summer. The first example of which is the Franciscan Center. In the first couple of weeks of my internship, my supervisor tasked me with looking into an eye exam/eyeglasses reimbursement program that the Franciscan Center offers.
Since the Esperanza Center does not have optometrists on staff who do these eye exams to prescribe eyeglasses, patients often must make these purchases on their own outside of the clinic. I was able to reach out to Fatima, the CIIP intern at the Franciscan Center, who helped me understand how we should refer our patients here to this program so they could get partial reimbursement for the money they spend on eye exams and eyeglasses.
The second point of intersectionality between the Esperanza Center and another CIIP workplace site is with the Office of Councilman Zeke Cohen. Councilman Cohen's office hosted a listening session in which members of the first district, which contains a large Spanish speaking and Latinx migrant population, were invited to come and voice any concerns or ask any questions regarding the Councilman's work in the city. I was not particularly involved with this collaboration as it was hosted by the educational branch of the Esperanza Center and took place after my workday was completed, but I helped the rest of the staff to advertise this event to the patients who were seeking care from the health clinic the weeks leading up to the night of the event.
I am sure that many of the other CIIP workplace sites could provide resources and services to the population seeking care from the Esperanza Center. It would be interesting to put together one big resource for all the interns to access to see what kinds of work the other placements are doing or what services they offer to exchange that information between worksites as well as share any eligibility requirements for those services.

Stacey Tang | Healthcare for the Homeless
One thing that has been reinforced in the work that I have contributed to HCH is that homelessness should not be a defining trait of those experiencing homelessness. When continuing to update the community resource guide for case management staff, I noticed that among the resources I was compiling, several of them could easily be found on lists that are for causes that differ from the cause HCH supports such as guides for veterans, those struggling with mental health, or even just those interested in learning about their health.
In conjunction with the presentation we had at Project PLASE a week ago, this highlights that being homeless does not place one in a monolith; it is impossible to generalize to one size fits all solutions to eradicate homelessness because not everyone is affected by homelessness in the same ways. In a similar train of thought, homelessness intersects with so many other social issues, emphasizing that even if one has a roof over their heads, they are not necessarily safe from homelessness and/or financial struggles associated from homelessness.
Working on the suicide training with Jan, one of the other staff members, has also been a really meaningful experience. Like my supervisor, Jan is also a licensed certified social worker so she has many personal experiences with navigating conversation with clients who may have suicidal thoughts. When I was initially tasked to work on this presentation with Jan, the only tools and knowledge I had available to me were those that I could find on the internet, but I quickly realized that this knowledge was very limited in comparison to that of Jan's.
Being cognizant of my own limitations and lack of knowledge due to a lack of experience was important in order to maximize both Jan and I's productivity and ensure that we could create a product that would be relevant to those that will be trained with our material. Often, it feels like we are expected to be experts in the fields that we find ourselves in, but I'm starting to realize more and more that rather than pretending to know everything or act as if I am comfortable with a given topic, it is so much more productive and efficient to be vulnerable and express a need for support or a helping hand.
Teagan Toomre | Keswick Multi-Care Center
I think intersectionality plays a major role in the work I'm doing this summer. Serving an exclusively senior population, there is already this existing difference in identity and power imbalance between workers at Keswick and the people we serve. Additionally, with age often comes disability, whether physical, cognitive, or both. Age and disability intersect heavily, but it has been really interesting to see how age and disability intersect differently for different people, and how different disabilities have compounding effects that variably impact the lives and privilege of the population we serve.
There's also plenty of evidence to demonstrate how various demographic characteristics are social determinants of health. In my position, I have seen the way things like race and gender are correlated with various health measures and conditions like heart disease and dementia among older adults. Therefore, I can see both how these social determinants of health contribute to positive and negative health outcomes, and how resultant disability status intersects with these social determinants of health to begin with.
I've always been so fascinated with disability and the way it intersects with other identities. For the most part, our other identities will not change all that much throughout our lives; the majority of people identify with the sex they were assigned at birth or their reported race. But as we age and experience life events, pretty much all of us will experience temporary or permanent disability. As a result, I think age and disability should intersect with pretty much every single placement area– it affects or will affect everyone at some point, and thus, it's crucial to build in considerations of disability into everything that we do.
Sellina Yoo | MERIT
For the class I co-taught, I decided to recruit guest speakers to help enrich the experience for the scholars and myself. I reached out to many CIIP interns in all focus areas, and around 8-10 interns came in to speak to the class on topics including reproductive and sexual healthcare, gun violence, healthcare for the uninsured, neighborhood and community development, food insecurity, harm reduction, and health literacy.
I loved having them because as they are part of CIIP, they are all passionate about community engagement, a focus of my class and MERIT. I also think because all the guest speakers (whether or not they were part of CIIP) were college students/young adults, the opinions and advice they shared were very relevant and meaningful to the students. Though this is one way I collaborated with other placements this summer, I anticipate many more opportunities in the future between MERIT and other placements.
Since MERIT sits in a unique intersection between education and healthcare, I think there is room to collaborate in both areas. I see MERIT working with public schools to help our scholars connect with their peers and serve the community together, for example, at one of the service sites linked with MERIT. I also see MERIT working with healthcare centers/clinics by sending students as volunteers and/or having them shadow, which will greatly supplement the students' clinical experience while also giving support to these placements.
I would also love to see the CIIP interns at these placements and the CIIP intern at MERIT work with MERIT scholars via workshops and/or panels, where the students can interact with the interns and ask questions about their college experience and internship. I think this would be great practice for the students on how to network, while also giving the CIIP interns a change to engage with the community beyond their placement.