Our Programs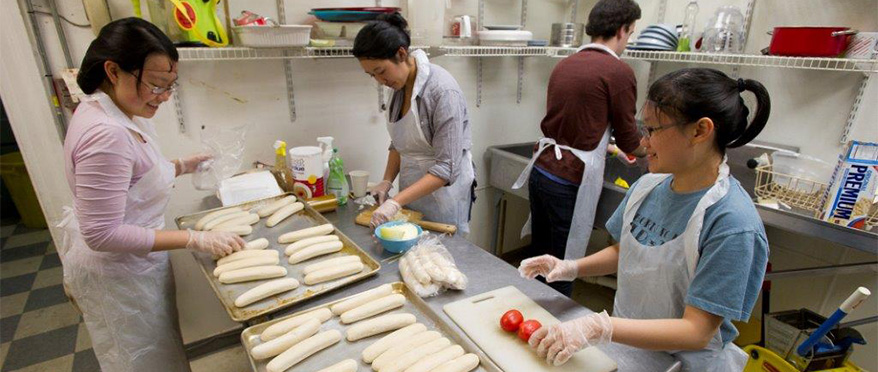 The Center for Social Concern offers a wide variety of different programming that can fit any student's need, interest, and schedule. All of our civic engagement opportunities provides an immersive experience with our community. You'll have the opportunity to work side-by-side with our invaluable community partners.
Whether you have a few hours a year or a few hours a week, get involved with one or more of the CSC's programs! Learn more below by attending a Volunteering 101 workshop or reading about our longer and shorter term opportunities to determine which program is the best fit for you. Don't stop there! Be sure to also check out the list our community partners that we work with throughout the year.
Reflection
The Center for Social Concern believes that critical reflection is an important component of your service learning experience. We hope that your experiences are meaningful and impactful while providing you with a hands-on experience that coincides with your academic and personal goals. We encourage all students who participate in the CSC's programs to take the time to reflect on your service experience. Consider the following questions:
Why did I initially sign up for this program/experience?
What activities did I do?
Who else was there?
What did I learn?
Did I acquire any knowledge or skills during this experience?
What effect did this experience have on me and others?
Will this experience inspire me to continue a commitment to serving others?
Please join us by writing a written reflection or sharing your experiences with fellow engaged students.
Submit Written Reflection/Join On-Campus Reflection Session Today!
For Reflection Facilitators Only
After your reflection session, please complete a Facilitator Reflection Session Feedback Form so we can make improvements as necessary. Thank you for for all of your help!
Attend a Volunteering 101 Workshop
Are you interested in doing service in Baltimore? Attend a Volunteering 101 workshop to help you get started!
Volunteering 101 is a comprehensive workshop that introduces undergraduate students to direct service opportunities in Baltimore through the Center for Social Concern. The CSC oversees many programs, including over 60 student-led service groups, Alternative Breaks Programs, the Community Impact Internship Program, Community Based Learning Classes, Federal Work Study, HopServe50, Pre-Orientation, President's Day of Service, and the Tutorial Project, .
The workshops will provide an overview of all of the CSC's programs discuss how JHU undergraduates can participate in meaningful service during their time at Hopkins. During the session, you will reflect on the meaning of service, learn about the CSC's policies, and engage with other students looking for opportunities to serve our Baltimore community. There will also be a space for Q&A at the end of each workshop where individuals can ask questions about specific programs or groups that are run through the Center for Social Concern.
Volunteering 101 Workshop Schedule
We are in the process of updating our workshop schedule for the fall and apologize for the delay. Please check back here for an updated schedule in Fall 2017.
Engagement Opportunities
Are you interested in getting involved during the entire year or perhaps you'd rather not commit to an opportunity for the entire year? Learn more about our longer and shorter term opportunities below.
If you're interested in engaging throughout the academic year, consider learning about a social justice issue, earning academic credit, and enrolling in a Community-Based Learning course!
Maybe your course load is already full? If so, don't let a long term community engagement opportunity deter you from getting involved! You can always join an established Student Group and volunteer at a local non-profit in Baltimore. Maybe you'd rather be more involved on the Hopkins Campus to encourage a culture of service. If so, work with the Center for Social Concern and become a Student Ambassador Board Member. Otherwise, consider becoming a Tutorial Project tutor! Depending on the group you join, you could be volunteering a couple (or more) hours a week or a few hours a month. We have over 60 student groups who are involved with just about any social justice issue you can imagine. We are confident that there's at least one student group that will be of interest to you. Give it a try!
Make sure you also consider joining the HopServe50 service challenge too!
If you still don't think you have the time to commit to an academic year based program, it's ok! There are plenty of other short-term opportunities that still get you involved! Read more below.
For first-year students, consider joining a Pre-Orientation program! It's a great way to learn about the city you'll soon call home, meet your new best friends, and get involved before you hit the books!
We understand as students you are juggling many things and know that your academics take priority. However, if you are looking for something new and want to try something different for a change, the CSC offers short-term engagement opportunities like our Alternative Breaks program. Alternative Breaks runs over a weekend or a week, depending on the trip, and are only offered during intersession and spring break.
If you don't have any time during the academic year and Alternative Breaks isn't the program for you, consider joining the Community Impact Internships Program. CIIP is a competitive paid summer internship opportunity and a truly immersive experience. It pairs you with a local non-profit for 8 weeks based on your interests. Consider joining CIIP!
Still not sure you have time? If you only have a few hours free, you should consider joining President's Day of Service or check out any upcoming volunteer opportunities on our Community Bulletin! Many of the students in our programs, volunteer at President's Day of Service! It's a great way to learn about Baltimore, the great non-profits and organizations in our back yard, and get involved!