Become a Community Partner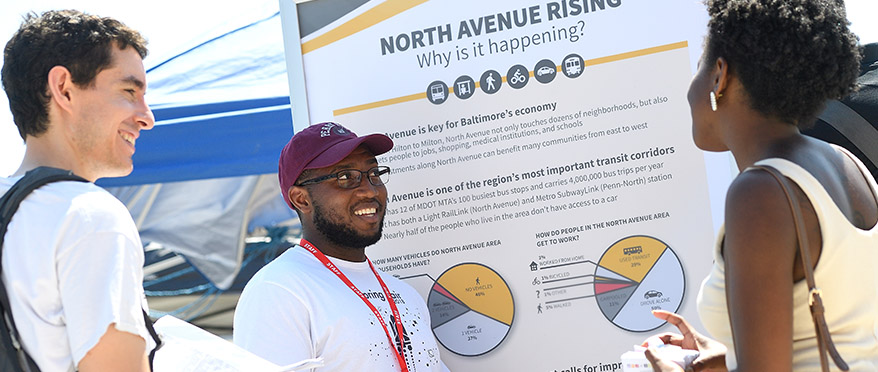 We understand what it takes to host an intern for such a short period of time and provide a full-time coordinator to support both the supervisors and the interns. The Community Impact Internships Program is highly competitive, and we strive to select the absolute best students who are dedicated, passionate, and hard-working for this program.
What to Know
This is a 100% donor funded program so there is no cost to your organization to participate. Should you be selected as a potential community partner, you will have the opportunity to meet and interview your potential intern before the program begins. The Coordinator of the program works with our community partners and interns to create placements that will be mutually beneficial relationships. We want to make sure this is a good fit for both you and the intern. Organizations in Baltimore City are selected as community partners for this program based on their need for an intern, interactions with members of the community, and a focus on a specific program for the intern to work on throughout the internship.
Take for example Awoenam Mauna-Woanya, Whiting Class of 2020, a 2017 CIIP intern, 2018 Peer Mentor, and 2020 Co-coordinator, who spent the summer of 2018 working alongside Black Food Security Network to combat food insecurity in communities with a lack of access to healthy food. Like many others, he found a cause he wanted to support directly, and got practical learning experience doing so. The Community Impact Internships Program strives to give each of its students that same inspiration and opportunities for growth as they connect them to an organization. We hope you will consider becoming a part of this program. To learn more about our interns and our community partners, please view the 2022 CIIP program book or read more below.
Have questions? Contact volunteer@jhu.edu
Ultimately this is a program that uplifts our community work, enhances the student experiences, and bridges the divide between students and community in an intentional, sensitive, and competent way. Staff is excellent, interns are excellent, and community benefits greatly from this program. – Aaron Kaufman, Central Baltimore Partnership
Become a Community Partner
Are you a local nonprofit, community group, or government agency who would like to host a CIIP intern and become a community partner?
Community Partners Must Meet the Following Criteria
Be located in Baltimore City.

The majority of JHU undergraduates do not have vehicles on campus and utilize Hopkins shuttles and public transportation. Therefore, accessibility will also be considered for placements.

Have a substantial project or program for the intern to focus on throughout the internship which will directly impact Baltimore City residents.
Provide the intern with an experience that will allow them to have direct interaction with members of the Baltimore community.
Be capable of supervising an intern for the 8-week internship and offer guidance, direction, and mentoring.
Provide a project or program that can last 35 hours per week for 8 weeks with less than 15% clerical duties*
Intern Request Process and Procedures
Intern Request Forms will be reviewed in March. Potential matches will be made based on the Community Partner's needs and the intern's skills and interests. Partners and interns will have the opportunity to meet in April in order to confirm placements for the summer.
Forms can be submitted on Hopkins Engage. The application process for the summer of 2024 has not yet begun. Check back here soon.
Planning and Preparation
NOTE: Before you begin the application, be aware of the following:
Due to the length of the intern request form, we recommend that you type your responses in a separate document. Unfortunately, once you begin this form, you do not have the ability to "save" it. We strongly encourage you to write your answers in advance so you an easily "cut and paste" them into the form.

To help you, a copy of the Intern Request Form is

Word Document:

available for download here. You can draft and save all of your responses in this document until you are ready to complete and submit the online application.

Submit your Intern Request Form on Hopkins Engage
Please be aware that you cannot save your responses once you begin the application here.
Note: if your organization participates in the CIIP, you may be required to sign a Memorandum of Understanding with the Center for Social Concern and provide a certificate of insurance. If you have any questions regarding these documents, please contact volunteer@jhu.edu.
View Past Community Partners
As the Community Impact Internships Program evolves, our community partner list continues to grow. Below is the list of partners that we have worked with in recent years.
Community Arts
Art with a Heart
Baltimore Youth Arts
Chesapeake Shakespeare Co
DewMore Baltimore
Jubilee Arts
Wide Angle Youth Media
Environment, Sustainability, and Community Health
Baltimore SquashWise
Black Church Food Security Network
Farm Alliance of Baltimore
Joy Wellness
MissionFit Inc
Whitelock Community Farm
Family Wellness
Baltimore Harm Reduction Coalition
Court Appointed Special Advocates (CASA) of Baltimore
Episcopal Refugee & Immigrant Center Alliance (ERICA)
Franciscan Center
Rebuild, Overcome, and Rise (ROAR)
Government/Policy
Mayor's Office of Immigrant Affairs
Office of Baltimore City Councilmember James Torrence
Office of Baltimore City Councilmember Mark Conway
Office of Baltimore City Councilmember Zeke Cohen
Out for Justice
Healthcare
Esperanza Center
Healthcare for the Homeless
Keswick Multi-Care Center
MERIT
MOMCares
Shepherd's Clinic
Neighborhood/Community Organizing
29th Street Community Center
Central Baltimore Partnership
Greenmount East Leadership Project
Historic East Baltimore Community Action Coalition
Neighborhood Design Center
Neighborhood Housing Services
Pro Bono Resource Center
Non-profit Management
Baltimore Urban Baseball Association
Corner Team, Inc
Fusion Partnerships
Impact Hub
Public Justice Center
Station North Tool Library
Youth and Education
Baltimore City Public Schools
By Peaceful Means
Calvin Rodwell Elementary/Middle School
Child First Authority – Calvin M. Rodwell Elementary
Code in the Schools
Corner Team Boxing
Dent Education
Hampden Family Center
St. Francis Neighborhood Center
Village Learning Place
Important Dates
2022-2023 Important Dates
| | |
| --- | --- |
| Event | Date |
| CIIP Student Applications Deadline | January 3 |
| CIIP Interviews | February 18-20 |
| Community Partner Intern Request Application Deadline | March 1 |
| Community Partner and Intern Matching | March |
| Community Partners Meet and Interview Potential Intern(s) | April |
| CIIP Student Orientation at JHU | June 6-June 10 |
| Community Partner Orientation and Meet and Greet | June 10 |
| CIIP Internship Period | June 13-August 5 |
| CIIP Closing Reception for Interns and Supervisors | August 5 |