Baltimore First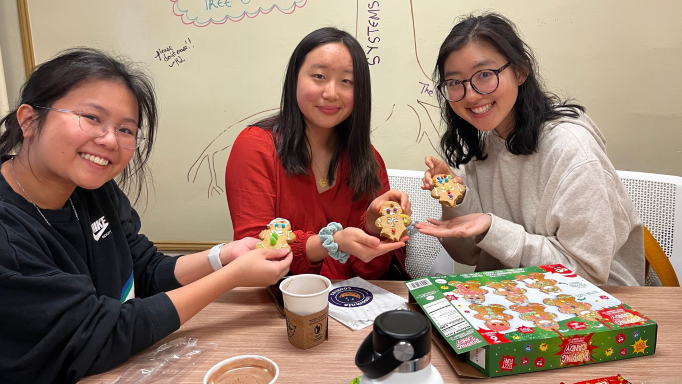 Overview
Baltimore First is the Center for Social Concern's (CSC) individualized direct service and volunteering program. Committed to fostering sustainable relationships with Baltimore-based community organizations, Baltimore First provides Service Partners with consistent and regularly scheduled volunteers throughout the course of a full academic year.
Students are required to attend educational workshops, participate in critical reflection sessions, and engage with other community-building activities both on and off campus.
Baltimore First uniquely advances the CSC's mission by providing accessible opportunities for Hopkins students in the earlier stages of their journey to responsibly engage with Baltimore City and build meaningful relationships with their fellow volunteers.
The Center for Social Concern is committed to ensuring that participating in Baltimore First is a meaningful and inclusive experience for all students and community members. Please reach out to the Baltimore First Team if you have any questions, concerns, or accessibility requests.
Continue reading below to learn more about getting involved with Baltimore First. Still have questions? Contact baltimorefirst@jhu.edu.
Become a Student Director
Applications Instructions and Deadline
Become a General Member or Shift Lead
The Center for Social Concern (CSC) is hiring six (6) Student Directors to lead Baltimore First during the 2023-24 Academic Year. If you are passionate about the CSC's mission, interested in engaging with Baltimore City, and looking to build community with your peers, please consider applying for this exciting leadership opportunity! Please note that these positions are only available to students that participated in Baltimore First during the 2022-23 academic year.
Member and Shift Lead Expectations
Please keep in mind that when we volunteer, we are guests in established communities. Volunteering is a unique opportunity to learn from folks with diverse lived experiences and to expand our understanding of complex social challenges. We ask that all CSC students engage with community members with humility, respect, and an open mind. All volunteers are expected to be fully engaged and present during service (e.g., no multi-tasking, excessive phone usage, side conversations, etc.).
If for any reason you are unable to attend your scheduled volunteering shifts or other required sessions (e.g., educational workshop, site-specific reflection sessions, etc.), please give Baltimore First advance notice at LEAST 1 business day (Mon-Fri, 9am-5pm) prior to the scheduled activity. Baltimore First is about building community and requires accountability to both our student members and service partners. Failure to meet the expectations outlined in this document could result in dismissal from Baltimore First.
Member Expectations
Members of Baltimore First are required to make a semester-long commitment and must participate fully to the best of their abilities in the following mandatory program activities.
Education
Complete 1 virtual training on Engaging with Baltimore Communities before starting service
Attend 1 Educational Workshop
Participate in 1 Experiential Learning Event
Action
Fully participate in volunteering responsibilities at assigned service site
Independently engage in one Baltimore City community activity
[Optional] Attend social events & community gatherings
Reflection
Participate in 2 small group site-specific reflection sessions
Participate in reflection activities after workshops and experiential learning event
[Optional] Complete other critical reflection prompts as offered
Other
Monitor and respond to Baltimore First communications (sent via email and slack)
Comply with all JHU policies and procedures (including the Student Code of Conduct and all necessary risk management processes).
Log impact hours on Hopkins Engage
Shift Lead Expectations
Baltimore First Shift Leads play an important role in ensuring that all volunteering runs smoothly by serving as key supports to the Student Directors. Shift Leads will be assigned to a Service Site based on preference and availability and will assist the Student Director's efforts in ensuring that volunteer operations run smoothly. In addition, Shift Leads will act as the Service Site Lead should the Student Director not be present for service. This role is unpaid, However, Shift Leas will receive priority consideration for future Baltimore First Leadership roles and will have access to professional development workshops hosted by CSC staff.
Baltimore First Shift Leads are required to make a semester-long commitment and must participate fully to the best of their abilities in the following mandatory program activities.
Education
Same as member expectations (see above)
Action
Same as member expectations (see above)
[Required] Attend social events & community gatherings
Reflection
Same as member expectations (see above)
[Required] Complete other critical reflection prompts as offered
Other
Same as member expectations (see above)
Meet our 2022-2023 Student Leaders
Directors of Community Engagement
Baltimore First Directors of Community Engagement play critical leadership roles within the program by serving as the primary point of contact for Service Partners and student volunteers. The Directors of Community Engagement are responsible for cultivating strong relationships with Service Partners, supporting and building community among student volunteers, and coordinating complex logistics across service sites.
Amanda Ferber '25 (she/her/hers)

Hometown: Boynton Beach, FL
Majors: Public Health Studies | Computer Science
Amanda Ferber is a second-generation Colombian American, and she was born and raised in Boynton Beach, Florida. She is curious about the implementation of social programs, efficacy of social policy, and the utilization of health services by marginalized groups. She aims to one day contribute to reduction of international health disparities and theorize successful interventions by leveraging policy evaluation, data analysis, and implementation science. Amanda is a member of The Hopkins Center for Health Disparities Solutions at the Bloomberg SPH, where she works to understand health disparities as they relate to neighborhood phenomena and the broader social determinants of health outcomes.
Having volunteered at Cornerstone Community Housing with Baltimore First during her freshman year, she is eager to learn more about how initiatives spearheaded by the Baltimore City Health Department, Housing Authority, and Department of Human Services can democratize comfortable lives for residents. While she has only spent one year in Baltimore so far, she has enjoyed spending time in the Mount Vernon area, especially at the Enoch Pratt Free Library and the Walters Museum. In her free time, Amanda enjoys singing in a choir at the Peabody Institute, playing sudoku, coding interactive games in low-level programming languages, and taking walks.
Stacey Tang '24 (she/her/hers)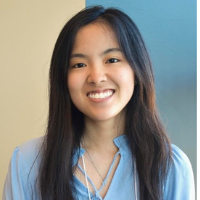 Hometown: Flanders, NJ
Majors: Behavioral Biology and Public Health
Stacey Tang is a junior from Flanders, New Jersey studying Behavioral Biology and Public Health. She has been volunteering with Baltimore First since her freshman year where she volunteered at St. Francis Neighborhood Center and served as site coordinator with Cornerstone Community Housing last year. In addition to being a member of Baltimore First, Stacey has also been involved in other CSC programming including CIIP, the In Community Interns Federal Work Study Programnd the B'More Intersession courses. The opportunities that Baltimore First and the CSC provided has allowed Stacey to expand beyond the Hopkins bubble, forming connections with Baltimoreans while learning more about the history and culture of this city. She hopes to encourage more students to immerse themselves in Baltimore, and meet new folks in the Charm City. In her free time, she enjoys going to F45 classes and making dumplings with her friends.
Ikshu Pandey '24 (She/Her/Hers)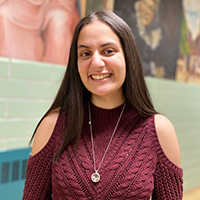 Hometown: East Meadow, NY
Majors: Neuroscience | Materials Science & Engineering
Ikshu Pandey is a first-generation student who was raised in Long Island, New York. Currently studying Neuroscience and Materials Science & Engineering, she is on the premed track and hopes to use her education to target inequities in healthcare, especially those faced by marginalized communities, and is very passionate about studying how intersectionality shapes a person's perspective and experiences, both inside and outside of the medical world. Ikshu joined Baltimore First her freshman year. She worked with Club 1111 and served as a Site Coordinator for Baltimore Greenspace.
Alongside this, Ikshu is involved with a variety of student groups and activities on campus. This includes research with the Searson Lab, the Society for Biomaterials, the Materials Research Society, and NuRhoPsi. She also enjoys surfing, learning how to play the guitar, and exploring Baltimore's restaurant scene in her free time. As one of the Directors of Community Engagement, Ikshu is excited to introduce students to how they can continue participating in active citizenship while at Hopkins.
Directors of Education & Reflection
Baltimore First Directors of Education & Reflection play critical leadership roles within the program by serving as the lead trainers and facilitators of student volunteers. The Directors of Education and Reflection are responsible for implementing the CSC's education curriculum by hosting workshops and trainings, coordinating service-learning opportunities for volunteers, and cultivating a culture of critical reflection among the cohort
Sai Chandan Reddy '23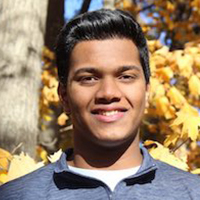 Hometown: Plymouth, MN
Majors: Neuroscience and Chemistry
Sai Chandan Reddy is a first-generation Indian American, and although he was born in America, he has lived all around the world—from Cape Town to London—as a result of his father's job. The place he calls home is Plymouth, Minnesota, where he has been living for the last decade. His academic focus over the past three years has been understanding the workings of the brain, inside and outside of the classroom, and he hopes to pursue medicine in order to truly touch people's lives and entire communities while continuing the path of discovery he has begun at Hopkins.
Outside of school, Sai has many interests. First and foremost, Sai is a vocal proponent of community engagement as a means to be partaking in enriching experiences, making a positive impact on your local community, and working with others to be a part of something greater than the sum of its parts. He hopes to continue his community work as a physician. Sai also enjoys reading when he gets the chance to, and he is an avid cinephile. Ultimately, Sai is looking forward to using his unique experiences to serve on the Executive Board as a Director of Education & Reflection
Samantha Sarlin '24 (she/her/hers)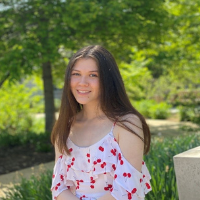 Hometown: Houston, TX
Major: Molecular and Cellular Biology | Minor: Music
Samantha Sarlin was born and raised in Houston, TX, and she is currently pursuing a Bachelor of Science degree from Johns Hopkins University. Following graduation, Samantha plans on attending medical school due to the great passion she holds for both medicine and pathology. With her time spent at JHU thus far, Samantha has had the pleasure of becoming involved with a multitude of organizations, ranging from those tied to the Center for Social Concern (Baltimore First, Project Finish to Start, YO! Baltimore Tutoring Project) to academic societies (Women's Pre-Health Leadership Society, TriBeta Biological Honor Society, NuRhoPsi) to recreational organizations (JHU Dragon Boat Club).
Outside of class and engaging in research, Samantha enjoys exercising, spending time with friends, binging Netflix shows, and exploring the many amazing restaurants that Baltimore has to offer. Samantha has had the privilege of becoming well-acquainted with Baltimore since moving there in January of 2021. She looks forward to continuing forming meaningful connections with Baltimore natives in the future. Samantha can confidently say she now equates home to both Texas and Baltimore city as a result of her cherished time spent in Baltimore.
Aamilah Chowdhury '24 (she/her/hers)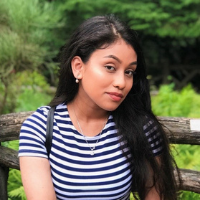 Hometown: Dallas, TX
Major: Biomedical Engineering | Minor: Psychology
Aamilah Chowdhury was raised in Dallas, Texas. She is majoring in Biomedical Engineering and minoring in Psychology. Aamilah has a personal mission of mobilizing more students to engage in community service thoughtfully. She maintains this mission through her other extracurriculars, such as HopkinsCORPS (another program at the Center for Social Concern!) Aamilah is strongly motivated by her experiences with volunteering in the low-income sectors of Dallas. She hopes to continue helping the community as a now Baltimorean! Aamilah loves thrifting, Netflix binge-watching sessions, and making oddly specific playlists on Spotify. She also enjoys traveling, trying new foods, and makeup.
Service Partners & Volunteer Times
During 2022-2023, Baltimore First will be partnering with six Service Partners, local nonprofits and community organizations. Learn more about each organization and commitment times below. All volunteering for Spring 2023 will be happening in person unless otherwise noted.
Note: Service partners notated by (*) include working with minors and will require additional child safety training.
Description
Baltimore Green Space is Baltimore's environmental land trust. They promote vibrant neighborhoods and a healthy environment through land preservation, research, and community advocacy. Green spaces provide unmatched opportunities for recreation, civic engagement, and community revitalization. It is essential to retain existing natural spaces that have ecological value and biodiversity. Scientifically documented social, health, environmental, and economic benefits that create strong neighborhoods and a vibrant city. Volunteers will work to revitalize a neighborhood forest called Wilson Woods.
Volunteer Hours
Volunteer shifts are every Saturday from 10am to noon, contingent on weather conditions. These volunteer hours do not include travel time!"
Description
Corner Team, Inc. is organized around the longstanding and successful tradition of community sports programs that address holistic well being at the neighborhood level to shape Champions for Life! Volunteers will partner with students grades 6-12 in the Youth Champions after-school program to help students set and achieve goals. Volunteers meet with students twice a week. Responsibilities include engaging students and providing academic support that will supplement the boxing training and other programming.
Volunteer Hours
There are three options for volunteering at Corner Team. You can volunteer on Mondays from 4:30-6pm or Wednesdays from 4:30-6pm. Otherwise, you can commit to volunteering twice a week on both Mondays and Wednesdays. All volunteers are required to complete child safety requirements before starting service.
Description
St. Francis Neighborhood Center is committed to ending generational poverty through education, inspiring self-esteem, self-improvement, and strengthening connections to the community. By utilizing education, art, mentoring and tutoring, they work to provide guests with the tools they need to advance their lives financially and socially. In addition, St. Francis fosters positive interpersonal and community connections. This in turn gives people a sense of self-empowerment. Serving as the principal driving force, this creates extraordinary change within individuals and the community. Volunteers will be tutoring K-12 children participating in St. Francis's Power Project. Power Project is an after-school youth development and family stability program serving residents in the 21217 zip code.
Volunteer Hours
Volunteer shifts will be on Tuesdays from 4:30-5:30pm. These volunteer hours do not include travel time. All volunteers are required to complete child safety requirements before starting service.
Description
Paul's Place aims to be a catalyst and leader for change, improving the quality of life in the Southwest Baltimore communities. They provide programs, services, and support that strengthen individuals and families, fostering hope, personal dignity and growth. Volunteers will help serve hot lunch, staff the clothing bank, and possibly work with patrons in the computer lab.
Volunteer Hours
Volunteer shifts will be Thursdays from 11am-12:30pm. These volunteer hours do not include travel time.
Description
Cornerstone Community Housing has a twofold mission to help men experiencing homelessness rebuild their lives and to change attitudes toward homelessness through outreach and education. Earl's Place provides transitional housing and supportive services to 17 men at a time. Annually, 30-35 men are provided housing and support to work on their goals. Volunteers will work with residents of Earl's Place to help them improve their digital literacy skills. This will be by supporting them as they learn to navigate computers, mobile phones, email, and other technology.
Volunteer Hours
Volunteer shifts will be Mondays from 6-7pm. These volunteer hours do not include travel time.