Baltimore First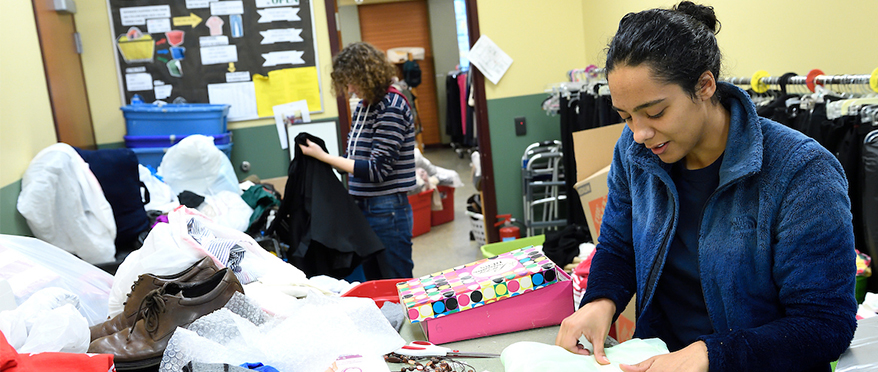 Founded in 2017 by a group of students seeking a more reciprocal and sustainable model of service on campus, Baltimore First is the CSC's individualized direct service program. Committed to equipping students with the skills needed to affect transformative PDF Document: social change, Baltimore First serves as a catalyst for students looking to expand their philosophy of service and understanding of Baltimore City. Deeply rooted in racial and social justice frameworks and critical pedagogy (Freire 1963), Baltimore First supports students in their journey to better understand our city and their place in it.
Read more below about how to get connected with Baltimore First!
Get Involved
There are a few different ways to become involved with Baltimore First:
If you are a JHU undergrad and are interested in joining Baltimore First, learn more about becoming a General Volunteer.
If you are a JHU undergrad and interested in a paid leadership position, learn more about becoming a Student Leader.
If you are a local nonprofit, community organization, or government agency, and are seeking a reliable, intentional volunteer force, committed to supporting your work and building overall capacity, learn more about becoming a community partner by contacting volunteer@jhu.edu.
Have questions? Contact the Baltimore First Student Executive Board at baltimorefirst@jh.edu.
Vision
We envision a Baltimore in which Hopkins students are connected to our Baltimore community.
Values
Equity: We aim to leverage the resources of our institution to help build capacity of our Baltimore community alongside our Community Partners in an effort to ensure that all entities in our City have access to the means they need to succeed.

Connection: We aspire to facilitate an interdependent community among our volunteers, Community Partners, and the neighborhoods we serve. Rather than subscribing to short-term relationships, volunteers immerse themselves into meaningful alliances with community members, upholding a lasting support system and permanently bridging their worlds.


Mutually Beneficial Partnerships: We seek to create ties between volunteers and community partners that strengthen and empower Baltimore. By supporting Community Partners, students grow and (un)learn from experiential opportunities within our Baltimore community.

Education: We endeavor to educate volunteers on the underlying social issues that Community Partners address, as well as the importance of intentional community service and reflection.

Intentionality: We strive to move our students along the active citizenship continuum by motivating them to break out of the "Hopkins Bubble". Through a sustained commitment to a Community Partner, our volunteers become more cognizant of underlying social issues pervasive throughout our Baltimore Community. This level of community engagement is values-aligned and rooted in an authentic commitment to our City.