Baltimore First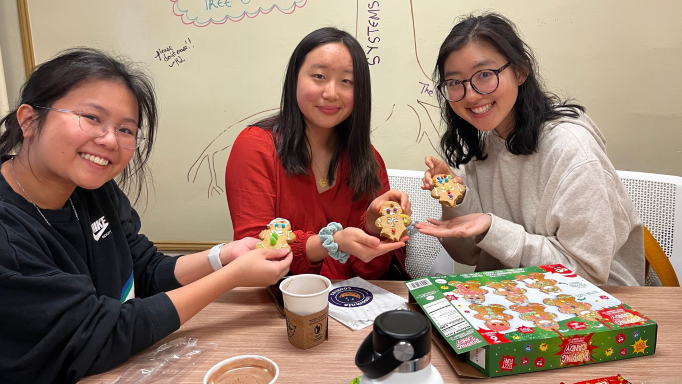 Overview
Baltimore First is the Center for Social Concern's primary community engagement program offered during the academic year. Committed to utilizing a sustainable service model, Baltimore First matches groups of students to volunteer with the same Service Partner for the duration of a semester. In addition to weekly volunteering, Baltimore First members attend educational workshops, critical reflection sessions, cohort socials, and Baltimore-based community events. By coordinating accessible opportunities to engage with Baltimore and facilitating complementary education and reflection sessions, Baltimore First equips students to intentionally engage with diverse communities, promotes awareness of Baltimore's social equity ecosystem, builds community both on and off campus, and inspires a commitment to active citizenship.
The Center for Social Concern is committed to ensuring that participating in Baltimore First is a meaningful and inclusive experience for all students and community members. Please reach out to the Baltimore First Team if you have any questions, concerns, or accessibility requests.
Continue reading below to learn more about getting involved with Baltimore First. Still have questions? Contact baltimorefirst@jhu.edu.
Become a Student Director
Applications for Student Director positions for the 2023-24 academic year have closed. Application instructions and deadlines for future dates will be posted here.
Become a General Member or Shift Lead
General and shift lead applications for Baltimore First have closed.
Member and Shift Lead Expectations
Please keep in mind that when we volunteer, we are guests in established communities. Volunteering is a unique opportunity to learn from folks with diverse lived experiences and to expand our understanding of complex social challenges. We ask that all CSC students engage with community members with humility, respect, and an open mind. All volunteers are expected to be fully engaged and present during service (e.g., no multi-tasking, excessive phone usage, side conversations, etc.).
If for any reason you are unable to attend your scheduled volunteering shifts or other required sessions (e.g., educational workshop, site-specific reflection sessions, etc.), please give Baltimore First advance notice at LEAST 1 business day (Mon-Fri, 9am-5pm) prior to the scheduled activity. Baltimore First is about building community and requires accountability to both our student members and service partners. Failure to meet the expectations outlined in this document could result in dismissal from Baltimore First.
Read through the PDF Document: General Member expectations and the PDF Document: Shift Lead expectations.
Program Expectations
Members of Baltimore First are required to make a semester-long commitment and must participate fully to the best of their abilities in the following mandatory program activities – orientation, an educational workshop, a small-group reflection session, and at least one community event in Baltimore City.
Education
Complete 1 virtual training on Engaging with Baltimore Communities before starting service
Attend 1 Educational Workshop
Participate in 1 Experiential Learning Event
Action
Fully participate in volunteering responsibilities at assigned service site
Independently engage in one Baltimore City community activity
[Optional] Attend social events & community gatherings
Reflection
Participate in 2 small group site-specific reflection sessions
Participate in reflection activities after workshops and experiential learning event
[Optional] Complete other critical reflection prompts as offered
Other
Monitor and respond to Baltimore First communications (sent via email and slack)
Comply with all JHU policies and procedures (including the Student Code of Conduct and all necessary risk management processes).
Log impact hours on Hopkins Engage
Shift Lead Expectations
Baltimore First Shift Leads play an important role in ensuring that all volunteering runs smoothly by serving as key supports to the Student Directors. Shift Leads will be assigned to a Service Site based on preference and availability and will assist the Student Director's efforts in ensuring that volunteer operations run smoothly. In addition, Shift Leads will act as the Service Site Lead should the Student Director not be present for service.
This role is unpaid. However, Shift Leads will receive priority consideration for future Baltimore First Leadership roles and will have access to professional development workshops hosted by CSC staff. In addition, a $100 stipend is available to any Shift Lead who is HopVan certified and drives volunteers to Service Site multiple times over the semester. An additional stipend ($150-500) will be made available for Shift Leads that cover for Student Directors (e.g. independently lead a group of volunteers) 2 or more times throughout the semester. Stipends will be distributed contingent upon successful completion of the semester.
Baltimore First Shift Leads are required to make a semester-long commitment and must participate fully to the best of their abilities in the following mandatory program activities.
Education
Same as member expectations (see above)
Action
Same as member expectations (see above)
[Required] Attend social events & community gatherings
Reflection
Same as member expectations (see above)
[Required] Complete other critical reflection prompts as offered
Other
Same as member expectations (see above)
Meet our Student Directors
Baltimore First' student leaders play critical leadership roles within the program by serving as the primary point of contact for Service Partners and student volunteers. They are responsible for cultivating strong relationships with Service Partners, supporting and building community among student volunteers, and implementing the CSC's education curriculum by hosting workshops and trainings, coordinating co-learning opportunities for volunteers, and cultivating a culture of critical reflection among the cohort.
Service Partners & Volunteer Times
During Fall Semester 2023, Baltimore First will be partnering with five Service Partners (Baltimore-based nonprofit organizations). Learn more about each organization and volunteer shift times below. Please be advised that Baltimore First coordinates and pays for all transportation to and from service sites!
Note: Service partners notated by (*) include working with minors and will require additional child safety training.
Description
Baltimore Green Space is Baltimore's environmental land trust. They promote vibrant neighborhoods and a healthy environment through land preservation, research, and community advocacy. Their vision is to be a leader and partner in ensuring that communities' open spaces and forest patches are considered priority assets in the growth and redevelopment of Baltimore. They believe that green spaces provide unmatched opportunities for recreation, civic engagement, and community revitalization. It is essential to retain existing natural spaces that have ecological value and biodiversity. Their impact includes the scientifically documented social, health, environmental, and economic benefits that create strong neighborhoods and a vibrant city.
Volunteer Activities
Baltimore First members will support revitalization and stewardship efforts at local green spaces, namely Springfield Woods – Baltimore Green Space and Wilson Woods – Baltimore Green Space
Volunteer Shift Times
Saturdays from 10am-noon (travel time not included)
Description
Corner Team, Inc. uses Olympic-style boxing to strengthen core competencies that improve academic performance, encourage healthy and active lifestyles, and build strong communities of engaged citizens. Corner Team is organized around the longstanding and successful tradition of community sports programs that address holistic well being at the neighborhood level to shape Champions for Life! Engagement in any sports activity provides opportunities for social interaction and skill-building within diverse settings. Sports foster pride and increase self-esteem. Sports teach leadership and discipline, and support physical, mental, and social fitness. Through sports, Corner Team, Inc. connects our Champions to local resources, mentors, academic tutoring, economic opportunities, and healthy living strategies that grow tomorrow's leaders and inspire the change we want to see for all.
The Vision is clear: building strong minds, bodies, and communities creates champions for life–leaders inspiring positive change.
Volunteer Activities
Baltimore First members will serve as "Learning Coaches" to Baltimore City students (grades 7-12) in the Youth Champions after-school program. Members will provide mentorship and academic support that will supplement the boxing training and other programming provided at Corner Team.
Volunteer Shifts
Mondays from 5-6pm and/or Wednesdays from 5-6pm (travel time not included). Members have the option of either signing up for one shift (Mondays/Wednesdays) OR signing up for both days. However, members must commit to the same schedule throughout the entire semester.
Description
St. Francis Neighborhood Center is the oldest neighborhood center providing enrichment in all of Baltimore City! Their mission is committed to ending generational poverty through education, inspiring self-esteem, self-improvement, and strengthening connections to the community. By utilizing education, art, mentoring and tutoring they work to provide people with the tools they need to advance their lives financially and socially, while fostering positive interpersonal and community connections. This in turn gives people a sense of self-empowerment, which is the principal driving force in creating extraordinary change within individuals and the community. Their programs build self-esteem as well as academic, emotional, interpersonal, social, and community development that works to address complex challenges in an effort to break the cycles of urban poverty.
Volunteer Activities
Baltimore First members will be supporting the Power Project, an after-school program for Baltimore City students. Volunteers will tutor students ranging from grades pre-K to early college either 1-1 or in small groups.
Volunteer Times
Tuesdays from 3:30-5:30pm (travel time not included)
Description
The mission of Paul's Place is to improve the quality of life in Southwest Baltimore. They provide programs, services, and support that strengthen individuals, families, and neighborhoods, by fostering hope, personal dignity, and growth. Paul's Place vision is that the individuals and families living in Southwest Baltimore City will have full access to high-quality health care, education, employment, and housing along with any other support or resources necessary for stability.
Volunteer Activities
Baltimore First members will be supporting with meal services and serving lunch/dinner to the guests of Paul's Place.
Volunteer Times
Tuesdays from 10:45am-12:30pm or Thursdays from 5-6:30pm (travel time not included)
Description
Cornerstone Community Housing (CCH) is dedicated to helping men experiencing homelessness rebuild their lives and to changing attitudes toward homelessness through outreach and education. CCH envisions a community where any man experiencing homelessness has access to the resources, support, and environment to rebuild his life.
Volunteer Activities
Baltimore First members will tutor CCH residents on computer literacy by developing a basic curriculum for all levels of users and teaching entry-level basic programs such as keyboarding, internet browsing, word processing, and emailing.
Volunteer Times
Mondays from 6-7pm (travel time not included)
Baltimore First Through Words and Photos