About Us
Who We Are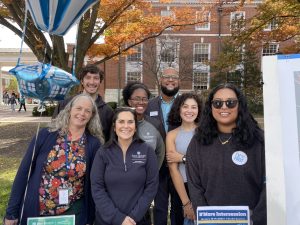 The Center for Social Concern (CSC) fosters a lifelong commitment to active citizenship among JHU students by integrating education, action, and reflection into community-focused programming within Baltimore City. Reflected in our approach, we envision a world in which Hopkins students are active citizens within their current and future communities.
Our Approach
The CSC's ultimate goal is to inspire our students to become active citizens within a pluralistic democracy. In order to work towards this goal, the CSC utilizes a model of Education, Action, and Reflection. By providing educational trainings, coordinating engagement opportunities within Baltimore City, and facilitating spaces for critical reflection, the CSC cultivates students who prioritize community in their values and life choices.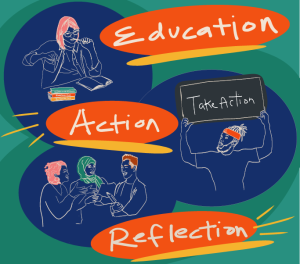 Our Work
The CSC integrates our model of education, action, and reflection across a wide range of programs. Our programs give students an opportunity to volunteer with community organizations, tutor Baltimore youth, and participate in community-engaged academic courses. Beyond our programs, the CSC also supports university-wide initiatives like Hopkins Votes and Hopkins Engage (a volunteer management platform).
The Foundation of the CSC
The Center for Social Concern was created in response to increased interest on the part of Hopkins students, hearing a deepening call to community change and development.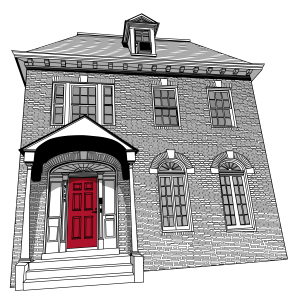 The Johns Hopkins University's approach in community issues harkens back to its first president, David Coit Gilman. More than one hundred years ago, under Gilman's presidency, the Johns Hopkins Charity Organization Society (COS) was formed.
A few years later, Eugene Levering financed the building of Levering Hall. This was to be "dedicated to the spiritual education of the young men of Johns Hopkins" – an all-male institution at the time. Gilman's COS formed a natural partnership with the Levering Hall YMCA. Through study and service, they would engage in what would be today's "action research" in addressing the needs of Baltimore's low-income communities. Social welfare and the academy had taken root as a co-curricular mission of the university since the nineteenth century onward.
Later History
During the struggle for civil rights in the 1950s and 1960s, Levering Hall became the campus center for action. Affiliates used this space as a reflection for what it meant to live in a racially divided society. Out of a sense of social responsibility, the Johns Hopkins Tutorial Project was created by then chaplain Dr. Chester Wickwire. The YMCA and its chaplain created more than fifty tuition-free courses (high school equivalency programs) in the Baltimore City Jail. These were cross-cultural opportunities for JHU students to interact and work with the citizens of Baltimore.
In the early 1990s, the Office of Volunteer Services was funded and staffed by the dean's office. This incorporated some of the programs begun through the YMCA chaplaincy and adding others. An ethic of service and approach evolved from the Office of Volunteer Services toward the establishment of the Center for Social Concern. Faculty, students, and staff continue to work towards a deeper sense of responsibility and citizenship through engagement. The Center serves as a focal point on campus connecting students to community stakeholders.
Just as the service initiatives of Gilman, Levering, Wickwire, and others, it's the hope that the CSC will reflect both in spirit and in substance the legacy of these visionary leaders.
In summer 2009, the CSC moved from Levering Hall to 3103 North Charles Street. This three-story home houses CSC's staff and community focused programming. However, this does not include the Tutorial Project, which is located on the second floor of Levering Hall.