Community Impact Internships Program (CIIP)
The Community Impact Internships Program is a competitive, paid summer internship, that pairs JHU undergraduate students with nonprofit organizations and government agencies, and offers an intensive, cohort-based learning environment. Internships focus on community-identified projects in Baltimore and run from June to August.
The main goals of the program are:
to give undergraduate students an opportunity to gain real-world experience while being directly involved in the Baltimore City community
to support local nonprofits, community groups, and government agencies in achieving their missions
There are a few different interest placement areas:
| | |
| --- | --- |
| 1. Community Arts | 5. Healthcare |
| 2. Environment, Sustainability, and Community Health | 6. Neighborhood/ Community Organizing |
| 3. Family Wellness | 7. Non-profit Management |
| 4. Government/Policy | 8. Youth and Education |
The program is open to all current first years, sophomores, and juniors of every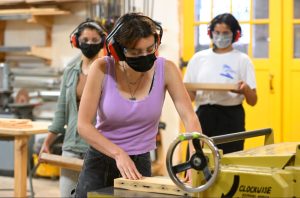 major. There are 50 internships available. The application process happens in two folds. Students complete an application and a selected few are later invited for an interview. During this time, the CSC staff will learn more about your interests and how they fit into the program. It is a competitive selection process, but well worth undergoing.
The Community Impact Internships Program begins in early June and ends in the beginning of August. Interns are required to attend an extensive 5-day orientation (Monday through Friday), work 35-hours a week, for 8-weeks, while engaging in weekly reflection sessions with their fellow cohort, and attend a closing reception. The Center for Social Concern provides interns with a $4725 stipend for their participation over the summer.
To learn more about our interns and our community partners, please view the 2022 CIIP program book (view digital version).
How to Get Involved
There are 3 different ways to become involved.
If you are a JHU undergrad and have never participated in CIIP, learn more about becoming a CIIP intern.
Become a Peer Mentor. This is an opportunity for students who have already participated in CIIP previously.
If you are a local nonprofit, community group or government agency, learn more about becoming a community partner.
Have questions? Email volunteer@jhu.edu.
CIIP History
In 2011, the inaugural year, 200 students applied for 25 internship positions. In 2012, the program expanded to placing 50 undergraduate students with non-profit organizations, community groups, and government agencies throughout Baltimore City at no financial cost to these community partners. Since the inception of the program, nearly 500 interns have worked over 135,000 hours with over 100 different nonprofits, community groups, and government agencies in Baltimore City.
In 2015, CIIP celebrated its 5th Anniversary and was also awarded the Maryland Governor's Service Award for the Exemplary Service Learning program.
CIIP Through Words and Photos