An Insight Into CIIP: Dua Hussain
Posted: July 31, 2023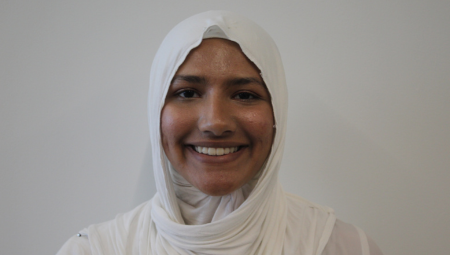 by Sierra Romero
Get to know one of our CIIP Interns Dua Hussain, her Community Partner Jubilee Arts, reflections on a person-oriented approach to the medical world, and being a First-Generation student at Hopkins.
"There is no objectivity in medicine," stated Dua Hussain. "You can't come into a clinic or a hospital or nursing home and think that the only thing at play is medicine. Nobody's life is that simple."
Dua, alongside 48 other Hopkins students is part of the Center for Social Concern's Community Impact Internships Program (CIIP). CIIP is a competitive, paid summer internship, that pairs JHU undergraduate students with nonprofit organizations and government agencies throughout Baltimore City. The program offers an intensive, cohort-based learning environment. The ultimate goals for students who participate are to give students an opportunity to gain real-world experience while being directly involved in the city, support community partner initiatives, and gain a deeper love and understanding of Baltimore.
Dua and Jubilee Arts
Dua's paired organization is Jubilee Arts, a community program that provides art classes to the residents of the Sandtown-Winchester, Upton, and other surrounding neighborhoods in Baltimore. Jubilee Arts, an organization under the umbrella Intersection of Change, opened its doors on Pennsylvania Avenue in 2009 and focused on cultivating a space for art, dance, and creative writing classes and projects.
Since the summer began, Dua has been primarily assisting with art classes and Jubilee's Youth in Business, an initiative to teach high school students digital art and later place their designs on apparel to sell. Dua's been in charge of the social media, creating templates for graphics, editing their photos, and serving as a teaching assistant for summer classes.
When asked if Dua's been enjoying her experience so far, her eyes lit up. "I've always wanted to be an author," said Dua. She went on to explain that she had just finished her first novel and is in the process of finding a literary agent. The passion and dedication needed to complete such an endeavor is monumental and not lost upon the team at Jubilee. "I think I enjoy the fact that this space [Jubilee Arts] is so artistic. I can talk about it [her novel] and people value it a lot."
CIIP and the Pre-Med Student Experience
While Jubilee Arts has nourished Dua's creativity it has also reaffirmed a value that she's carried that at first glance may not have the most direct connection to the arts: the importance of immersing yourself in non-health-care related experiences as a pre-medical student.
Dua is a current Certified Nursing Assistant (CNA) and an Anthropology and Medicine, Science, & Humanities double major with a minor in Psychology. As a pre-med student herself, she spoke to the way such a demanding path can shift many people's attention to learning the STEM skills needed for medical school – and leaving humanities to the side.
The traditional medical model of health care, according to researcher Dr. Lisa M. Lines, follows a set framework of evaluating symptoms, diagnosing a patient, and prescribing treatment or care to address the issue at hand. This model has helped trained doctors and healthcare professionals build a foundation for identifying problems and working toward solutions. However, the role of the patient itself can be reduced. A person-directed approach, much of which Dua was describing, focuses on the person as a whole. This emphasizes a person's social, mental, emotional, and spiritual needs and lived contexts when identifying solutions and treatments.
According to Associate Professor at McGill University Carolyn Ells, patient-centered care has become a prominent discussion in health care policy and practice within the past few decades. While there are still conversations about the clear guidelines in place with a more patient-oriented care model, the idea the patient's values and opinions are valued should be more incorporated into the healthcare realm are themes like what Dua pointed out.
"You need to like people and you need to know people," states Dua. "And that's what CIIP teaches you because it puts you out there and it forces you to get to know people, especially in a community where a lot of us haven't grown up." CIIP has eight focus areas, only one of which is healthcare. The rest range from environmental sustainability to nonprofit management. However, CIIP is structured in a way to provide any Hopkins student, pre-med or not, to walk away from the summer with a deeper skillset and understanding of the nuance of any career they pursue.
While CIIP is an introduction to these ambiguities a student will face moving forward in life, Dua notes an additional layer that impact this experience.
Navigating CIIP and Hopkins as a First-Generation Student
Dua is a first-generation student, the first of her family to earn a four-year college degree. "I love Hopkins, it was my dream school since I was in second grade," said Dua. "It was my dad's dream school before me, so I got everyone's dreams to come true." While sweet in gesture, Dua points out the deeper and more difficult facets that come with being a 'first-gen' in Hopkins spaces – including CIIP.
First-generation students come into higher education with limited or no network connections to help them locate academic, extracurricular, or career opportunities. Dua mentioned the fact that even if she did have a network already built, she wouldn't know what questions to even ask them. Hopkins has a First-Generation Limited Income (FLI) Network that works to bridge this gap and provide resources. Dua acknowledged the significance of a department like this but noted that there's still so much a 'first-gen' student goes through.
In addition to navigating a completely new environment and academic rigor, some first-generation students can't help but reflect on their families back home. "We're doing everything our parents ever wanted to do," said Dua. "We're living the life they should've had and it's so painful being here at CIIP, at Hopkins, living on my own when my parents couldn't do that."
Dua does point out the certain level of comfort CIIP can bring for other FLI students like herself. "With CIIP one of the nice things is realizing that you're not alone," said Dua. Working with Jubilee Arts has connected Dua to people across Baltimore that she wouldn't have met otherwise. Whether in Jubilee's art classes or among the many thriving Black-owned business along Pennsylvania Avenue, the interactions Dua has had this summer helped her expand her knowledge of an entire city of people, working, struggling, dreaming, and flourishing. Many are navigating a series of complex systems in their own lives, the same way Dua feels she is doing as a first-generation student. "You can connect with people on a whole different level because you know what it's like to not know those things," claims Dua.
Looking Beyond
While the summer will inevitably end and Dua will enter her sophomore year, many of these realizations will continue through the rest of her time at Hopkins. Dua touched on many notable points, one that the CSC would like to stress in particular.
No matter where each student ends up in life – whether it be entering the medical field or not – it's crucial to build deep and authentic connections with the people you're interacting with. "What matters is what type of doctor you're going to be," states Dua. "Getting to know people beyond the problems and symptoms…these skills are invaluable."
References for This Feature