CIIP Orientation 2023
Posted: June 22, 2023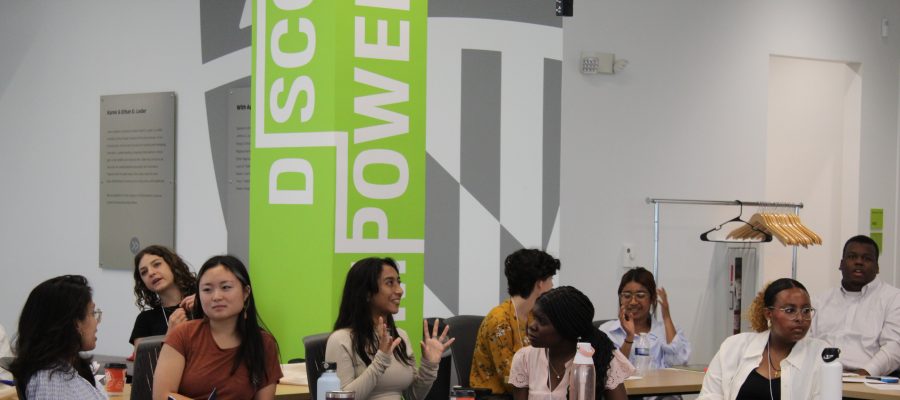 By: Sierra Romero
The Center for Social Concern's Community Impact Internships Program has officially begun.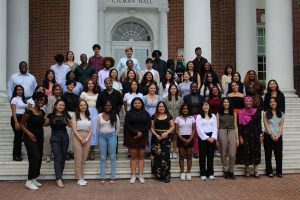 From June to the beginning of August, 50 JHU undergraduate students are paired with 50 Community Partners across Baltimore City. Throughout the two months, Hopkins interns work on a variety of project central to identified values and goals for Baltimore's nonprofit and government agencies.
However, before the cohort is set to begin working, they participated in a week-long orientation program that adheres to the CSC's value of education before action. Education provides information and resources needed to begin responsibly engaging with a community. In terms of CSC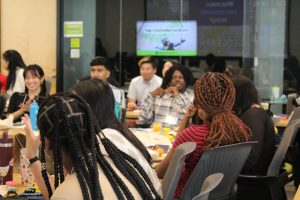 programming, participants must understand the context and their positionality before engaging in direct service work across Baltimore City.
Interns spent the first two days at FastForward U. Here they learned more about the Center for Social Concern, our approach, and our partnerships within JHU and Baltimore City. The CSC team introduced themselves through a lunch session, presenting themselves as additional resources and expanding on their roles and responsibilities that may overlap with the internship program itself.
Community Partners and Guest Speakers
Throughout the week, the students engaged in a myriad of presentations that touched on key issues and considerations for the summer. Some of these included:
A History of Baltimore presented by a member from the University of Maryland School of Social Work. This presentation provided an overview of Baltimore history with a lens on racism and injustice.
Financial Information and Riska Management presented by CSC Budget Analyst Joseph DiSalvo and CSC Associate Director Kelly Milo
Social Change in Baltimore presented by members from Fusion Partnerships, Central Baltimore Partnership, and Dent Education. This panel discussion was an opportunity to give interns an understanding of the social change ecosystem in Baltimore and touch on how to join work already being done in the city.
What's Your Why presented by a member from MOMCares. This presentation was to galvanize students for their upcoming experience.
Recommendations for Engaging with Baltimore Communities as a Hopkins Affiliate presented by CIIP Program Assistants Stacey Tang and Koye Oputa. This presentation is a core presentation given by the CSC that encourages students to think about their positionality and how they engage with the city.
Getting Around Baltimore presented by members from Maryland Transit Administration, BikeMore, and this year's Peer Mentors.
Practicing Trauma Responsive Care with Youth and Families presented by a member from Baltimore City Public Schools. This presentation was a step to equip students with a better understanding when working with people in the city throughout the summer.
Complex Relationship Between Hopkin and Baltimore presented by a CIIP alumni. This presentation provided context between some of the history between JHU and Baltimore City.
Beats By Awoe: Mapping Your Future presented by a CIIP alumni.
Imagining Your Free Lives presented by members from Life Design Lab. This presentation was to help students center their interests and see how they overlap with their Community Partner missions.
Privilege presented by members from the Life Design Lab and the Office of Diversity and Inclusion, and a Peer Mentor.
Practicing Self Care presented by a member from Health Promotion and Well-Being.
A Few Things About Oppression: An Interactive Theatre Workshop presented by members from the Theatre Action Group.
Campus Resources For You and Your Partner presented by members from the Sheridan Libraries, Digital Media Center, and the Counseling Center.
Policy in Action presented by a City Councilman and youth advocate. This presentation was an opportunity to talk about how policy shapes people's lives and how to organize for policy change.
Leveraging Your CIIP Experience presented by a CIIP alumni. This panel was an opportunity for current CIIP interns to have their questions answered by people who have gone through the internship and have since graduated.
Leveraging Your Privilege for Justice presented by two CSC staff members and a member from the Black Church Food Security Network. Interns learned how they can show up authentically throughout the summer.
Other Aspects From Orientation
In addition to the packed week of presentations and reflection sessions, the CIIP cohort had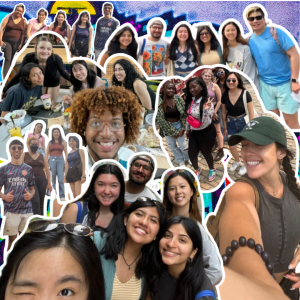 opportunities to venture off JHU campus through a day-long scavenger hunt around Baltimore City. Interns broke into smaller pods led by one of the eight peer mentors and travelled across the city. Students used public transportation throughout the day. From the Billie Holiday statue, Hollins Market, to the B&O Railroad Museum, students had an opportunity to learn about Baltimore's rich history and culture.
The CSC team also participated in the scavenger hunt, occasionally running into CIIP interns around the city. The day concluded with a barbecue cookout in the CSC backyard, where everyone had a chance to chat and eat.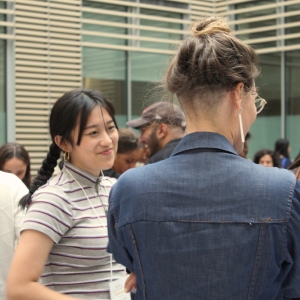 The week concluded with traditional group and cohort photos and a Community Partner mingling opportunity. Here, students and Community Partner supervisors engaged in a variety of conversations, oftentimes voicing their excitement for the following week.
Looking Into the Summer
Starting Monday, June 13th, CIIP interns officially begin working at their matched organization. The CSC will continue posting this cohort's adventures and reflections on our website and social media.
View more photos from this year's CIIP orientation on our Instagram or Facebook page.