An Insight Into CIIP: Natalie Wang
Posted: August 4, 2023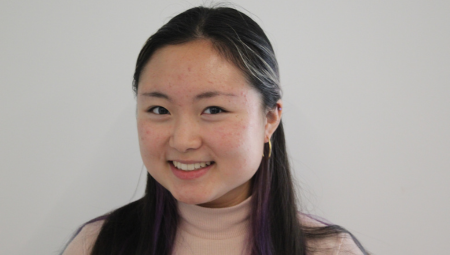 by: Sierra Romero
Get to know one of our CIIP Interns Natalie Wang, her Community Partner Keswick MultiCare Center, her thoughts on difference in care for aging adults, and reflections on language barriers in healthcare.
"There's so much in geriatrics that reflects medicine more broadly in ways that don't really get embraced in all specialties," said Natalie Wang. "The importance of family, what happens after the hospital, and how somebody can be best supported in their aging matter."
Natalie is a rising senior at Johns Hopkins University and Community Impact Internships Program (CIIP) intern this summer. CIIP is the Center for Social Concern's competitive, paid summer internship program that pairs JHU undergraduate students with nonprofit organizations and government agencies throughout Baltimore City. The program offers an intensive, cohort-based learning environment. The ultimate goals for students who participate are to give students an opportunity to gain real-world experience while being directly involved in a community, support community partner initiatives, and gain a deeper love and understanding of Baltimore.
Natalie, Keswick, and Bayview
Natalie is majoring in Neuroscience with a lot of her academics focused on geriatrics and memory in the setting of postoperative delirium. Before CIIP, Natalie is doing research at Johns Hopkins Bayview Medical Center, conducting delirium assessments on patients on the general floor and volunteering in their Pediatric Emergency Department.
This summer, Natalie was paired with Keswick MultiCare Center, a long-term care facility for older adults. Charted by the Maryland General Assembly in 1883, Keswick has been around for over 138 years focused on meeting individual care needs and "the preservation of an individual independence, dignity, and respect." Keswick offers a variety of programs and is made up of nursing and medical staff, social workers, dieticians, physical, occupational, speech, and recreational therapists.
While Natalie has had experience working with an older population at Bayview, she noted the difference between an inpatient hospital setting and an outpatient care center like Keswick. "When older people are in hospitals you get a very narrow view into their lives," said Natalie. For her, it became a custom to speak at a certain pace or volume for patients that wasn't necessary for all the residents at Keswick. "It's been important getting to know each other individually and tailor how I speak to each person."
At Keswick, Natalie splits her time assisting two different initiatives. The first is programming focused on socialization and nourishing brain health. This includes art therapy, bingo, gardening club, and ceramics. Sometimes her mornings are spent in sunlight, tending to mint and sage plants. Other times, she's entrenched in a high stakes' bingo games. Occasionally, her days consist of bending wires, placing beads, and creating jewelry for residents with hand mobility limitations. Through each, Natalie has had the opportunity to talk with residents firsthand about their lives and their experiences.
The second program Natalie assists with is Community for Life. Launched in 2019, Community for Life is funded by the Maryland Department of Aging and run by Keswick to help older adults age in place. As people age, the consensus Natalie points out is the fact that people want to stay at home for as long as they can until they move into assisted living or long-term care. Community for Life is there to empower those who meet a certain income requirement to do so safely.
Natalie spoke about her caseload and the responsibilities she has for calling individuals and families to record requests and resources needed. Through this program, handymen, housekeeping services, and transportation to places like grocery stores, doctor's offices, friend's places, and religious institutions are provided.
Language Barriers in HealthCare
While Natalie reflects on her summer so far, she can't help but point out an interesting observation that's come to light from her time with Keswick and Bayview. "When I tell people I work at Bayview, their next question is 'Do you speak Spanish?'" said Natalie. "I do, and that [Spanish] has kicked in a lot more working with older adults. Language barriers are a huge issue, and it's a lot harder to understand somebody in your nonnative language or even if they're speaking with an accent or different dialect in your nonnative language." Reflecting on her own experiences growing up not speaking the same language as her grandparents spoke, Natalie pointed out the distance that this can create sometimes.
In a healthcare setting, language barriers are a challenge of their own to navigate. Under Title VI of the Civil Rights Act and Executive Order 13166, any healthcare organizations receiving federal funds must provide interpretation services when needed. However, when matched with the sheer volume of visits hospitals and outpatient centers receive, this can become a challenge of its own. According to Dr. Ana M. Nápoles, without proper support and resources, hospitals and other organizations alike work harder to ensure accurate information-sharing through. Sometimes, this comes at the expense of the patient, who may receive less quality care, despite health workers' best efforts.
Although Natalie hasn't come across a resident who doesn't speak English at Keswick, she notes how this speaks to the larger conversation of healthcare access and use among different demographics, languages, and zip codes. Natalie's supervisor, Rosalyn Stewart, Keswick's Volunteer and External Relations Manager, noted the increased attention the organization has placed on larger matters of inclusion in both historic and contemporary settings.
Looking Forward
While Natalie doesn't know If she will ultimately end up as a geriatrician, she's grateful for the experiences like CIIP and Bayview that have led her to where she is today. "It's been so helpful in thinking about what medicine means and why it's important to me," concluded Natalie. "It's only reaffirmed that this is a path that I'd like to continue pursuing."
References For This Feature
Additional Learning
This is by no means a comprehensive list of additional resources related to topics discussed above. If you have suggestions to be added to this list, reach out to Sierra Romero at sromero7@jhu.edu.