An Insight Into CIIP: Frank Meng
Posted: July 25, 2023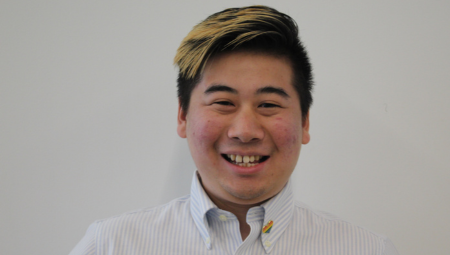 by: Sierra Romero
Get to know one of our CIIP Interns Frank Meng, his Community Partner ERIC, and an introduction to Baltimore's rich history of immigration.
"I think I used to have this romanticized view of immigration," stated Frank Meng. After a pause, Frank explained his career at Johns Hopkins University (JHU) – the classes he took centered around immigration policy and the frameworks learned to conceptualize movement from one place to another. "I found that we very much ignore people's lived experiences, and that's how we reveal the mechanisms of inequalities within our immigration system."
Frank, alongside forty-eight other Hopkins students, is part of the Center for Social Concern's Community Impact Internships Program (CIIP). CIIP is a competitive, paid summer internship, that pairs JHU undergraduate students with nonprofit organizations and government agencies throughout Baltimore City. The program offers an intensive, cohort-based learning environment. The ultimate goals for students who participate are to give students an opportunity to gain real-world experience while being directly involved in the city, support Community Partner initiatives, and gain a deeper love and understanding of Baltimore.
Frank, a returning CIIPer and current Peer Mentor, is paired with the Episcopal Refugee and Immigration Center Alliance (ERICA). Founded in 2001 by parishioner refugees fleeing from the Liberian Civil War, ERICA id dedicated to offering housing assistance, food, and medical services for anyone fleeing "oppression, persecution, and poverty in other countries." The organization addresses individual needs and concerns, both through its website and word of mouth.
Frank and ERICA
Because of the sheer scope of each individual and family, no day looks the same as before at ERICA. Frank can attest to this. "I need you to look up every and all Baltimore hospitals that will accept a walk-in appointment for undocumented asylum seekers with no insurance," said Frank as he recounted his first day of the internship. After bouncing from one phone call to the next, accompanying the couple to the hospital, and navigating a language barrier alongside HIPAA guidelines, Frank was part of addressing a medical emergency in real-time. When Frank was not working with those relocating to Baltimore directly, he spent time researching immigration policy, preparing shelters, and other assignments to support ERICA's mission.
Maneuvering through the legal system and applying for work permits, asylum, and citizenship status in a different language remains a challenge today. In addition to this, seeking out necessities like food, housing, and employment all require a network of support throughout the city. "I think this experience [CIIP] has me rethinking what privilege is," stated Frank. "Whether you have a visa, or you were born here, or able to speak English is a privilege that we don't think about and a lot of times we take for granted."
Baltimore's Immigration History
European Immigration
Baltimore's history is woven with immigration. Originally founded on Susquehannock and Piscataway land, Baltimore was one of the main ports of entry for Europeans coming to the United States, closely following Ellis Island. In 1868, the burgeoning Baltimore & Ohio Railroad built an Immigration Pier in Locust Point. This pier was not only a harbor to later carry immigrants out west, but offer jobs digging tunnels, building bridges, and other lines of work for the railroad. According to the Baltimore Immigration Museum, "one million people – on average between 20,000 a year started their lives as Americans arriving at the B&O Railroad pier between 1868 to 1914."
In the beginning, it was primarily German immigrants arriving in Baltimore due to a partnership between the railroad and the North German Lloyd Steamship Company. As the number grew, Baltimore even witnessed the rise of bilingual German-English schools and a few dozen German newspapers.
The city became molded by the influx of Irish, Italian, Greek, Central, and Eastern European Jewish people arriving in Baltimore in search of a new life. According to the Baltimore Magazine, between 1830-1860, nearly 25% of the city was foreign-born.
African American Immigration
Baltimore was a melting pot for European immigrants but has an additional history of free Black African Americans immigrating to the city. Following the American Revolution, the Maryland State Assembly passed the state's manumission laws, making it easier for plantation owners to free enslaved people in the 1790s. While it was still an arduous process, the state began to see hundreds of formerly enslaved people gain freedom. By the beginning of the 1800s, the East Coast – specifically urban areas like Baltimore and Philadelphia, saw Black Americans converge there.
It is important to note that freed African Americans settling in cities during this time were brought to the United States as slaves or born into this condition, which is not considered immigration but involuntary relocation. After freedom, African Americans that decided to relocate to Baltimore was a form of migration.
Immigration in Baltimore Today
All were in pursuit of opportunities to create a better life for themselves or their families. Some were running from persecution or economic, and political hardships. Centuries later, these reasons remain a core for many South and Central American, Asian, and African immigrants settling here today.
Baltimore is a sanctuary city, which means that municipal policies and law enforcement limit their cooperation with federal government efforts to enforce immigration laws. Immigrants within the city do not need to disclose their immigration status to employers and are technically protected from deportation.
Baltimore has seen new enclaves of immigrant neighborhoods throughout its city. Through this comes new communities filled with shared histories, cultures, aspirations, and economic opportunities. According to the American Immigration Council, 66,350 immigrant business owners accounted for 23 percent of all self-employed Maryland residents in 2018.
But paired alongside this is a road of perseverance dealing with anti-immigrant sentiments, local to federal immigration systems, language difference, and finding resources.
Immigration Organizations in Baltimore
"There's really no infrastructure that supports those who have language barriers, supports those who don't have access to shelter or food, who don't know where to find support," said Frank. But that doesn't mean nothing is being done. Baltimore is home to many non-profit organizations and religiously affiliated institutions, like ERICA, that work tirelessly towards alleviating some of these stressors and barriers. "They're doing great work without getting all the praise," said Frank. Indeed, many of these efforts operate in the shadows at times, dedicated to working with immigrants and refugees alike.
Look Beyond
Even after the summer internship will inevitably come to a close, Frank's summer experience with ERICA and the hands-on approach has shaped what comes next. Frank scrapped the first chapter of his thesis to include a more qualitative approach to writing about immigration. "As an immigrant, that's always been something that was on my mind," said Frank. A qualitative approach, Frank explained, would center Queer Asian immigrants' lived experiences and go beyond the data. "Hearing first-hand how people have spent 43 days walking to the border [and other hardships] are things you can never get from a data point. Because behind the data point are real people, real experiences."
References for this Feature
Additional Learning
This is by no means a comprehensive list of additional resources related to topics discussed above. If you have suggestions to be added to this list, reach out to Sierra Romero at sromero7@jhu.edu.
Immigration Resources in Baltimore
This is by no means a comprehensive list of immigration resources in Baltimore. If you would like your organization to be added to this list, reach out to Sierra Romero at sromero7@jhu.edu.
Asian Pacific American Legal Resource Center – Working "to ensure that Asian-Americans and Pacific Islanders can access government services and the legal system to protect and enforce their rights."
Asylum Seekers Housing Network – Working to "provide long-term housing for asylum seekers in an intentional community house."
Baltimore Resettlement Center – Working to "provide refugee resettlement and case management services, including orientation, housing, health, and social services support, employment and legal assistance and language instruction."
Capital Area Immigrants Rights Coalition – Working "to ensure equal justice for all immigrant adults and children at risk of detention and deportation in the Capital region area and beyond through direct legal representation, know your rights presentations, impact litigation, advocacy, and the enlistment and training of attorneys to defend immigrants."
CASA – Working to "employ a client-centered law and organizing model allowing attorneys and legal staff to work in partnership with the community members it serves to provide both individualized legal assistance and, together with organizer, build leadership within its client base and work collectively with them to address the underlying root causes of the legal issues they face."
Episcopal Refugee and Immigration Center Alliance (ERICA) – Working to "help refugees, asylum seekers and other newcomers in Greater Baltimore rebuild their lives through one-on-one problem solving and emergency assistance."
Immigration Outreach Service Center – Working to "provide a wide range of referral services. Our staff and trained volunteers listen with compassion and competency and guide our clients to the local service providers they need. These include legal services, health care services, housing information, assistance in finding educational and employment opportunities, case management, and food assistance."
International Rescue Committee Baltimore Chapter – "The International Rescue Committee provides opportunities for refugees, asylees, victims of human trafficking, survivors of torture and other immigrants to thrive in Baltimore and around Maryland."
Johns Hopkins CentroSol – Working "to promote equity in health and opportunity for Latinos by advancing clinical innovations, education access and exposure, and advocacy in active partnership with the Johns Hopkins Institutions and our Latino neighbors."
Justice For Our Neighbors – Working to "advocate for and provide free or low-cost legal services to people of every race, nationality, religion, age, gender, and sexual orientation who have come to the United States seeking freedom, safety, and opportunity."
Just Neighbors – Working to "provide high-quality immigration legal services to low-income immigrants, asylees and refugees in Washington, DC, Maryland, and Virginia."
Kids In Need of Defense – Working to "ensure that no child appears in immigration court without high quality legal representation; Advancing laws, policies, and practices that ensure children's protection and uphold their right to due process and fundamental fairness."
Mayor's Office of Immigrant Affairs – Working "to promote community wellbeing, economic development, and the integration of immigrant communities by identifying needs and opportunities that immigrants bring to our city, while developing public-private partnerships to strengthen the development of these communities."
Mi Espacio, CASA Baltimore – Working to "build English proficiency, citizenship education and mentoring, vocational training, community organizing, and financial education."
Mis Raices at Patterson Park Public Charter School – Weekly meetings serving as a support group for Latinx immigrant families and education on community resources.
Pro Bono Resource Center of Maryland – Serving as a "hub for pro bono (free) civil legal assistance provided by volunteers."
Public Justice Center – Working to "use legal advocacy tools to pursue social justice, economic and race equity, and fundamental human rights for people who are struggling to provide for their basic needs."
The Adult Learning Center at Strong City Baltimore – Working to provide classes in Adult Basic Education (ABE) and English Language Acquisition (ELA/ESL/ESOL) to Baltimore residents, all at no cost to the learner."
The Esperanza Center – Working as "a comprehensive resource center whose mission is to welcome immigrants by offering hope, compassionate services, and the power to improve their lives."
World Relief Baltimore Immigration Legal Clinic – Working to "come alongside refugees and other immigrants in vulnerable situations as they rebuild their lives in the United States."