25th Anniversary Celebration
Posted: May 11, 2017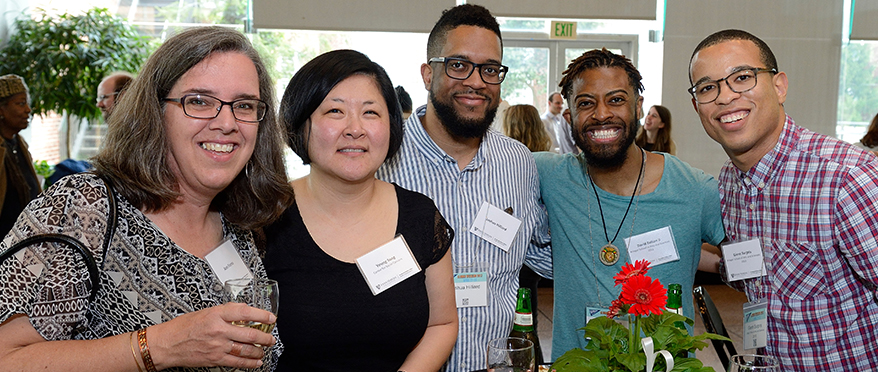 The Center for Social Concern is celebrating its 25th Anniversary. In reaching such a milestone, we invited all community partners, alumni, students, faculty, staff, and friends of the Center for Social Concern to join us in celebrating 25 years of accomplishments, partnerships, and engagement with our community during Alumni Weekend on Friday, April 21, 2017 in the Glass Pavilion, Levering Hall.
Students, alums, community partners, staff, faculty, and guests had the opportunity to meet, mingle, and catch-up with each other during the event. A slideshow of photos and old newspaper articles that documented the Center's past and present activities was displayed on a projector screen and ran throughout the evening. Shortly into the celebration, there was a brief program which included opening remarks from Dr. Andrew Wilson, Dean of Academic and Student Services. Dr. Wilson then introduced President, Ronald Daniels, who highlighted the Center for Social Concern's accomplishments. President Daniels and David Yaffe, JHU Alumni Association President, presented Mr. William (Bill) Tiefenwerth, former Center for Social Concern Director, with The Community Hero Award. This award recognizes outstanding contributions that address critical social, economic and & environmental needs throughout our society and communities, including local communities. Bill has greatly impacted the Baltimore and Hopkins communities and is very deserving of The Community Hero Award. Congratulations, Bill!
The final speakers of the evening were Vincent (Vinny) DeMarco, JHU Krieger Arts and Sciences '78 & '83 alum, and Eric Anderson. Vinny spoke about his experience as a Tutorial Project tutor with Eric Anderson, tutee, by his side on stage. They both shared how the Tutorial Project impacted their lives several years ago and as a result, continue to remain mentors and friends with each other and their families. Their stories brought much laughter to the celebration and some tears of joy as well. Thank you to everyone who joined our 25th anniversary celebration and who continue to support the Center for Social Concern!