Incorporating Community-Based Learning (CBL) Into Your Course: Hear from This Year's Engaged Scholar Faculty Fellows
Posted: April 27, 2023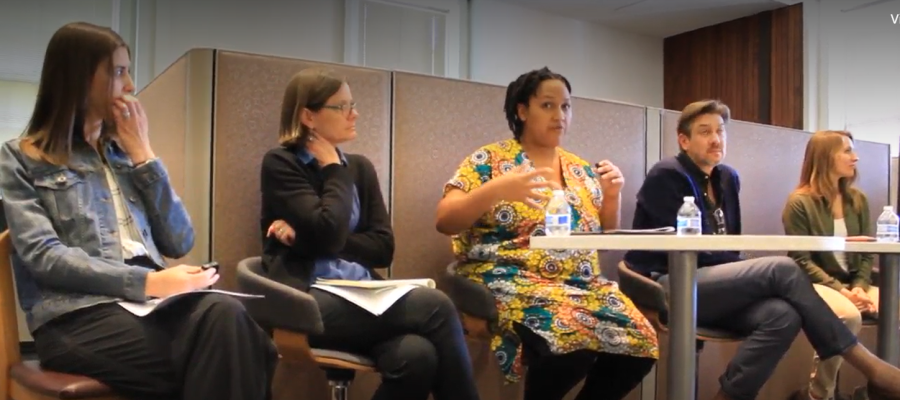 by: Sierra Romero
"Cultural humility." "Potential." "Reparative." "Plaid." "Flexibility."
On April 19th, five of the seven current Engaged Scholar Faculty & Community Partners Fellows gathered at the Milton S. Eisenhower Library for a "lunch & learn" panel hosted by the Center for Teaching Excellence and Innovation. Facilitated by Luisa DeGuzman, the Center for Social Concern's Assistant Director of Engaged Scholarship, faculty fellows discussed their experience developing and incorporating a Community-Based Learning (CBL) lens into their classroom.
Community-Based Learning is a pedagogical model that engages students, faculty, and Baltimore City Co-Educators (Community Partners, e.g., nonprofit and government agencies) in coursework and community engagement that supports academic learning objectives and Community Co-Educator identified needs.
While a CBL lens can be applied to any course, the Center for Social Concern's Engaged Scholar Faculty and Community Partners Program is additional programmatic support to develop a CBL course for the spring semester. Below are summarized responses from faculty fellows, Dr. Alissa Murphy, Dr. Anne-Elizabeth Brodsky, Dr. Jasmine Blanks Jones, Dr. Matthew Pavesich, and Dr. Victoria Harms about their experience.
Finding a Community Partner and Creating a Relationship
Faculty can come into the program with a Community Partner already in mind. However, most of this year's cohort expressed a need to find an organization in Baltimore City to co-collaborate with.
While the Center for Social Concern does not match faculty members to a Community Partner, Luisa will connect fellows to potential partners that align with the proposed course. Some of these are cold introductions that happen via email or in person. The CSC can help facilitate initial connections with the expectation that faculty fellows nurture those relationships through continued dialogue.
What's particularly important in this process is understanding the positionality of Hopkins faculty members working with Community Partners. Johns Hopkins University has a complicated history with Baltimore City, one that can affect a potential Community Partner's response to a request to collaborate. It's valid and while it may make the initial process of finding a partner more challenging, it's important to acknowledge and navigate through this.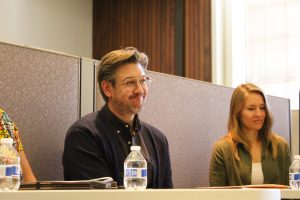 "It takes time to build trust," said Matthew Pavesich. "You need to be confident and comfortable with the need to pivot." The process of finding a Community Partner isn't always a direct path and can sometimes result in a new course direction. However, this is just part of the process towards co-creating a class that will highlight the values and needs of both faculty and Community Partners.
Center for Social Concern Support
Throughout the year-long fellowship, faculty members will primarily work with Luisa. Fellows will meet as a cohort through a multi-day orientation in August and check-ins throughout the year.
Faculty fellows will each receive a $2,000 co-educator stipend for the year and up to $1,000 in additional funding for CBL course logistics.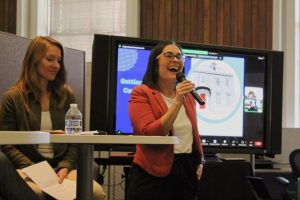 However, support for faculty does not stop there. "One of the benefits of working at the CSC is that we're in this with you," said Luisa. "I am certainly not the only one at the CSC that supports faculty fellows. We'll be in this with you if you choose to collaborate with the CSC for your Community-Based learning classes."
Fellows will have opportunities to connect with other CSC staff members to go over operations logistics, educational community engagement training for students and faculty, and communications efforts.
Assessing Student Learning in CBL Courses
CBL courses provide the flexibility to reassess what student learning means. "It's really important that we give them [Hopkins students] the gift of the breadth of this kind of education," said Anne-Elizabeth Brodsky. Aligned with this value, this year's fellows expressed that student learning assessment takes on the form of critical reflection through multiple formats. This includes cumulative work, writing, or curated projects influenced by Community Partner feedback.
"What were the overarching methodological skills that they gained? How can we talk about that in really sophisticated ways?" said Jasmine Blanks Jones. "What is the new language you're developing as a scholar? And what are the ways that you're communicating with your peers about your growth and learning?"
There is no formula for this. However, all fellows noted the importance of expanding a student's understanding of what an education is – and what expertise is.
"If we're going to really think about the cultivation of knowledge and who has knowledge and what knowledge is, we can't access that from within the walls of the institution. We have to engage with our communities, with practitioners, people who are already doing the work, who are finding solutions," stated Jasmine Blanks Jones. "People are always at work to make their own lives better. And that is how we can begin this journey towards equity, justice, and education."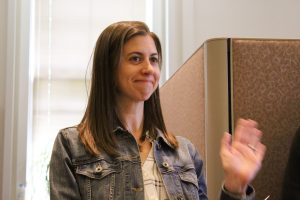 As the panel concluded, faculty fellows were asked to summarize their experience with the CSC's fellowship program; words that link together faculty and Community Partners' pursuit to shape the next generation of leaders.