Dr. Jasmine Blanks Jones and Markya Reed Awarded Certificate of Recognition
Posted: July 31, 2023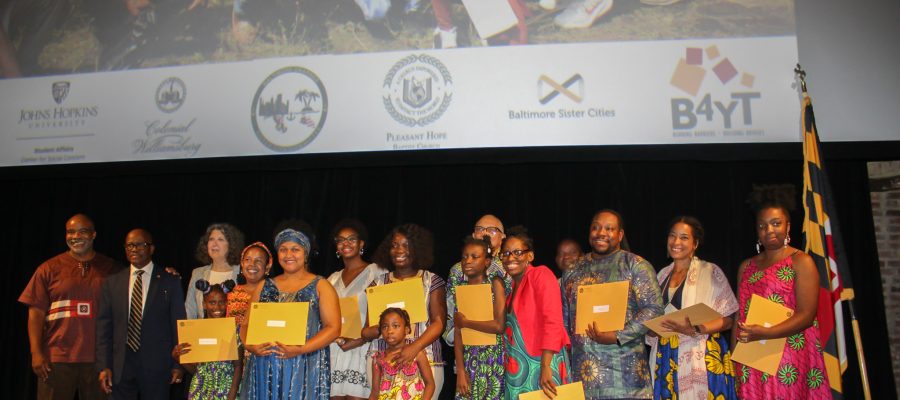 by: Sierra Romero
On July 7th, two of the Center for Social Concern's staff members, Dr. Jasmine Blanks Jones and Markya Reed, were presented with a Certificate of Recognition from the Baltimore Mayor's Office for their participation in the creation and documentation of 200 Years of Returns.
200 Years of Returns
200 Years of Returns – a collaboratively written effort between binational Liberian organization B4 Youth Theatre artists and four actors from Colonial Williamsburg Foundation in Virginia, looks at the adversities and triumphs of freedom seekers and indigenous African people during the late 18th century and early 19th century. This is done through the lens of present-day Liberia and the DMV region of the United States.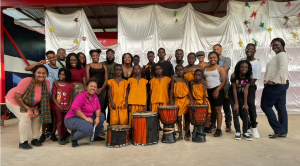 Back in December of 2022, Jasmine and Markya, alongside 11 other participants travelled to Liberia to perform and record the performance. The project involved a vast array of people including residents of Baltimore City. Some include affiliates of Orita's Cross Freedom School and Angels of Praise dance ministry at Pleasant Hope Baptist Church, and two graduate students from the Baltimore area. Black actors from the Department of Museum Theatre at Colonial Williamsburg Foundation joined. Finally, youth leaders and students of B4 Youth Theatre, a Maryland-based non-profit, traveled as well. Half a year later, the first filmed screening of this performance was showcased at the Parkway Theater on July 7th.
The Film Screening
The evening began with a cultural troupe welcome performed by Urban Foli Djembe Orchestra Performing Arts. The entrance of the Parkway Theater was filled with lively drumming, an audience ranging from all ages, and eventually a participatory welcoming circle that invited everyone to join a traditional dance.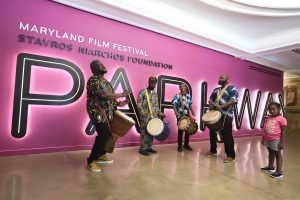 Approximately 60 people people eventually shuffled into the historic theater's bottom floor where they were welcomed by Luana Kiandoli, Chair of Baltimore-Gbarnga Sister City Committee. Special remarks were shared by Dr. Teresa Leslie, President of Baltimore Sister Cities, Inc., Dr. Nathan Connolly, Director of JHU Program in Racism, Immigration & Citizenship, and Mary Nitsch, Director of International Affairs in the Office of the Secretary of State.
Following inspiring words about the cultivation and eventual creation of this cross-border collaboration, and the long history of freedom-seeking shared between Baltimore and Gbarnga City, Liberia, all 30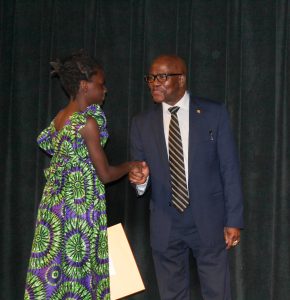 participants were awarded a Certificate of Recognition for their dedication to advancing citizen diplomacy. In addition to this, each honoree present had the opportunity of shaking hands with His Excellency Ambassador Jeff Gongoer Dowana from the Embassy of the Republic of Liberia in the United States.
The film was screened shortly afterwards, encapsulating the theater with songs, oral histories, and 13 artists' lively performance. When the film concluded, Dr. Jasmine Blanks Jones gave her closing remarks, noting that 200 Years of Returns' performance in Liberia and the film's screening at this historic event was made possible through the support of JHU's Program in Racism, Immigration & Citizenship and the Center for Social Concern.
The night closed with a lobby reception where attendees mingled amongst one another while snacking on food provided by Baltimore's Peace & Hominy Catering and Chef Services.
Those honored for their performance are:
Amari Grant
Amirah Brunson Stanley
Christophus A. Suah
Deirdre Jones
Elliott Jones
Emara Brunson Leon
Hannah Mckay
Jalen Rose
Jarnar Jones
Dr. Jasmine Blanks Jones
Jeanette Johnson
Jebbeh J. Cole
Jeremy Morris
Joshua M.V. Jimmy
Joyce Kenkpen
Katrinah Lewis
Markya Reed
Shenika Brunson
Silas Juaquellie
Those honored for their support in this project are:
Adolphus Togbe-Doya
Dr. Carl P. Burrowes
Dr. Charles Mulbah
Dr. Clarice Ford-Kulah
Chiquita Johnson
Rev. Heber Brown, III
Lester Parker
Luana Kiandoli
Mayor Lucia Herbert
Marcelle Yhap
Hon. Princess Turkolon