National Voter Registration Day 2023
Posted: September 19, 2023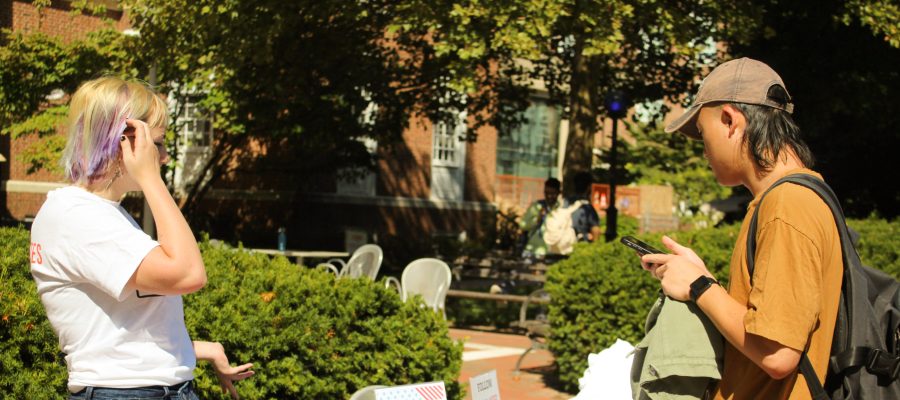 by: Sierra Romero
Today was National Voter Registration Day (NVRD), a holiday celebrated on the fourth Tuesday of every September. The goal of NVRD is to encourage individuals to register to vote, feel equipped with the necessary resources, and familiarize themselves with voting support on campus.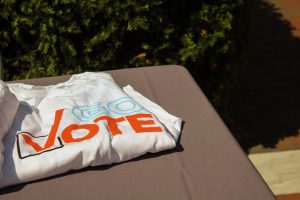 Hopkins Votes, the University's nonpartisan voting initiative overseen by the Center for Social Concern (CSC), student ambassadors congregated outside of Levering Hall and the Breezeway to table, pass out newly designed T-shirts, and register voters on the TurboVote platform. Students stopped by both locations in between classes – engaging in brief conversations and learning about the next steps to register to vote.
While an increasing number of students are entering campus already registered to vote – this work is never over and can always be built upon.
Last year, Johns Hopkins University earned the Highly Established Action Plan Seal from the ALL IN Campus Democracy Challenge for the 2022 election. This was for developing a nonpartisan democratic engagement action plan that received at least 31.5 of 36 possible points based on the Strengthening American Democracy Action Planning Guide (SADG) Rubric. Thanks to Hopkins Votes, JHU was one of 121 campuses that earned this inaugural recognition for the 2022 election cycle.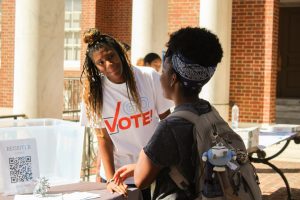 The Center for Social Concern is excited to see the ways in which our Student Ambassadors will continue working towards a civically engaged campus this upcoming year. Future events to keep an eye out for include National Voter Education Week and the annual Absentee Ballot Party.
The Center for Social Concern would like to thank Luis Sierra Moncion and Markya Reed, two CSC staff members who have taken leadership roles for Hopkins Votes. Their coordination, initiative, and attention to detail have ensured that Hopkins Votes continues to provide tabling events, up-to-date voting registration information, and support to our Student Ambassadors.