Community-Based Learning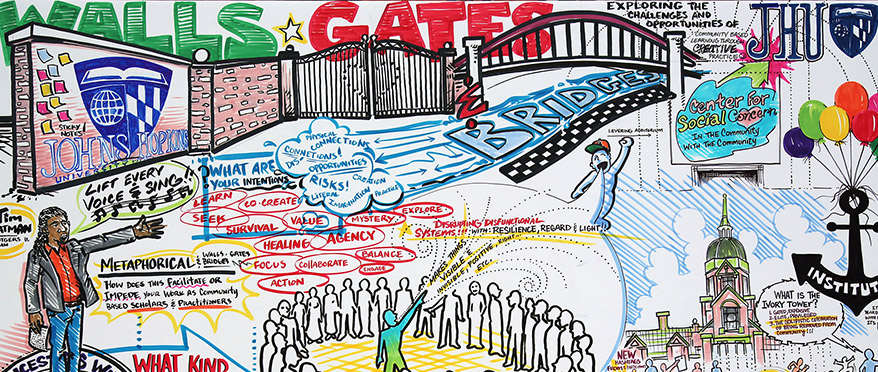 Johns Hopkins University encourages undergraduate students to foster and embrace a sense of civic engagement and social responsibility during their career at Hopkins. To accomplish this, the Center for Social Concern's goal is to support Community-Based Learning, expand community engagement, and increase academic learning through real world enriching experiences. Read more information below about getting involved with CBL and the evolution of CBL and Hopkins.
Getting Involved with Community-Based Learning
Although a number of faculty members at Hopkins already offer classes which incorporates community engagement, these experiences have not been formalized. The Center for Social Concern is stepping into this gap and offering support to faculty who would like to teach community-based learning courses, as well as advocate for community-based learning to be more widely used and accepted on the Johns Hopkins campus. Whether you are a JHU faculty or student, there are some ways to get involved in CBL. Read more below.
For Faculty
For Students
If you are a student who is interested in taking CBL courses, intersession courses, or courses with a component that teaches students about Baltimore and other communities, review the course listings.
In the spring, the CSC also offers lectures and workshops on various Community-Based Learning topics. These events are free of charge and open to the entire Johns Hopkins community and area institutions. We will be updating the Community-Based Learning Workshops and Lectures events page as new events are planned.
Have questions or want to get involved in CBL? Contact Shawntay Stocks, Assistant Director of Engaged Scholarship at the Center for Social Concern.
Evolution of Community-Based Learning at Johns Hopkins
The Center for Social Concern worked with key stakeholders and created the Community-Based Learning Working Group and Community-Based Learning Advisory Board. The stakeholders include JHU faculty members, administrators, staff, and students. The groups were created to lay a foundation and create a framework for CBL at Homewood.
Learn more below about the principles and components of CBL.
The Principles of CBL include:

Faculty, students, and community groups collaborate in pursuing community-identified goals and academic course objectives over a semester or longer
Courses provide relevant reading, research (if applicable), and evaluation, including reflection, and meaningful learning objectives for community work; faculty meet their course objectives by preparing students for community entry, providing meaningful outlets for critical reflection, and adopting methods of rigorous evaluation
Assurance that the community benefits from the relationship with Hopkins and the students' community-based project
Academic credit is given for classroom and community-based learning, demonstrated by the students' preparation for their experiential learning, community service activities, reflection and evaluation; credits are assigned based on these factors, not on the community engagement by itself
Components of CBL include:
Faculty identifies, creates or develops a course that includes the necessary components for CBL
CBL is not only an internship, field experience or volunteer work
CBL is not merely "extra credit"; even if students are participating in a "fourth credit" option, CBL is not about augmenting their grade; it's a tool for learning and teaching for all parties, and relies on equitable partnerships
For students who would like to gain experience in communities, CBL is one avenue; they can also receive special studies credit for CBL, if conducted with guidance from faculty and includes a reflective paper