Community-Based Learning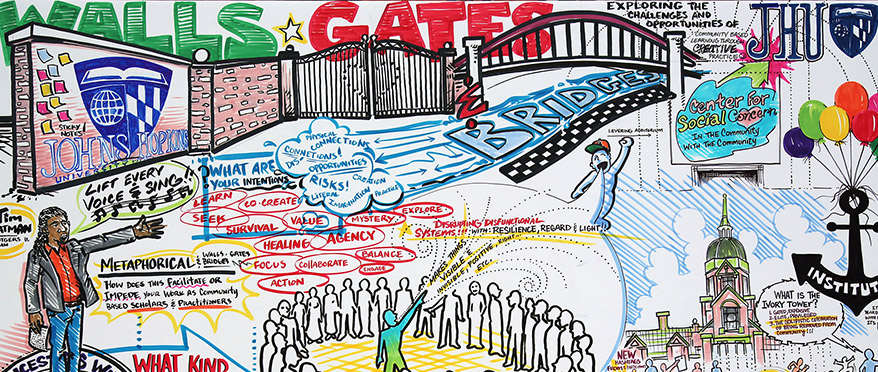 Johns Hopkins University encourages undergraduate students to foster and embrace a sense of civic engagement and social responsibility during their career at Hopkins. To accomplish this, the Center for Social Concern's goal is to support Community-Based Learning, expand community engagement, and increase academic learning through real world enriching experiences. Read more information below about getting involved with CBL and the evolution of CBL and Hopkins.
Getting Involved with Community-Based Learning
Although a number of faculty members at Hopkins already offer classes which incorporates community engagement, these experiences have not been formalized. The Center for Social Concern is stepping into this gap and offering support to faculty who would like to teach community-based learning courses, as well as advocate for community-based learning to be more widely used and accepted on the Johns Hopkins campus. Whether you are a JHU faculty or student, there are some ways to get involved in CBL. Read more below.
For Faculty
If you are a faculty member who is interested in teaching a CBL-type course or course with a component that teaches about Baltimore and other communities, learn more.
If you are a faculty member who is interested in participating in the Engaged Scholar and Community Faculty Fellows Program, learn more.
For Students
If you are a student who is interested in taking CBL courses or courses with a component that teaches students about Baltimore and other communities, review the CBL course listings.
In the spring, the CSC also offers lectures and workshops on various Community-Based Learning topics. These events are free of charge and open to the entire Johns Hopkins community and area institutions. We will be updating the Community-Based Learning Workshops and Lectures events page as new events are planned.
Have questions or want to get involved in CBL? Contact Shawntay Stocks, Assistant Director of Engaged Scholarship at the Center for Social Concern.
Evolution of Community-Based Learning at Johns Hopkins
The Center for Social Concern worked with key stakeholders and created the Community-Based Learning Working Group and Community-Based Learning Advisory Board. The stakeholders include JHU faculty members, administrators, staff, and students. The groups were created to to lay a foundation and create a framework for CBL at Homewood.
Community-Based Learning Working Group
During fall 2008, the CSC launched its Community-Based Learning Initiative to provide a rigorous community engagement model within the context of an academic course. Its first step was to create and establish a Community-Based Learning Working Group to lay the structural foundation for a CBL program for the Homewood campus. The CBL Working Group was composed of a number of interested stakeholders, including:
Johns Hopkins faculty members who are currently teaching courses that incorporate community engagement and those interested in developing/teaching a CBL course in the future
Johns Hopkins faculty, administrators, or staff with extensive knowledge and connections within the Baltimore non-profit community, or experience with CBL
Students with a dedicated interest in CBL
Additional stakeholder meetings were conducted with local community-based and non-profit organizations to determine their needs and preferences around engaging in community-based learning with JHU classes.
The JHU CBL Working Group defined Community-Based Learning as: a pedagogical model that connects classroom-based work with meaningful community involvement and experiences. Within the context of equitable partnership, community organizations and students mutually benefit from the CBL experience both by meeting course objectives and by addressing community-identified goals. Students may engage with groups including, but not limited to: nonprofits, government agencies, grassroots collectives, and other educational institutions.
Learn more below about the principles and components of CBL.
Principles of CBL
The Principles of CBL include:

Faculty, students, and community groups collaborate in pursuing community-identified goals and academic course objectives over a semester or longer
Courses provide relevant reading, research (if applicable), and evaluation, including reflection, and meaningful learning objectives for community work; faculty meet their course objectives by preparing students for community entry, providing meaningful outlets for critical reflection, and adopting methods of rigorous evaluation
Assurance that the community benefits from the relationship with Hopkins and the students' community-based project
Academic credit is given for classroom and community-based learning, demonstrated by the students' preparation for their experiential learning, community service activities, reflection and evaluation; credits are assigned based on these factors, not on the community engagement by itself
Components of CBL
Components of CBL include:
Faculty identifies, creates or develops a course that includes the necessary components for CBL
CBL is not only an internship, field experience or volunteer work
CBL is not merely "extra credit"; even if students are participating in a "fourth credit" option, CBL is not about augmenting their grade; it's a tool for learning and teaching for all parties, and relies on equitable partnerships
For students who would like to gain experience in communities, CBL is one avenue; they can also receive special studies credit for CBL, if conducted with guidance from faculty and includes a reflective paper
Community-Based Learning Advisory Board
During November 2012, a Community-Based Learning Advisory Board was created to establish a concrete framework around JHU CBL course offerings. The Advisory Board addressed the practical and administrative aspects of implementing a community-based learning infrastructure. Similar to the CBL Working Group, it was also composed of similar interested stakeholders.
The main goals of the Advisory Board are to:
Provide the vision and direction for CBL and community-based research on the Homewood campus
Set guidelines, policies, and procedures for CBL courses, community-based research, and programming
Review RFPs for CBL summits (biannual) and serve as the administrative umbrella for planning
Represent CBL interests at meetings as needed
Send 2 designated faculty representatives to CSC's overarching advisory board
Assist in finding internal and external funding to further CBL programs
Keep the larger Hopkins community up to date on CBL activities
The Advisory Board attends 3 meetings per year. Please read the meeting minutes below.