Celebrating Black Stories: A Glimpse into Dr. Jasmine Blanks Jones' Community-Based Learning Spring Course
Posted: March 1, 2023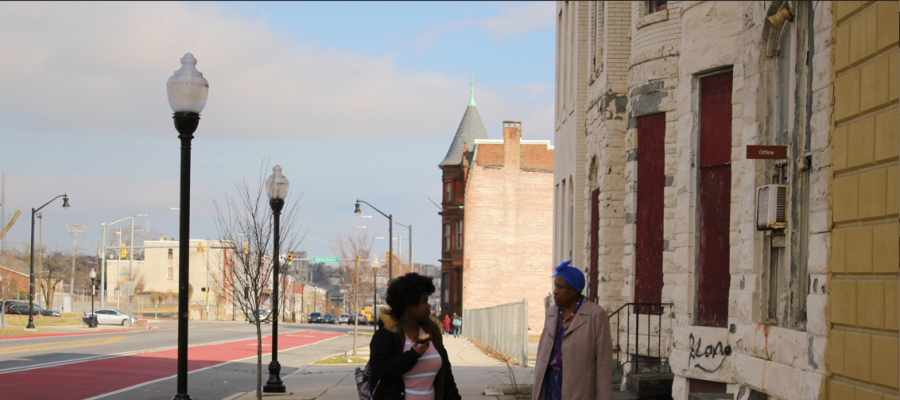 By: Sierra Romero
On February 28th, eight students in Dr. Jasmine Blanks Jones' class, "Black Storytelling: Public Health Education in the Black World" went to the National Great Blacks in Wax Museum to hear from Janice the Griot Greene and Dr. Joanne Martin. While there, students received an in-depth account of the founding of the museum and how their specific interests will be utilized for collaboration as the semester carries on.
Jasmine's Community-Based Learning Course
Jasmine is one of the six faculty fellows teaching this spring semester as part of the Center for Social Concern's Engaged Scholar Faculty and Community Partner Fellows Program. Throughout the course of this fellowship, Jasmine and the rest of the cohort cultivate their own classes through a Community-Based Learning (CBL) lens. Community Based Learning (CBL) is a pedagogical model that engages students, faculty, and Baltimore City Co-Educators (Community Partners, e.g., nonprofit and government agencies) in coursework and community engagement that supports academic learning objectives and Community Co-Educator identified needs.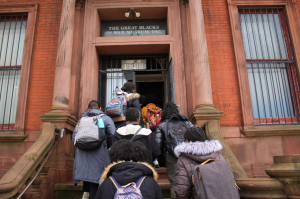 Jasmine's CBL course aims for students to make connections between public health education efforts in Liberia, West Africa to community health education in Baltimore through storytelling. Throughout the spring semester, students will collaborate with the National Great Blacks in Wax Museum to develop performance-based public health messaging that draws on student interests and the museum's collection to support community outreach curricula materials development.
Community Based-Learning in Practice
While the semester has only begun, some students in the class are already reflecting on their visits to the museum and hearing from guest speakers such as Dr. Lydia Pecker. "It was great! Dr. Pecker's work is very inspiring, and I feel having her as a guest speaker was so on brand," said Kya Nicholson, a student in the class. "When she told us about the story of John Paul in such an engaging manner her passion shined right through."
CBL courses are not only an opportunity for students to learn directly from Baltimore City Co-Educators, but to contribute and uphold the mission of a Community Partner. The conception of the National Great Blacks in Wax Museum dates back to 1980 from its founders, Dr. Elmer and Joanne Martin, who believed in the importance of sharing the story and beauty of Black history. What started with only four wax figures has now flourished into the grand opening of a 10,000-square foot facility on East North Avenue.
"Community and cultural development go hand in hand right here in Baltimore," – Dr. Joanne Martin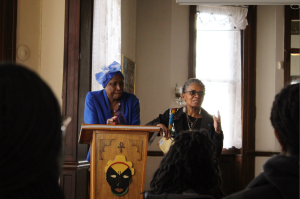 "Community and cultural development go hand in hand right here in Baltimore," said Dr. Martin when talking to Jasmine's class visiting the museum. Upon further thought on why she and Elmer founded the museum over 40 years ago, Dr. Martin concluded the visit with powerful words. "We get to say to little Black children who are toying with ideas and the possibility of being too Black that, 'we want you to be able to see yourself. See yourself in history. See yourself in all that your ancestors and your people have contributed to making this world a better place and embracing that. Because you have the right to do so."