All-Gender Restrooms
Posted: November 15, 2019
We are excited to announce that new all-gender multi-stall restrooms have been added to our map!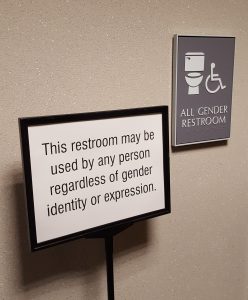 Construction at the School of Public Health's Wolfe Street Building and the School of Medicine's Armstrong Medical Education Building has brought new green dots (signaling multi-stall all-gender restrooms) to our map. Together with existing multi-stall all-gender restrooms at the School of Nursing, this means that all three health professional schools will have access to this resource!
Our appreciation to everyone at both schools who made this possible.
We look forward to continuing to support this initiative and ensuring that everyone has safe and accessible restrooms that support their identities. You will always be able to access our map at bit.ly/JHallgender.