OUTlist Members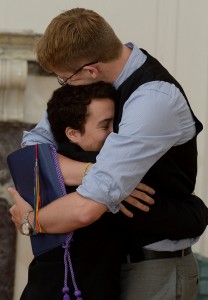 The Johns Hopkins OUTList consists of members of the Johns Hopkins community, including faculty, staff, alumni, students, postgraduate students, and fellows, who identify as LGBTQ+. OUTList members are willing to serve as mentors and/or part of an informal network for the LGBTQ+ community. The list is also intended to serve as a tool for recruiting and retaining the most talented people, to foster a culture in which everyone feels that their contributions are valued, and as another example of the university's commitment to diversity and inclusion. You welcome to contact individuals on the OUTList for advice and networking.
These names represent just a few of the LGBTQ+ members of our Hopkins community. There are barriers (both domestically and internationally) that prevent some members of our community from safely coming out. We hope that this list serves as a reminder that LGBTQ+ people deserve to live open and safe lives.
If you are interested in joining the OUTList, we would love to add you! You can fill out our form here.
Contact information for Hopkins affiliates is limited to what is publicly available on the Hopkins directory. Click on th first or last name to go to that person's entry. We don't publish email addresses for alumni, but you can contact us if you'd like to get in touch with someone.
View the OUTlist
Click the column headers to alphabetize the names, or use the search box to find a specific person. You may also use the search box to find faculty, staff, students, alumni, or a particular campus.
| First | Last | Title, Department, and Workplace | Hopkins Division | Affiliation |
| --- | --- | --- | --- | --- |
| Kristen | Acampora | Events and Marketing CoordinatorJohns Hopkins University Sheridan Libraries | | Staff |
| Carlos | Acosta M.D. | | Bloomberg School of Public Health | Students, Residents, Postdocs, & Fellows |
| Kevin | Adams | Academic Program CoordinatorMechanical Engineering | Whiting School of Engineering | Staff |
| Tracy | Agee MSN | RN, Nurse PractitionerMedicine / ID | School of Nursing graduateSchool of Medicine | Staff |
| Marcela | Aguilar MHS | Communications Director, Breakthrough ACTIONCenter for Communication Programs | MHS, Behavioral SciencesJohns Hopkins Bloomberg School of Public Health | Staff |
| Lydia | Alcock | Marketing and Communications CoordinatorMaryland Nonprofits | Bachelor of Arts, Psychological and Brain Sciences, 2012Krieger School of Arts & Sciences | Alumni |
| Carole | Allen MS | InspectorAmtrak Police Department | MS - Management - Police Executive Leadership ProgramSchool of Education | Alumni |
| Christopher | Ambrose | Assistant Director of Student Engagement & InvolvementOffice of Student Affairs - Peabody Conservatory | Peabody | Staff |
| Bruce | Anderson | Senior LecturerGerman & Romance Languages & Literatures | Arts & Sciences | Faculty & Academic |
| Christopher | Anderson Esq. | AttorneyRobert Allen Law | BA Psychology | Alumni |
| Vagarshak | Avetisyan | | MSPHJHSPS | Students, Residents, Postdocs, & Fellows |
| Andrianna | Ayiotis | Graduate StudentBiomedical Engineering | Biomedical Engineering PhDSchool of Medicine | Students, Residents, Postdocs, & Fellows |
| Sera | Bailey-Emberson | Student | Undergraduate Psychology student of Krieger School of Arts and Sciences, Class of 2022 | Students, Residents, Postdocs, & Fellows |
| Jesus | Bautista-Garrido MA | Research Assistant IIMcGovern Medical School - Department of Neurology | MS in Research Administration, estimated 2023 graduationKrieger School of Arts and Sciences | Students, Residents, Postdocs, & Fellows |
| Timothy | Beaucage M.Ed. | Academic Advisor & Success CoachKrieger School of Arts and Sciences Academic Advising/Center for Student Success | Homewood Student Affairs | Staff |
| S. Wilson "Will" | Beckham PhD | Assistant ScientistHealth, Behavior and Society | PhD, Public Health, 2013Public Health | Faculty & Academic |
| Michael | Beer Ph.D. | Associate ProfessorBiomedical Engineering and McKusick-Nathans Institute of Genetic Medicine | School of Medicine and Whiting School of Engineering | Faculty & Academic |
| Kathleen | Beller | LecturerFilm and Media Studies, JHU MICA Film Center | Kreiger School of Arts and Sciences | Faculty & Academic |
| Kynon Jade | Benjamin PhD | Postdoctoral FellowNeurology & Lieber Institute for Brain Development | School of Medicine & Lieber Institute for Brain Development | Students, Residents, Postdocs, & Fellows |
| Rhys | Benson | Administrative CoordinatorBerman Institute of Bioethics | Bloomberg School of Public Health | Staff |
| Albert | Bernabe | | NursingNursing | Students, Residents, Postdocs, & Fellows |
| Mike | Bernard BS | Academic Program ManagerMechanical Engineering | Whiting School of Engineering | Staff, Alumni |
| Anthony | Betori | | Bloomberg School of Public Health | Students, Residents, Postdocs, & Fellows |
| Amartya | Bhattacharjee | Graduate StudentCivil Engineering | Whiting School of Engineering | Students, Residents, Postdocs, & Fellows |
| Kirk-Evan | Billet DMA | Resource Description LibrarianPeabody | BM, Composition, 1984Peabody | Faculty & Academic |
| Daniel | Bisers | Transportation EngineerJacobs Engineering | BA, Economics, 2008Arts and Sciences | Alumni |
| Adam | Bocek | Community Outreach SpecialistCommunity Public Health | School of Nursing | Staff |
| Joel | Bolling | Assistant Dean for Diversity, Equity, & InclusionOffice of Inclusion, Diversity, Anti-Racism, & Equity | Bloomberg School of Public Health | Staff |
| Sam | Bourne BA | Academic Program AdministratorBiomedical Engineering | Whiting School of Engineering/Johns Hopkins University | Staff |
| Reyn | Boyer | Sr Research Data AnalystOffice of Research | Administration | Staff |
| Zachary | Britt | | MPH/MBA, 2021Bloomberg School of Public Health; Carey Business School | Students, Residents, Postdocs, & Fellows |
| Lisa | Brizzo | Associate DirectorOnline & Distance Learning | Paul H. Nitze School of Advanced International Studies | Staff |
| Nate | Brown MFA | Adjunct LecturerWriting Seminars | Krieger School of Arts & Sciences | Faculty & Academic |
| Tom | Burns JD | Assistant DirectorOffice of Research Administration | Johns Hopkins School of Medicine | Staff |
| Shane | Butler | Nancy H. and Robert E. Hall Professor in the HumanitiesDepartment of Classics | Krieger | Faculty & Academic |
| Ruchen | Cai | Mental Health | School of Public Health | Students, Residents, Postdocs, & Fellows |
| Keri | Calkins PhD | Health ResearcherMathematica | BA 2009, ScM 2014, PhD- Epidemiology 2018School of Public Health | Students, Residents, Postdocs, & Fellows |
| Dean | Campbell | | School of Medicine | Alumni |
| Michelle | Carras | Drug Dependence Epidemiology Training FellowMental Health | School of Public Health | Students, Residents, Postdocs, & Fellows |
| Jeremy | Cavanagh | | Krieger School of Arts and Sciences | Students, Residents, Postdocs, & Fellows |
| Xin Yi | Chan | Chemical and Biomolecular Engineering | School of Engineering | alumni |
| Pauline | Charbogne PhD | Director of ProgramsStation1 | Postdoc 2016-2018, Department of NeuroscienceSchool of Medicine | Alumni |
| Daniel | Chevez | Financial AnalystDean's Office at Krieger School of Arts and Sciences | Krieger School of Arts and Sciences | Staff |
| Garrett | Clark MSE | Senior R&D EngineerMars Wrigley | B.S.E., Chemical Engineering, 2007Whiting School of Engineering | Alumni |
| Sue-Ellen | Clarke Simitian | | 2011Education | Alumni |
| Lee | Clyne | | Post-baccalaureate Premedical Program, 2019Zanvyl Krieger School of Arts and Sciences | Students, Residents, Postdocs, & Fellows |
| Paige | Colburn | Senior WriterOffice of Principal Gifts | University Administration - Central | Staff |
| Erica L | Collins | Patient Access Specialist IIKeswick | Johns Hopkins Community Physicians | Staff |
| Jaymi | Cook | | Krieger School of Arts & Sciences | Students, Residents, Postdocs, & Fellows |
| Siobhan | Cooke PHD | Assistant ProfessorCenter for Functional Anatomy and Evolution | School of Medicine | Faculty & Academic |
| Zoe | Cosner | MD candidate | School of Medicine | Students, Residents, Postdocs, & Fellows |
| John | Cotoia B.S., ScM, M.D. Candidate 2023 | M.D. Candidate '23 at Warren Alpert Medical School at Brown University | B.S. in Molecular & Cellular Biology; minor in Women & Gender Studies, 2015Krieger School of Arts | Alumni |
| John | Cruz MD | Psychiatry | New York University School of Medicine | Alumni |
| Michael | Cuneo | Assistant Director of AdmissionsAdmissions | Carey Business School | Staff |
| Julianne | Cyr MPH, CPH | Doctoral StudentDepartment of Emergency Medicine, University of North Carolina at Chapel Hill | Bloomberg School of Public Health | Students, Residents, Postdocs, & Fellows |
| Laura | Dalrymple | Senior Administrative CoordinatorOffice of the Provost - Faculty Affairs | University Administration | Staff |
| Matthew | D'Amario | RectorSt. Paul's by-the-Sea Episcopal Church, Ocean City, MD | B.A., Mathematics and Philosophy, 1992Arts and Sciences | Alumni |
| Meghan | Davis DVM MPH PhD | Associate ProfessorDepartment of Environmental Health & Engineering | MPH '08, PhD '12Johns Hopkins Bloomberg School of Public Health | Faculty & Academic |
| Rachel | Dawson | Director of Speechwriting, Office of the PresidentOffice of the President | university administration | Staff |
| Morgan | De Groot | | Krieger School of Arts and Sciences | Students, Residents, Postdocs, & Fellows |
| Angie | Deng MSN | Registered NurseLucile Packard Children's Hospital at Stanford | Master of Science, Nursing (Entry into Nursing), 2021School of Nursing | Alumni |
| Tara | Desporte | | Krieger School of Arts & Sciencess | Students, Residents, Postdocs, & Fellows |
| Tammy | Devlin | Center for Technology in Education | MS in Education, 2007School of Education | Faculty & Academic |
| Michael | DiJulia MS, RN | Epic Principal Trainer IIIT@JH Epic Training | | Staff |
| Gillian | DiMuzio | Clinical Faculty for Urban Teachers | School of Education | Faculty & Academic |
| Lillian | Dines | | MS in Biotechnology 2022Johns Hopkins Krieger School of Arts and Sciences | Students, Residents, Postdocs, & Fellows |
| R. Scott | Dingeman M.D. | Assistant Professor of Pediatric AnesthesiologyThe Charlotte R. Bloomberg Children's Center | Pediatric Anesthesiology & Critical Care Medicine, School of Medicine | Faculty & Academic |
| Jess | Donohue MA | Sr. Research Program CoordinatorEpidemiology | Johns Hopkins Bloomberg School of Public Health | Staff |
| Vadim | Dukhanin MD, MHS | Assistant ScientistDepartment of Health Policy and Management | MHS'15Johns Hopkins Bloomberg School of Public Health | Faculty & Academic |
| Darryn | Dunbar DNP, APRN, CNM, NEA-BC | Director of Critical Care ServicesThe Queen's Medical Center West Oahu | DNP-Executive Leadership; 2019Nursing | Alumni |
| Renee | Eastwood M.A. | Director of Graduate & Postdoctoral Affairs | Krieger School of Arts and Sciences | Staff |
| Maggie | Eminizer PhD | Assistant Research ScientistInstitute for Data Intensive Engineering and Science (IDIES) | PhD, Physics, 2020Krieger School of Arts & Sciences | Faculty & Academic |
| Liz | Engle | Sr. Laboratory ManagerDermatology | MS, Biotechnology, 2009School of Medicine | Staff |
| Craig | Evans EdD | Associate Dean, Development and External RelationsSchool of Education | School of Education | Staff |
| Holly | Everett | Medical Student ('21)School of Medicine | School of Medicine | Students, Residents, Postdocs, & Fellows |
| Michael L. | Falk PhD | ProfessorMaterials Science and Engineering; Mechanical Engineering; Physics and Astronomy | Whiting School of Engineering; Krieger School of Arts and Sciences | Faculty & Academic |
| Jacqueline | Fallows-Hart | Clinical Research CoordinatorHematological Malignancies | School of Medicine | Staff |
| Austin | Fang | Product ManagerRadio.com | Bachelor of Science, Biomedical Engineering, 2010Whiting School of Engineering | Alumni |
| Corey | Farley | | Bloomberg School of Public Health | Staff |
| Jason | Farley PhD, MPH, ANP-BC | ProfessorNursing | PhD and MSNNursing | Faculty & Academic |
| Valerie | Fein-Zachary MD | Physician, Beth Israel Deaconess Medical CenterHarvard Medical Faculty Physicians | BA/Science & Philosophy | Alumni |
| Eric | Filemyr MPH | Program Officer IICenter for Communication Programs | MPH 2014Johns Hopkins Bloomberg School of Public Health | Staff |
| Rebecca | Fix PhD | Assistant ProfessorMental Health | School of Public Health | Faculty & Academic |
| Christopher | Florencio Aleman | Materials Science & Engineering | Whiting School of Engineering | Students, Residents, Postdocs, & Fellows |
| Andrew | Frake | Senior DirectorIT@JH | Johns Hopkins Bavyiew Medical Center | Staff |
| Brian | Gaither MS | Director of Finance | MSREICarey Business School - Real Estate | Alumni |
| Johannes Lukas | Gartner | Mindfulness and Emotional Intelligence FacilitatorSearch Inside Yourself Leadership Institute | 2014SAIS | Alumni |
| Andrew | Gausepohl | | Zanvyl Krieger School of Arts and Sciences | Students, Residents, Postdocs, & Fellows |
| Danielle | German PhD, MPH | Associate ProfessorHealth Behavior & Society | PhD, Public Health, 2009School of Public Health | Faculty & Academic |
| Aurelia | Glass | | BS, Engineering Mechanics & Economics, 2020 | Students, Residents, Postdocs, & Fellows |
| Trevor | Glenn | Medical Student | School of Medicine | Students, Residents, Postdocs, & Fellows |
| Erin | Goley PhD | Associate ProfessorBiological Chemistry | School of Medicine | Faculty & Academic |
| Paulina | Goodman | Senior Analyst, Business AnalyticsDIRECTV | Bachelors of Science, Applied Mathematics, 2012 | Alumni |
| Herman | Goodyear | LecturerCenter for Leadership Education | Whiting School of Engineering | Faculty & Academic |
| Karen | Gosnell | Supervisor Creative CommunicationsJHU Applied Physics Laboratory | MBA, 2008Carey Business School | Alumni |
| Kelsey | Granger | Sr. Lab CoordinatorChemical and Biomolecular Engineering | MHS, Environmental Health, 2022Johns Hopkins Bloomberg School of Public Health | Staff |
| Toby | Gruszewski | Associate, Investment BankingMorgan Stanley | BA, Economics, 2006Undergraduate, Arts & Sciences | Alumni |
| Crystal | Guengerich RN | School NurseThe Rales Health Center at KIPP: Baltimore (JHUSOM, Dept of Pediatric/Adolescent Medicine) | BS in Nursing, Accelerated Class of '02JHUSON | Staff |
| Christopher | Hall MD, MS | Medical Co-DirectorEast Bay AIDS Center, Alta Bates Summit Medical Center, Oakland, CA | MD, SOM, 1999 | Alumni |
| Emily | Harrington MD, PhD | Postdoctoral fellowDepartment of Neurology | School of Medicine | Students, Residents, Postdocs, & Fellows |
| Margaret | Hart | Program ManagerCenter for Educational Outreach | | Staff |
| William | Hartlove | Lab ManagerPathology | | Staff |
| Anna-Maria | Hartner | Communications CoordinatorJohns Hopkins Center for American Indian Health | BA Public Health, May 2020 | Staff |
| Richard | Helman | Director of Graduate Admissions and EnrollmentKrieger School of Arts & Sciences, Graduate Admissions | Krieger School of Arts & Sciences | Staff |
| Hilary | Hershey | Cyber Software System EngineerForce Projection Sector | MS, Computer Science, 1993Applied Physics Laboratory | Alumni |
| Kristy | Hicks MS | School of Education | Johns Hopkins University | Alumni |
| Rachel | Hitchcock | Associate Dean, External Affairs | Krieger School of Arts & Sciences | Staff |
| Guanlin | Hou | Analyst, Crate and BarrelCustomer Analytics, Marketing | Master of Science in Finance, 2013Carey Business School | Alumni |
| Fan | Huang | graduate studentDepartment of Mathematics | School of Art and science | Students, Residents, Postdocs, & Fellows |
| John | Hundt | Chief Administrative OfficerSurgical Services, Johns Hopkins | MHS Health Policy and Management 1991Public Health | Alumni |
| Nick | Igo | Assistant DirectorOffice of Undergraduate Admissions | Bachelor of Science in Molecular & Cellular BiologyHomewood Student Affairs | Staff |
| Renee | Johnson PhD | Associate ProfessorMental Health | School of Public Health | Faculty & Academic |
| Nicolas | Johnston | Scientific Program AnalystNational Institute on Drug Abuse | BA, Behavioral Biology, 2010 | Alumni |
| Hailey | Jordan | Program ManagerDent Education | Bachelor of Science in Neuroscience, Entrepreneurship, Class of 2018KSAS | Alumni |
| Christophe | Jouny PhD | IT Director for Clinical NeurophysiologyNeurology | NeurosciencesSchool of Medicine | Faculty & Academic |
| Siarhei | Kalamytsau | Marketing Communications ManagerTenaris | M.A. in Communication, 2020Zanvyl Krieger School of Arts and Sciences | Alumni |
| Brian | Keeley | | Chemical and Biomolecular Engineering | Alumni |
| Kathryn | Kelley | Academic Program CoordinatorGlobal MBA Program | Carey Business School | Staff |
| Nancy | Kennedy DrPH | RetiredDept. of HHS/SAMHSA | DrPH/Pub Hlth/Mental Health | Alumni |
| Bill | Kirst | Senior Principal - Digital ChangeWest Monroe Partners | International Studies 2000Arts & Sciences | Alumni |
| Josh | Kowalczyk | | MA, International Economics, 2021School of Advanced International Studies (SAIS) | Students, Residents, Postdocs, & Fellows |
| Jeremy | LaMaster MA | Research Program ManagerEpidemiology - Multicenter AIDS Cohort Study (MACS) | School of Public Health/Carey School of Business | Staff |
| Bernard "Beau" | Landry-Wegener M.D. | HospitalistDepartment of Medicine, The Johns Hopkins Hospital | Division of Hospital Medicine | Faculty & Academic |
| Marissa | Lanterman | Senior DesignerUniversity Communications | | Staff |
| Owen | Larson | Assistant Director, Financial Aid SystemsOffice of Student Financial Support | Homewood Student Affairs | Staff |
| Kyle | Lawson | Senior Administrative Coordinator | University Administration | Staff |
| Kyle | Levy | Animal Facility AssistantAnimal Resource | | Staff |
| Jiawei | Li | Research AnalystInternational Monetary Fund | Master of Art in International Relations, 2016JHU SAIS | Alumni |
| Bessie | Liu | Medical Student, Class of 2025 | B.S. Molecular and Cellular Biology 2020School of Medicine | Students, Residents, Postdocs, & Fellows |
| Jim | Livengood | Assistant Director of DevelopmentWilmer Eye Institute, Johns Hopkins Medicine | Bachelor of Arts (Neuroscience) & Music Minor (Clarinet), Class of 2009Krieger School of Arts and Sciences & The Peabody Conservatory | Alumni |
| Alison | Livingston | Oncology/Microbiome | BSNSON | Staff |
| Rachel | Long | | Krieger School of Arts and Sciences | Students, Residents, Postdocs, & Fellows |
| Julia | Lopez | Research Program CoordinatorSchool of Medicine - Department of Transplant Surgery - Epidemiology Research Group in Organ Transplantation | MA, Communication, 2024Krieger School of Arts and Sciences - Advanced Academic Programs | Students, Residents, Postdocs, & Fellows |
| Eric | Lorenz | R&D Principal EngineerPepsiCo | BS Chemical & Biomolecular Engineering, Applied Mathematics & Statistics 2014; MSE Chemical & Biomolecular Engineering 2015Whiting School of Engineering | Alumni |
| Devin | Lowe | | | Staff |
| Xan | Lutsky | RNSurgical Nursing | | Staff |
| John | Mack | Graduate StudentBiochemistry, Cell, and Molecular Biology | School of Medicine | Students, Residents, Postdocs, & Fellows |
| Antonella | Macoretta | | BS in Molecular and Cellular Biology, class of 2025KSAS | Students, Residents, Postdocs, & Fellows |
| Clare | Madrigal | LGBTQ Resource Nurse and LGBTQ Committee Co-ChairSibley Memorial Hospital and Howard County General Hospital | | Staff |
| Sage | Magness M.A. | Graduate Student Experience CoordinatorOffice of Graduate Biomedical Education | Johns Hopkins School of Medicine | Staff |
| James | Marcucci | | Krieger School of Arts & Sciences | Students, Residents, Postdocs, & Fellows |
| Christianne | Marguerite | The Nature Conservancy | M.S. Environmental Science and Policy, B.A. Global Environmental Change & Sustainability, Africana StudiesAdvanced Academic Programs & Krieger School of Arts & Sciences | Alumni |
| Nevena | Marinkovic | | GMBA 2020Carey Business School | Students, Residents, Postdocs, & Fellows |
| Anton | Marino | Deputy Legal DirectorAmerican Civil Liberties Union of Florida | BA, AnthropologyKrieger School of Arts and Sciences | Alumni |
| Kieren | Marr MD | Professor of MedicineDepartment of Medicine | | Faculty & Academic |
| Jaime | Martinez | Graduate StudentBiophysics | Krieger School of Arts and Sciences | Students, Residents, Postdocs, & Fellows |
| Chantel | Mattiola | Masters Student of International Peace and Conflict ResolutionFundraiser for the Human Rights Campaign | International Relations | Alumni |
| Chase | McAdams | | Krieger School of Arts and Sciences | Students, Residents, Postdocs, & Fellows |
| Faye | McAllister MS | Addiction Therapist | Department of Counseling and Human Services | Alumni |
| Pamela | McCann MS | Medical Student CoordinatorEmergency Medicine | School of Medicine | Staff |
| Caitlin | McFarland MD | ResidentDepartment of Psychiatry | School Of Medicine/ Psychiatry | Students, Residents, Postdocs, & Fellows |
| Alexander | McLin | Programmer Analyst | | Staff |
| Steven | McMahan BS | Pediatric Pharmacy | | Staff |
| Joe | Meredith | Executive SpecialistSchool of Education | School of Education | Staff |
| Jacob | Miller | RA at The Lighthouse | MHS ID EPI May 2022Bloomberg School of Public Health | Students, Residents, Postdocs, & Fellows |
| Stephen | Miller | Admit Rev. CoordinatorPsychiatry | | Staff |
| Renee | Mitchell-Matsuyama | Academic Success Center ManagerEnrollment Management & Student Affairs | School of Nursing | Staff |
| Francis | Mondimore MD | Associate ProfessorPsychiatry and Behavioral Sciences | School of Medicine | Faculty & Academic |
| Brent | Monseur ScM | | ScM, Reproductive & Cancer Biology, 2012Reproductive Division/Johns Hopkins Bloomberg School of Public Health | Alumni |
| Russ | Montgomery MHS | Doctoral candidateHealth Policy and Management | School of Public Health | Students, Residents, Postdocs, & Fellows |
| Tarra | Morgan | Program CoordinatorOrientation & First-Year Experience, Center for Student Success | Homewood Student Affairs | Staff |
| Rachel | Moseley | RNJohns Hopkins Bayview Medical Center | | Staff |
| Neal | Naff MD | Neurosurgery | School of Medicine | Faculty & Academic |
| Morgan | Nance | PhD StudentProgram in Molecular Biophysics | | Students, Residents, Postdocs, & Fellows |
| Alex | Nava | | School of Nursing | Students, Residents, Postdocs, & Fellows |
| Audrey | Ndaba | Disability Services CoordinatorStudent Affairs | Bloomberg School Of Public Health | Staff |
| Rosemary | Nicolosi PsyD | Staff Psychologist & Coordinator of Services for LGBTQ StudentsCounseling Center/Student Life | Johns Hopkins University | Staff |
| Jennifer | Nill DNP | Nurse PractitionerMindful Living Group | School of Education | Students, Residents, Postdocs, & Fellows |
| Dan | O'Connor PhD | | Berman Institute of Bioethics | Faculty & Academic |
| Nina | O'Hanlon | Sr. Programmer AnalystInformation Technology - IT@JH | University Administration | Staff |
| Katrin | Pahl | Associate ProfessorGRLL | KSAS | Faculty & Academic |
| Cassie | Parks | MD/PhD Student | School of Medicine | Students, Residents, Postdocs, & Fellows |
| Ralph | Parran Jr BA | Senior Mental Health Rehabilitation TherapistCommunity Psychiatry, Johns Hopkins Bayview | | Staff |
| Dariel | Peay | Patient Access ManagerDepartments of Medical and Radiation Oncology New Patient Referral Office | | Staff |
| Rebecca | Penner | Film and Media Studies, Visual Arts | Johns Hopkins University | Students, Residents, Postdocs, & Fellows |
| Pat | Phelps PhD | Director, Professional Development and Career OfficeSOM | | Staff |
| Lisa | Polyak | | Whiting School of Engineering, Class of 1986 Bloomberg School of Public Health, Class of 2010 | Alumni |
| J. Woodland | Pomeroy | Senior Administrative CoordinatorMolecular and Comparative Pathobiology | School of Medicine | Staff |
| Jessica | Popkin | Program CoordinatorOffice of the Dean of Undergraduate Students, Princeton University | Near Eastern Studies/History of Art/ Museums and Society 2009Kreiger School of Arts and Sciences | Students, Residents, Postdocs, & Fellows |
| Leonardo | Proietti | Modern Languages and Literatures | KSAS | Faculty & Academic |
| Amber | Pugh RN, BSN | | John Hopkins School of Nursing | Students, Residents, Postdocs, & Fellows |
| Agustina | Quesada | The Instrument Development Group at JHU | Physics | Students, Residents, Postdocs, & Fellows |
| Jacob | Quimby | Associate Director, Marketing and CommunicationsOffice of Undergraduate Admissions | Student Affairs | Staff |
| Paul | Quin | Writer, teacher, designerVincie | Writing Seminars | Alumni |
| Celia | Quintana | | Whiting School of Engineering | Students, Residents, Postdocs, & Fellows |
| Sabrina | Rainsbury | | Krieger School of Arts and Sciences | Students, Residents, Postdocs, & Fellows |
| Timothy | Ranallo-Benavidez | | Biomedical Engineering | Students, Residents, Postdocs, & Fellows |
| Nicholas | Rank | | MS in Applied and Computational MathematicsWhiting School Of Engineering | Students, Residents, Postdocs, & Fellows |
| Jaime | Ransohoff | Masters of Science CandidateEpidemiology | Bloomberg School of Public Health | Students, Residents, Postdocs, & Fellows |
| Nava | Rastegar | | B.A., GECS, 2016School of Arts and sciences | Alumni |
| Laura | Reid | | Master of Science in Education (2019)School of Education | Alumni |
| Tom | Renner | US Navy, Medical Corps | BA in public health studies, 2016 | Alumni |
| Caroline | Reynolds | | | Students, Residents, Postdocs, & Fellows |
| Kathleen | Ridgeway MSPH | Department of International Health | School of Public Health | Students, Residents, Postdocs, & Fellows |
| Emily | Riehl PhD | Associate ProfessorDepartment of Mathematics | Krieger School of Arts and Sciences | Faculty & Academic |
| Sydney | Riemer | | Bachelor of Arts, Earth & Planetary Sciences, 2018 | Alumni |
| Karen A. | Robinson | professorGeneral Internal Medicine, Johns Hopkins University School of Medicine | PhD, epidemiology, 2009 | Faculty & Academic |
| Sarah | Roth MFA | PhD CandidateCultural Anthropology | Arts & Sciences | Students, Residents, Postdocs, & Fellows |
| Johndavid | Sabedra | Materials Science and Engineering | Materials Science and EngineeringWhiting School of Engineering | Students, Residents, Postdocs, & Fellows |
| Paul | Sacamano PhD, MPH, MP-C | Nurse PractitionerEl Rio Health, Special Immunology Associates | Public Health/Nursing | Alumni |
| Peter | Sadow MD, PhD | Associate Professor of Pathology; Director, Head & Neck PathologyDepartments of Pathology, Harvard Medical School and Massachusetts General Hospital | BA, Biology and Near Eastern Studies, 1994Zanvyl Krieger School of Arts and Sciences | Alumni |
| Sean | Sands MBA | Chief of StaffPublic Religion Research Institute | MBA - Organizational Leadership - 2019Carey Business School | Alumni |
| Melinda | Sawyer DrPH, MSN, RN, CNS-BC | Senior Director, Quality Improvement the Johns Hopkins HospitalArmstrong Institute for Patient Safety & Quality | School of Medicine | Management |
| Barbara | Schatz RN, BS | Sr Clinical Informatics AnalystNursing Administration - Johns Hopkins Bayview Medical Cener | Nursing Administration - Johns Hopkins Bayview Medical Center | Staff |
| Tanu | Sharma PhD | | Ph.D., Neuroscience, 2017School of Medicine | Alumni |
| Kevin | Shollenberger | Vice Provost for Student Health and Well-Being | | Staff |
| Alaina | Shumate | | Biomedical Engineering PhD | Students, Residents, Postdocs, & Fellows |
| Daniel | Siconolfi MPH | | JHSPH | Alumni |
| Amteshwar | Singh MD FACP | Instructor of MedicineDepartment of General Internal Medicine | School of Medicine | Faculty & Academic |
| Jennifer | Skerritt | Graduate StudentApplied Physics Laboratory | Masters in Material Science and Engineering / Whiting School Engineering for Professionals | Students, Residents, Postdocs, & Fellows |
| Liz | Skerritt | Applied Physics Laboratory | BS Physics, Minor Studio Art, 2014; MS Computer Science, 2017Krieger Arts & Sciences | Alumni |
| Benjamin | Skerritt-Davis | ECE | Whiting School of Engineering | Students, Residents, Postdocs, & Fellows |
| Richard | Skolasky ScD | Director, Spine Outcomes Research CenterOrthopaedic Surgery | Medicine | Faculty & Academic |
| James | Smith MSITS | Project leader | | Alumni |
| Rachel | Smith | PhD StudentNeuroscience | Neuroscience | Students, Residents, Postdocs, & Fellows |
| Tejiri | Smith | | | Students, Residents, Postdocs, & Fellows |
| Harvey | Soldan | System Engineer - Deep Space NetworkThe Jet Propulsion Laboratory | BA Biology | Alumni |
| Jaime | Sorenson PhD | LecturerDepartment of Biophysics | Krieger School of Arts and Sciences | Faculty & Academic |
| Aaron | Speer | | Doctor of Nursing Practice, Executive/MBA Dual program, Nursing, 2023Johns Hopkins School of Nursing | Students, Residents, Postdocs, & Fellows |
| Morris | Speller | PhD candidateHistory | Krieger School of Arts and Sciences | Students, Residents, Postdocs, & Fellows |
| Alina | Spiegel | | MD/PhD, Neuroscience, TBDSchool of Medicine | Students, Residents, Postdocs, & Fellows |
| Kristin | Staicos | Academic Program CoordinatorBiology Department | | Staff |
| Sarah | Stern | Health EducatorCenter for American Indian Health | School of Public Health | Staff |
| Ian | Stevenson BSN | Clinical Systems AnalystDepartment of Information Services | Johns Hopkins Bayview | Staff |
| Marie | Stoltzfus | Graduate StudentBiochemistry, Cell, and Molecular Biology | | Students, Residents, Postdocs, & Fellows |
| Carl | Streed Jr MD, MPH, FACP | Assistant Profess of Medicine; Research LeadSection of General Internal Medicine, Boston University School of Medicine; Center for Transgender Medicine & Surgery at Boston Medical Center | MD, 2013; Residency, Internal Medicine, 2016 | Alumni |
| Jimmy | Su | Postdoctoral Research Staff Member, Materials Engineering DivisionLawrence Livermore National Laboratory | Bachelors of Science in Biomedical Engineering, Class of 2014Whiting School of Engineering | Alumni |
| Paige | Sullivan | Programmer AnalystSchool of Public Health | | Staff |
| Amber | Summers PhD | Senior Program OfficerCenter for Communication Programs | PhD, Health, Behavior and Society, 2013School of Public Health | Staff |
| Charlotte | Sumner MD | Associate ProfessorDepartments of Neurology and Neuroscience | School of Medicine | Faculty & Academic |
| Nick | Szoko | Medical StudentCleveland Clinic | Neuroscience | Alumni |
| Tony | Teano | Sr. Administrative CoordinatorCenter for Innovative Medicine, Johns Hopkins Bayview Vice Dean's Office | alumniKrieger School of Arts and Sciences | Alumni |
| Levallian | Thomas | Surgical TechnologistDepartment of Surgery, Trauma/Transplant | | Staff |
| Jennifer | Thorne MD, PhD | Professor of Ophthalmology and Epidemiology | | Faculty & Academic |
| Jacob | Took | Office of LGBTQ Life | Krieger School of Arts and Sciences | Students, Residents, Postdocs, & Fellows |
| Ford | Torney | Assistant DirectorOffice of Undergraduate Admissions | Homewood Student Affairs | Staff |
| Abimelec | Torres Serrano | | MS in Clinical Mental Health Counseling, 2021School Of Education (SOE) | Students, Residents, Postdocs, & Fellows |
| Phuong | Tran | System AnalystUniversity of Maryland Medical System | B.A. NeuroscienceKrieger School of Arts & Sciences | Students, Residents, Postdocs, & Fellows |
| Balazs | Vagvolgyi MS | Senior Software EngineerLaboratory for Computational Sensing and Robotics | Johns Hopkins Whiting School of Engineering | Staff |
| Eliza | Vasconcellos Skosnik | | BA, International Studies, 2012 | Alumni |
| Amy | Vasquez | PhD StudentEarth and Planetary Sciences | Krieger School of Arts & Sciences | Students, Residents, Postdocs, & Fellows |
| Christopher | Venghaus | Sr. Systems EngineerInformation Security Institute | Whiting School of Engineering | Staff |
| Marianne | von Nordeck | Assistant Vice President, Strategic CommunicationsUniversity Communications/Office of the President | | Staff |
| Elise | Walsh | Graduate StudentHuman Genetics | School of Medicine | Students, Residents, Postdocs, & Fellows |
| Eric | Wan | COOWhole Systems Healthcare | BS A&S 14, MPH BSPH 19, MBA CBS 19 | Alumni |
| Frank | Ward JD | retired, December 31, 2018 | AB Business & Industrial Management, 1960 | Alumni |
| Jim | Watson | Library SpecialistWelch Medical Library | School of Medicine | Staff |
| Ryan | Weeks | Graduate research assistantChemistry/ChemBE | KSAS | Students, Residents, Postdocs, & Fellows |
| Katherine | Welter | Certified Nurse MidwifePine Ridge Indian Health Services Hospital, Pine Ridge, South Dakota | MPH 2013 | Alumni |
| Danette | Wilkins MPH | Program Officer, Breakthrough ACTIONCenter for Communication Programs | Johns Hopkins Bloomberg School of Public Health | Staff |
| Wilson | Will PhD | | Nursing | Students, Residents, Postdocs, & Fellows |
| D'Ann | Williams DrPH | Sr. Program OfficerEnvironmental Health and Engineering | DrPH Environmental Health and Sciences, 2010Johns Hopkins Bloomberg School of Public Health | Faculty & Academic |
| Tom | Winkler | | School of Nursing | Students, Residents, Postdocs, & Fellows |
| Zachery | Woods | | Johns Hopkins Advanced Academic Programs (AAP) | Students, Residents, Postdocs, & Fellows |
| Demere | Woolway PhD | Executive Director of Inclusive Excellence Education and DevelopmentOffice of Diversity and Inclusion | | Staff |
| Logan | Wu | | MSNNursing | Students, Residents, Postdocs, & Fellows |
| Antonio | Xu Liu | Senior Program ManagerNational Grid | MS, Artificial IntelligenceWhiting School of Engineering | Students, Residents, Postdocs, & Fellows |
| Vishal | Yadav | Ph. D. studentChemistry | Chemistry, Ph. D. (graduation year 2022)Krieger School of Arts and Science | Students, Residents, Postdocs, & Fellows |
| Joshua | Yang MTM | MD-PhD StudentMedicine | School of Medicine | Students, Residents, Postdocs, & Fellows |
| Gideon | Yeager BSN-RN, FP-C | RN2JHH | Adult/Gero Acute Care doctorate in Nursing practice School of Nursing | Staff |
| Sean | Yu | | | alumni |
| Mordred | Yuan | | | Students, Residents, Postdocs, & Fellows |
| Blake | Zachary | Senior Program OfficerDepartment of Population, Family, and Reproductive Health - Johns Hopkins Bloomberg School of Public Health | MHS, International Health, 2007Johns Hopkins Bloomberg School of Public Health | Staff |
| Collin | Ziegler | Graduate Head ResidentResidence Life | Peabody Institute | Students, Residents, Postdocs, & Fellows |
| Juni | Zugish | | Krieger School of Arts and Sciences | Students, Residents, Postdocs, & Fellows |
| Corey | Farley | | Bloomberg School of Public Health | Staff |
| Chloe | Hawkey PhD Candidate | Graduate StudentDept. of History | KSAS | Students, Residents, Postdocs, & Fellows |
| Gabriel | De Romana | | KSAS | Students, Residents, Postdocs, & Fellows |
| Jalen | Owen | | KSAS | Students, Residents, Postdocs, & Fellows |
| Clifton | Shambry | Assistant Director of Life Design for Diversity and InclusionLife Design Lab | Integrative Learning and Life Design | Staff |
| Connor | Wall | Game DesignerJohns Hopkins Technology Ventures | BA Computer Science, Film and Media Studies, 2023KSAS, Whiting | Students, Residents, Postdocs, & Fellows |
| Mollie | McMahon | Health, Behavior, and Society | Bloomberg School of Public Health | Students, Residents, Postdocs, & Fellows |
| Sarah | Hadyniak PhD | Graduate studentBiology | PhD in Biology, 2022Krieger school of arts and sciences | Students, Residents, Postdocs, & Fellows |
| Collin | Kilgore | MD/PhD Student | | Students, Residents, Postdocs, & Fellows |
| Trent | Reinicke B.S. | clinical research coordinatorSurgery | 2021Biology | Students, Residents, Postdocs, & Fellows |
| Ina | Sulkaj BS | Graduate StudentImmunology | 2027School of Medicine | Students, Residents, Postdocs, & Fellows |
| Zoë | Jones | Administrative Coordinator for Regional ProgramsDevelopment and Alumni Relations at Johns Hopkins University | M.M. Music Performance, Voice, 2021Peabody Conservatory | Alumni |
| Matthew | Metzger | Administrative CoordinatorStudent Transitions and Family Engagement | Student Affairs | Staff |
| Lisa | Brizzo | Instructional DesignerCenter for Learning Design & Technology | Whiting School of Engineering | Staff |
| Rylee | Genner | | PhD, Molecular Biology and Biophysics Johns Hopkins Krieger School of Arts and Sciences | Students, Residents, Postdocs, & Fellows |
| Nicole | Laing | Project Manager | MS Environmental Science and Policy 2019Advanced Academic Programs | Alumni |
| Sean | Hillary | LAN Administrator IIAdvanced Academic Programs | | Staff |
| Devin | Rittenhouse | Associate Director of DevelopmentRegional Programs | Development & Alumni Relations | Staff |
| Charles | Drummond | Assistant Director of Student ConductOffice of Student Conduct & Ethics | | Staff |
| Olivia | Libowitz | Assistant Director of DevelopmentDepartment of Alumni Relations | | Staff |
| Christina | Maly MPH | Senior Technical Advisor, Measurement and LearningJhpiego | | Staff |
| Mark | Procopio | Senior AssociateStrategic Initiatives, Office of Planning & Budget | | Staff |
| Matthew | Lindsley MPH, MSN, RN | US Public Health Service Commissioned Corps OfficerNational Institutes of Health | MPH, Environmental and Occupational Health, 2013Bloomberg School of Public Health | Students, Residents, Postdocs, & Fellows |
| Lindsey | Falbo | Associate Director of Donor RelationsWhiting School of Engineering | Bachelor of Music, French horn performance, 2012Peabody | Staff |