Education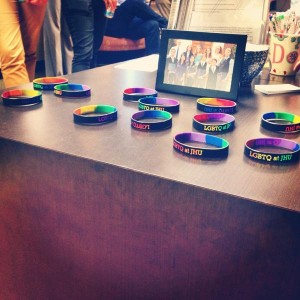 As a part of our educational mission, LGBTQ Life provides resources to anyone looking to learn more about the LGBTQA community.
In-Person Education
Visit the Safe Zone training page to find out when the next trainings are scheduled.
LGBTQ+______ intersectionality series. This series of student-led discussions focuses on the intersections of gender identity, sexual orientation, and other identities. Past events have included LGBTQ+STEM, LGBTQ+Religion, LGBTQ+street harassment, LGBTQ+transgender health, and LGBTQ+non-binary identities. If you're interested in leading a session, let us know!
Check out many of our upcoming events here.
We have a number of workshops available by request. LGBTQ Life can also design trainings, talks, or brief presentations to meet the needs of your group. We are prepared to discuss sexual orientation, gender identity, privilege, identity, social justice, and more. Email lgbtq@jhu.edu so we can discuss your needs.
Online Resources
LGBTQ Glossary: A starting place to learn some common terms used in the LGBTQA community.
Trans Introduction: A starting place to learn about the transgender community.
Links: A variety of resources from all over the web.