LGBTQ History at JHU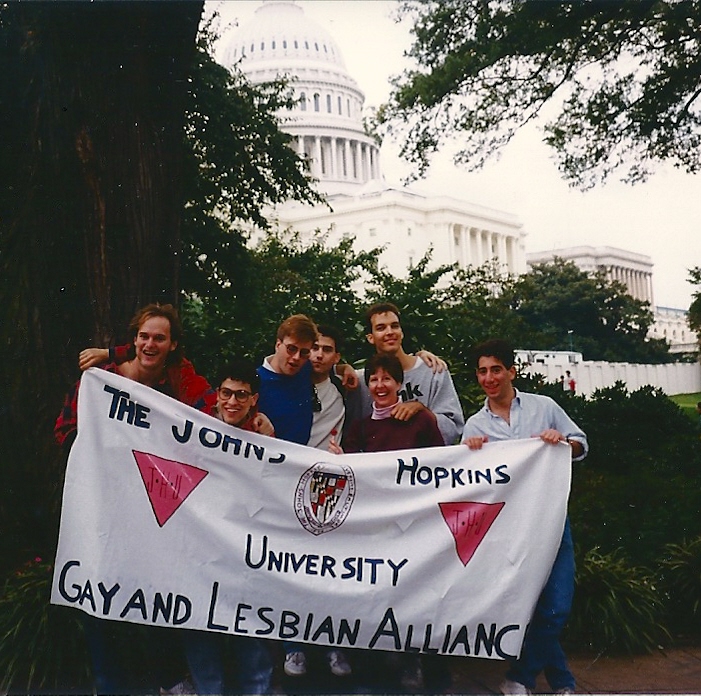 This page is an incomplete history of milestones and achievements of LGBTQ+ and allied individuals at Johns Hopkins. We welcome your additions!
Milestones
1893: Mary Elizabeth Garrett donates the money necessary to fully fund the Johns Hopkins University School of Medicine, on the condition that the school admit women as equals to men. Garrett lived much of her life with her "intimate friend" M. Carey Thomas.
1965: John Money and Claude Migeon open the Johns Hopkins Gender Identity Clinic as one of the first such clinics in the U.S. It serves transgender patients and others until 1979.
1987: GALA (Gay and Lesbian Alliance) is founded as a student organization at JHU Homewood. This group would eventually become known as DSAGA (Diverse Sexuality and Gender Alliance).
1990: JHU students protest the practices of ROTC and military recruiters under "don't ask, don't tell." In response, the Office of Institutional Equity adds text to the university non-discrimination policy acknowledging the discriminatory practices of on-campus military recruiters.
1999: JHU begins offering same-sex domestic partner benefits to employees.
2011:

JHU's Bloomberg School of Public Health begins work on an LGBTQ public health certificate program.
The OUTlist is launched at a celebration on October 11.
Allies in the Workplace is founded at the Applied Physics Lab.

2012: Members of the Diversity Leadership Council write a proposal that leads to the creation of LGBTQ Life.
2013: LGBTQ Life begins operations with the hiring of Demere Woolway. The office begins leading Safe Zone trainings, hosting Lavender Celebration, and working on advocacy projects.
2014: Members of The Network represent Johns Hopkins in the Baltimore Pride Parade for the first time.
2016: Pride flags fly over all JHMI sites to honor the 49 people (primarily gay and Latinx men) killed in the Pulse nightclub shooting.
2017:

Sibley Memorial Hospital forms an LGBTQ Committee and creates the role of LGBTQ Resource Nurse, which is filled by Clare Madrigal.
The Johns Hopkins Center for Transgender Health officially opens, led by Paula Neira and Devin O'Brien-Coon.
Records
LGBTQ History in Baltimore
For more information on Baltimore's LGBTQIA+ history, we recommend: