Baltimore Pride Parade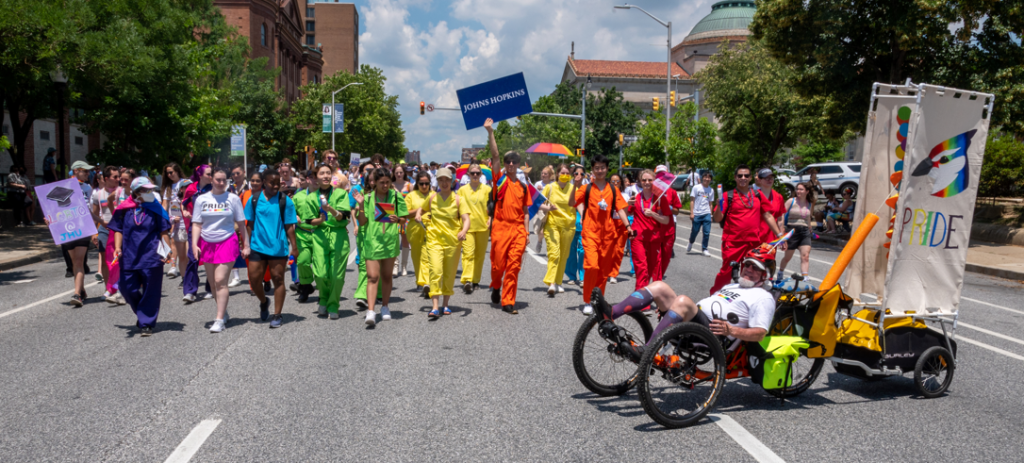 Every year, we represent Johns Hopkins University and Health System in the Baltimore Pride Parade. We look forward to marching with you and showing our #HopkinsPride!
Parade Details
This year, the parade begins close to Homewood, in Charles Village. Therefore, we invite you to join us in the courtyard outside the Center for Diversity & Inclusion at 3003 North Charles Street — South Entrance beginning at 11:30am on Saturday, June 24. We'll be handing out shirts, taking pictures, and enjoying our community. We'll proceed to our line-up spot at 12:00pm for the parade to begin at 1:00pm.
The parade will begin near JHU's Homewood campus at 33rd and Charles St. If you arrive late, you should also be able to find us by looking for our Blue Jay Shuttle. We'll gather for a group picture before we march. From 33rd Street, the parade marches south on Charles Street and ends at 23rd Street. At the end of the parade, you're encouraged to enjoy the block party in Station North.
It will be hot and humid. Please bring lots of water, sunscreen, and snacks. We will be standing around in the hot sun, and then walking about one mile. If you have mobility concerns, please let us know and we can arrange a ride for you.
We will be giving you your shirt at the parade! And don't forget to dress for the heat. The first 200 people to arrive will receive t-shirts. Additional participants are encouraged to either wear a white top or any favorite Johns Hopkins gear. Bring signs, wear your favorite rainbow suspenders, and help us be loud and proud and visible.
Please share your photos on social media with the tag #HopkinsPride. We're so excited to celebrate with you!
Frequently Asked Questions
We will be doing rainbow scrubs again this year. Scrubs will be available on the day of the parade on a first come, first served basis.
You are welcome to bring friends, coworkers, and family members.
If you would like to bring signs or other banners to represent your area of Hopkins, please do so!
We will have access to a vehicle, so if mobility is a concern for you, please email us (GSR@jh.edu) and we can work out a ride for you. Please let us know if any other accommodations for accessibility would be helpful.
T-shirts will be provided to the first 200 people to arrive on parade day.
Check out more information about Baltimore Pride here
Parking and Transportation
Many streets will be closed off in the area. If possible, walk or use public transit. There may be street parking available on streets that run parallel to Charles Street. If you choose to park on the north end of the parade route, the South Garage on Homewood's campus is located at 3101 Wyman Park Dr. If you choose to park on the south end of the parade route, you might look at the Penn Station Garage.