Sign up for Safe Zone Workshops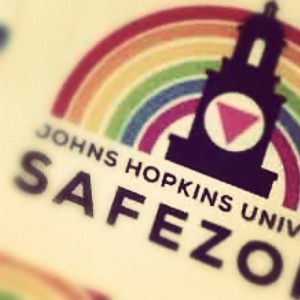 Program Overview
Safe Zone is divided into 4 workshops lasting 1.5 hours each and are suitable for students, staff, and faculty. Completing the program will help you become a better ally for the lesbian, gay, bisexual, transgender, and queer (LGBTQ+) community. The workshops are designed to dive deeper into tools, skills, and resources for further education. After completing all 4 workshops, participants are given a colorful Safe Zone logo in order to visibly demonstrate their support for the LGBTQ+ community. We hope you will join us!
Each 4-part training will be offered twice a semester, once in-person and once virtually. It is suggested, though not required, that participants attend all 4 trainings in order:
Check out our Frequently Asked Questions page for more information about these workshops!
For capacity reasons, we can only make trainings available to members of the Johns Hopkins University community. For online resources available to all, please visit our resources page.