Show Your Love for the LGBTQ Community
Posted: January 5, 2021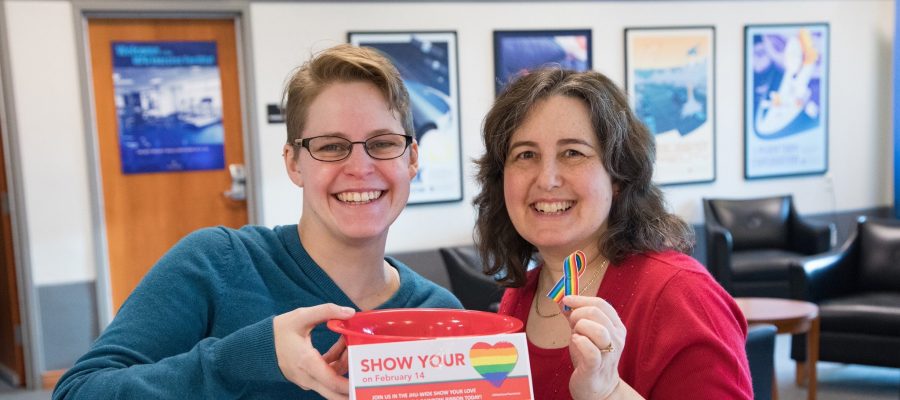 On February 12, we invite you to show your love for the LGBTQ community by wearing a rainbow ribbon and sending us a photo!
Show Your Love
Show Your Love will be all virtual this year. That means we are counting on you to show your love early! Use this form to send us a photo of you showing your love for the LGBTQA community. We will then share your photo on social media on February 12, 2021 in order to demonstrate JHU's support.
What is JHU Show Your Love?
This is an annual tradition that asks members of the Hopkins community to show their support for LGBTQA people by wearing a rainbow ribbon.
What should be in your photo?
Anything that shows support for LGBTQA people. Maybe it's a picture of you wearing a rainbow ribbon. But it might be your favorite pens displayed in rainbow order. Or maybe it's your dog next to an asexual pride flag. Or maybe it's the heart-shaped rock you found. You can also choose to share text rather than a photo. Be creative and show your love!
Any other photo guidelines?
Be sure that the photo is yours to share. And get permission from any people in the image. Photos should be no smaller than 320px by 320px and no larger than 1080px by 1080px.
Where will the photos be shared?
We will share them on the LGBTQ Life Instagram, Facebook, and/or Twitter. We may also share them on future LGBTQ Life materials, in print or digitally. Look for the #JHUshowYourLove hashtag.
What can I win?
Send us your photo by February 8, and you'll be entered into a drawing to receive a sticker pack from LGBTQ Life.
How can I help?
Share this form with friends and coworkers. Help us spread the message! You can also change your Facebook profile photo using our frame. And, on February 12, you can share your photo on your own social media, and like/retweet/share the ones we post.
---
Sign up now!
Tags: Show Your Love