HopkinsCorps 2023
Posted: September 1, 2023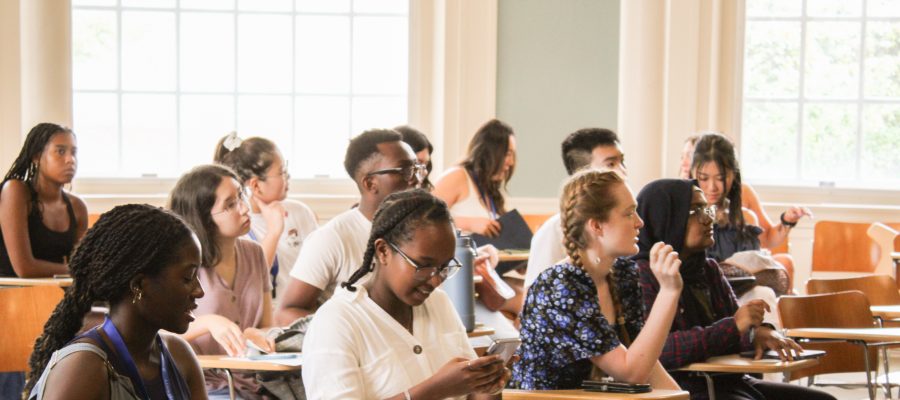 by: Sierra Romero
On August 16th, the Center for Social Concern's Pre-Orientation program, HopkinsCorps, began. Thirty-three First-Year students gathered at Hodson to meet the program's five student leaders and one another for the first time.
HopkinsCorps is an immersive, service-learning, and leadership development experience for incoming First-Year JHU students. First-Years gain a deeper understanding of social justice issues and civic engagement as they relate to Baltimore City. During HopkinsCorps, students participate in a series of educational workshops, direct service projects with community partners, reflection sessions, and leadership development activities.
The next three days were filled with a myriad of activities ranging from training to location tours around the city. Students received the Center for Social Concern's Recommendations for Engaging with Baltimore as a Hopkins Student and Center for Diversity and Inclusions' Identity presentation.
Following this, students had the opportunity to have lunch with various community organization members including Bmore Community Food, Boone St. Commons, Wide Angle Youth Media, and Friends of Stony Run. Conversations were flying and the energy carried through to the cohort's visit to the Peale Museum – concluding the first day.
Friday
Friday marked the beginning of the service-aspect of the pre-orientation program. The cohort of students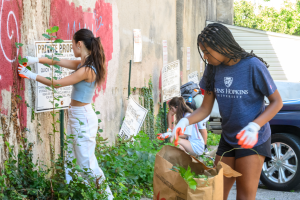 were split into two separate groups. One ventured over to Village Learning Place and the other made their way to Charles Village Community Benefits District. While only a few hours of service were completed, both organizations are long-standing partners of the Center for Social Concern and involved with other CSC programming.
Once service was completed, students had a crossover lunch with this year's Engaged Faculty Fellows cohort. Ekiben was served and the entire room was filled with buzzing conversations as students and faculty worked together on a Baltimore City trivia game.
After a brief break students travelled to the National Great Blacks in Wax Museum for a private walk-through of the acclaimed museum.
Saturday
The final day of HopkinsCorps began at the Waverly Farmer's Market where students had the chance to walk around Greenmount and shop for fresh produce. HopkinsCorps is intentionally built to encourage First-Year students to interact with organizations and locations that are not within walking distance from the campus. True to this, students had the afternoon to explore Baltimore within groups or on their own.
The orientation closed out with a closing cookout and dessert social. HopkinsCorps would not be possible without the leadership of our CSC staff member Julie Rivera and our student leaders Dua Hussain, Kya Nicholson, Ava Payton, Hadeed Habib, Gerardo Fontes, and Em Ambrosius.